Mobile medical alert systems
or
mobile personal emergency response systems
(MPERS) are portable cellular network based systems that provide senior users access to emergency monitoring help anywhere in or out of their homes. It is particularly helpful for seniors with active lifestyles. With additional cellular GPS tracking capabilities, monitoring agents can even tell the locations of users remotely. The concept sounds attractive, but the current level of technology also presents limitations when compared to how well classic home medical alert systems have worked.
In this review, we present both the pros and cons of these systems. We hope that readers will understand both the usefulness and limitations of these systems, and pick a mobile solution that best addresses their needs. If you want to skip ahead and take at look at specific mobile medical alert or emergency response solutions, visit the Mobile Medical Alert Systems With GPS Reviews section.

What Are Mobile Medical Alert Systems/ Personal Emergency Response Systems?
Mobile medical alert or emergency response systems allow elderly users to wear and use their emergency alert pendants (housing the SOS help buttons) both inside and away from their homes. Unlike regular home medical alert systems, these mobile medical alert pendants are not tethered to a medical alert base station that operates only in their homes. Mobile medical alert systems are also called mobile personal emergency response systems or MPERS for short.
Uses Cellular Network Connection
The transmitter within the pendants will wirelessly make alert calls to the emergency monitoring center through an in-built cell phone network connection. Once the SOS help button is pressed, the senior user will be connected with a monitoring agent who can help him or her. A two-way speakerphone conversation is enabled. Most mobile systems also incorporate GPS tracking capabilities, so the monitoring center agent will know where the user is located.
As an aside, there are also home-based medical alert systems that work using a cellular network connection, so that users do not need to subscribe to a home phone line. This is different from a mobile system that is designed to work both in the home and when the user is out and around town. See the Medical Alert Systems That Work Without A Home Phone Line guide if you are interested.
Since mobile medical alert systems are based on cellular phone network connections, they will only work well for areas where the cell phone network that the system is using operates a good signal.
Different Designs
Wireless mobile medical alert systems differ in their design and equipment. Some systems have portable mobile alert devices that need to be carried around in addition to the medical alert pendant. Others can be thought of as medical alert cell phones that are fashioned into the shape of a small lightweight pendant. These mobile medical alert pendants or cell phones may or may not be waterproof. Some are not meant to be worn during a shower or bath.
To learn more, check out our guide on the 3 main types of mobile alert systems and devices.
Used As Standalone System Or Alongside A Home-based System
They can be used single stand-alone senior medical alert systems for both and in and out of the home protection. Alternatively, many users also rely on them as a complement to a home-based senior alert system, due to their limitations which we will explain below.
Readers can find examples of the top systems in the Medical Alert Systems With GPS Reviews section. We recommend going through this guide to understand the advantages and disadvantages of these systems, so that you can make the best choice.
Mobile Alert System Advantages
Medical Alert Protection Both In & Out Of The House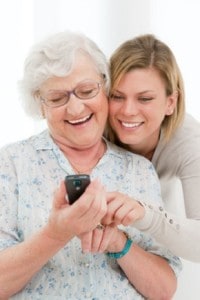 The obvious advantage of mobile medical alert systems is that it allows seniors to use their systems outside of the home. For active seniors, this is a major plus. Elderly users and their children can be assured that help is always just a button click away. With the help of a wireless portable pendant, seniors have the freedom to move around and receive help from medical alert monitoring agents as needed. As long as there is a good cell phone connection, a working system will offer protection whether they are in their homes, or out and about on walks, shopping and attending to other things.
GPS Tracking
The availability of GPS tracking mean that their approximate location will be automatically conveyed to the medical alert call center. This is especially important if the user is outside and lost, or if they can't speak. Some systems also provide online web dashboards that will share the user's physical location with their caregivers or children. For elderly patients of Alzheimer's Disease, this locations information can play a critical role in ensuring their safety.
Most mobile medical alert shoppers do not realize it, but GPS locations technology is not 100% accurate. The locations pin-pointed are only approximate. This is especially so in covered areas and inside buildings, where GPS signals are subject to greater interference.
As of 2018, some of the latest mobile medical alert devices now include WiFi positioning technology as a supplement to GPS in determining indoor locations. Also referred to as WPS (WiFi Positioning System), this technology overcomes some of the hurdles GPS has with pin-pointing indoor locations. A more detailed discussion can be found here.
No Need For A Land Line
Mobile medical alert devices have the advantage of not requiring a land telephone line to work. They rely on wireless cell phone connections for emergency alert calls. More and more homes are phasing out their landlines and converting to VOIP or alternative phone connection arrangements. Mobile senior alert systems circumvent the need to rely on phone connections that may not be compatible with a medical alert system.
Mobile Alert System Disadvantages
Limited Battery Life Makes It Hard To Use
The greatest limit of a mobile medical alert system or MPERS is the limited battery life from each charge. Traditional medical alert systems have buttons that last for typically 2 years and longer. Usually, the button will send a low battery signal to the medical alert company before the juice is all gone. The company would send the user a new button to wear in good time. There's no need to recharge even. This makes it easy for the user to use the system.
Given the current state of technology in mobile systems, each charge typically lasts just a few days, nothing like the multi-year battery life of a traditional medical alert button. This means that every few days, the user will need to have their buttons recharged. This can be cumbersome. It's extra and frequent steps for the elderly user to take.
The requirement for frequent charging may bring about related problems. Users of one name brand wireless senior alert system have complained about how the alert button is often accidentally activated when setting up a recharge.
Lack Of 24/7 Availability
During the period when the mobile alert pendant is charging, the user may not be able to use the system. For example, in the Verizon SureResponse system, the medical alert pendant needs to be docked to the charging station for a recharge. This means that it cannot be worn and used freely by the user during that period of recharge.
How feasible is it to wait a couple of hours for the SOS pendant to charge up, so that it's safe to go out to the store or take a shower? Most people would probably forgo the protection.
Not All Mobile Parts Are Water Resistant
By design, medical alert buttons should be water resistant so that they can be worn in the bath or shower, where falls most frequently occur. Some mobile medical alert systems are non-water-resistant and need to be kept dry. While users can issue alerts by carrying their mobile alert device around, these non-water-resistant devices or pendants cannot be worn in shower areas. Mobile medical alert cell phones are not water resistant either.
Some users may not really care whether their mobile device or pendant is water-resistant for use in showers or baths. Nevertheless, it is something to reflect on before an unfortunate emergency happens. This is a potential limitation of a mobile alert system that needs to be understood by the user or their families.
False Sense Of Security
Having a mobile GPS medical alert system can create a false sense of security for users. Seniors and their children may think that they are protected all the time, whether in or out of their home. The usability issues associated with the frequent need for recharge, or the limits of device use in a shower or bath could be matters of concern. In addition, the lack of accuracy of GPS data, especially for indoor/home uses, could create confusion. These limitations need to be fully understood.
Recent Developments & Current Trends
In recent years, there have been various attempts in presenting elderly users with GPS mobile medical alert systems, to varying degrees of success. Companies have experienced challenges in offering a seamless and friendly user experience to users. The disadvantages for these systems discussed above provide clues as to why.
In 2010, a Silicon Valley backed start-up named Wellcore had ambitious plans to introduce a revolutionary MPERS system but they have since folded. In 2011, Great Call, the company behind Jitterbug cell phones for seniors began offering the Splash (formerly called the 5Star Response) device. This is a handy pendant that can be worn around the neck or attached to a keychain. It's water-resistant and has fall detection technology. This product was able to good traction with subscribers (See Review). The Splash has since been replaced by the Lively Mobile in 2016 (more info below).
More recently in 2012, the Verizon SureResponse Personal Monitor system was introduced to much fanfare but customer reviews have been lukewarm. On the Verizon website, we found an average rating of 2.5 out of 5 for this product from 25 reviewers (Nov 2014). In Dec 2014, Verizon announced that they will no longer sell the Sureresponse system. Check out the full Verizon SureResponse review to learn more.
In late 2013, Medical Guardian introduced its MobileAlert™ system with GPS to consumers. The system is well-designed – it has retained the best aspects of a regular medical alert system such as having waterproof emergency buttons for indoor use. So far, customer feedback has been positive. You can read more about the Medical Guardian Mobile Alert system and other systems in our Medical Alert Systems With GPS Reviews section.
Philips Lifeline, the largest medical alert company in North America, recently launched its brand new mobile medical alert system called GoSafe that incorporates both GPS locator and auto fall alert technologies. With Philips Lifeline's experience in offering medical alert systems and their huge research resources, they have a good chance of getting it right. Introduced at the end of Oct 2014, its subscriber base is continuing to grow.
In 2015, most top medical alert companies have options for a mobile medical alert system, alongside their more standard home-based console units.
In 2016, Great Call announced the introduction of the new Lively Wearable watch or pendant, an activity tracker and SOS alert button that will sync up with a customer's smartphone. They also replaced the Splash with the Lively Mobile medical alert device. The Lively Mobile works with the GreatCall Link app. Through this smartphone app or an online dashboard, family members can login to check the GPS locations of the senior user and access basic activity information related to the use of the device.
In 2017, Bay Alarm Medical, a well-known medical alert company introduced Caregiver Tracking to accompany its mobile medical alert device. With this portal, family members and caregivers can access a password protected online dashboard to check the GPS locations information of the mobile device. Based on the assumption that mobile alert device is charged up and carried by the senior, family members have access to GPS information to locate their loved one if they need to. They can also set up geo-fencing alerts to warn authorized family members if the senior user has moved beyond the boundaries of a predefined area.
Another approach is for senior users to stick with having standard medical alert systems at home and supplement it with "medical alert" cell phones to carry around when they are out. For example, LifeStation offers a 911 mobile emergency button option and Life Alert also has an emergency cell phone option. Another possibility is Great Call's Jitterbug phones. These are full functioning senior cell phones with optional features like SOS buttons, nurseline access and medication reminders.


Summary & Recommendation
The concept of a seamless, reliable and practical mobile medical alert system with GPS that works 24/7, both in and out of the home is an attractive one. Elderly customers just need to recognize what the limitations could be when using a mobile alert system. As discussed, mobile systems require a lot more frequent re-charging and the alert devices may not be water-resistant. When choosing a mobile medical alarm, always consider the practical implications like the frequency/hassle of recharging and how well they will work in showers and baths, where seniors are most susceptible to falling.
A second option is to get a regular medical alert system for home use, and then supplementing it with a mobile medical alert device or cell phone for outside use. You can check out the best medical alert systems reviews section to find specific systems. This home plus mobile combination allows senior users to tap into the reliability and ease of use of a traditional home alert system while providing mobile access when users are out and about.
Check out Medical Alert Systems With GPS Reviews