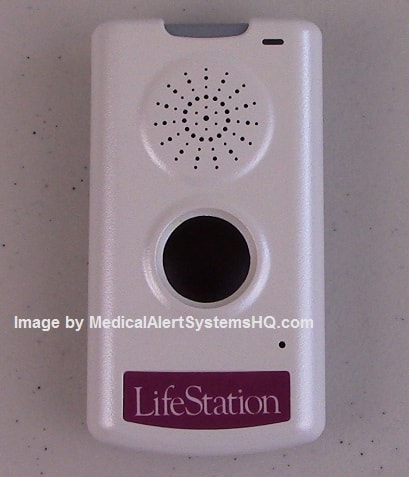 The LifeStation Mobile Emergency Button is a simple cellular device with a speaker and microphone that calls 911 only. It works as a low cost supplement to LifeStation's home medical alert system. If you are looking for the full LifeStation Review instead, please click here.
If you are shopping for a medical alert system for yourself or your parents, you will learn not just about this 911 phone device, but how it compares to other products in the marketplace today. In this review, you should be able to glean some additional insights on picking the right medical alert product that is often not mentioned elsewhere.
How It Works
Disclosure: We receive referrals commissions for purchases made (details).
The device offers a fast way for users to connect with 911 services. As the video demonstrates, calling 911 can be done in two easy steps. First, the user would need to click on the grey button near the top. A red light will blink briefly before turning solid, and all the senior user needs to do is press the red button until a beep sounds.
The device works through a cellular network, so cell phone signals need to be good for calls to connect. For coverage details, you can contact LifeStation directly (toll free 1-866-260-2696).
Read the full LifeStation Medical Alert Review
What It's Not
The LifeStation mobile 911 button will not connect users to LifeStation's monitoring service. It does not have any GPS locations tracking functionality. The premise of this 911 phone device is to have it as a simple, low-cost add-on to subscribers of LifeStation's home medical alert system.
Cell Phone Vs. Mobile 911 Phone Device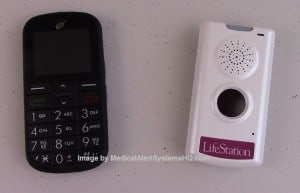 A common question is why people would want to carry this extra device when they could just rely on their cell phones. One factor to consider is that cell phones need to be regularly charged in order to function. This 911 emergency calling device is designed to be available for long-term use (many months and more) without needing a change of batteries.
Also, cell phones can be somewhat harder to use. When you are panicking and need to deal with unlocking the screen or having to click several keys, it's not pleasant.
Finally, some people dislike the idea of carrying a cell phone with them all the time, so this is a reasonable solution.
There is no right or wrong answer here. Some seniors are very proficient with using their cell phones and they make it a point to keep it charged up and ready for use at all times. In that case, they may find this device redundant.
If you've been wondering if having a cell phone can replace a medical alert system, this article discusses both the pros and cons.
What about a Mobile Medical Alert with GPS?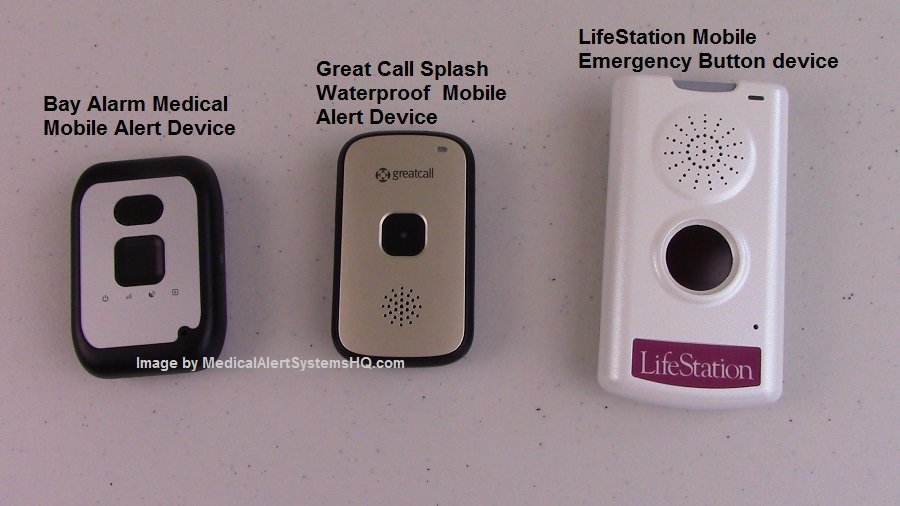 Check out reviews of these Mobile medical alert devices at the Medical Alert Systems with GPS section
One alternative to this is to go with a mobile medical alert pendant.
LifeStation
offers a
mobile medical alert with GPS
. Or you could consider something like the
Great Call Splash
that is very popular now.
The obvious advantage of a full-blown GPS mobile medical alert button is that for one monthly price, it could work both in and out of the home. The current version of LifeStation's premium mobile alert device includes both GPS and WiFi positioning for location tracking accuracy.
A mobile button could function within reasonable limitations as an at-home medical alert. One limitation is that GPS does not work as well in indoor environments. If the senior user is unable to verbally verify that they are at home, and the GPS data is a little off, it could delay the response time.
Other limitations are that mobile alert devices require frequent charging, and some seniors may not like to deal with that hassle. For a more detailed discussion about mobile medical alert systems, see this guide.
For these reasons, some seniors and their children have decided to stick with a traditional home medical alert. To supplement that, they get this Mobile 911 phone from LifeStation.
Contact LifeStation For More Info/ Readers' Coupon Code
If you are interested in this mobile 911 emergency device, please contact LifeStation directly at toll free 1-866-260-2696 or visit the Official LifeStation Website.
Readers of our site can use the Coupon Code MASHQ to save an extra $2 a month or $24 a year. Disclosure: We receive referral compensation for purchases made (see details).
Read the full LifeStation Medical Alert Review >>
Related:
LifeStation Mobile Emergency Button Video Review
Mobile Medical Alert Systems with GPS
Back to top

Limitation: While every effort has been made to ensure the accuracy of the information contained in this review, the information is supplied without warranties of any kind. We advise all readers to do careful due diligence before purchasing. Take time to visit the company's website and speak with their representatives.