LifeStation Review Summary
Top Recommended!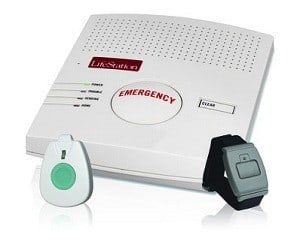 LifeStation
is an established leader in the medical alert systems industry. A key strength of the LifeStation system is that it operates its own monitoring center in-house in the US. The center adheres to both UL Listed and CSAA Five Diamond standards.
Over the years, LifeStation has received lots of positive customer reviews. For its high service standards, reasonable cost and flexible terms, this system rates as our top recommended choice amongst the best of medical alert systems available.
Disclosure: We receive referrals commissions for purchases made (details).
Pros
In-house Call Monitoring Center – Operating its own monitoring center offers assurance to users that the company has the ability to closely manage call quality, especially when these are emergency calls that can have serious consequences. The call center adheres to both UL certification and meet CSAA Five Diamond standards, which are tough industry standards.
No Long Term Contracts – There are no long term contracts to use the LifeStation service. Users like this because they are not locked into paying for ongoing service when they do not need it anymore.
Caregiver Alerts – Every LifeStation system comes with the Caregiver Alerts feature, whereby the user's children, loved ones or caregivers will receive email alerts for important events such as when emergency calls are made, if the base console unit is not connected to power, when users test their systems etc. This allows caregivers to stay informed on how things are going and offer assistance when needed.
Cons
No Carbon Monoxide, Smoke/Fire Alert Options – The option of being able to connect medical alert monitoring directly to the carbon monoxide or smoke and fire alarms is not available. With this feature, the call monitoring center specialists are immediately notified of the CO or fire alarms setting off even if the user does not press the help button.

LifeStation Detailed Review
Background
LifeStation is an established and respected company in the medical alerts industry. The company is based in New Jersey and founded in 1977 (39 years ago). Their system is available nationwide in the US.
LifeStation specializes solely in standard home medical alert systems as it's main product, and does not offer related services such as medical dispensing or carbon monoxide alerts to customers. The company has been very successful with this focus, delivering a high quality experience for users over many years. In recent years, LifeStation has expanded it's product line to include medical alert systems that did not require a home phone, an auto fall detection alert pendant and a mobile alert with GPS system.
The LifeStation medical alarm system is sold directly to elderly end users or customers buying it for their parents. It is also distributed through partnerships with healthcare providers, hospitals and local government agencies.
How It Works
Disclosure: We receive referrals commissions for purchases made (details).
The LifeStation standard at-home system provides seniors fast one-click access to emergency monitoring staff in case of any emergencies. When a medical emergency occurs, the elderly user clicks on the help button that is either worn as a necklace or a bracelet. This places an emergency call to LifeStation's call monitoring center. Based on our experience, the speakerphone on the base console unit will announce "Emergency!" and report the alarm to the monitoring center. A LifeStation Care Specialist will connect and help the user.
The Care Specialist will engage in a two-way conversation with the user through a powerful speakerphone built into the base console of the system. Depending on the situation, appropriate help such as the elderly user's emergency contacts or emergency medical services will be summoned to attend to the user. The Care Specialist is trained to stay on the line with the user until help arrives.
Besides their standard at-home system, LifeStation offers users a mobile GPS alert pendant. This pendant works can be worn and used both in and out the home. It is similar in concept to the at-home system, in that, pressing the help button on the pendant will connect the senior user to monitoring help. There is more about this later in this review.
Cost
The cost of the standard LifeStation medical alert system is $29.95 a month. This price is lowered to $27.95 if the user pays on a quarterly basis, or $25.95 a month if the user pays on an annual basis. With the MASHQ discount code (save $2 a month), this works out to $27.95/month paid monthly, $25.95/month paid quarterly or $23.95/month paid annually.

Readers' Special Offers: Use the Coupon Code MASHQ to save an extra $2 a month or $24 a year. Call toll-free 1-866-260-2696.
Disclosure: We receive referrals commissions for purchases made (details).
Choosing additional options like a built-in cellular line connection ($7 a month) for their at-home console or adding automatic fall detection ($7 a month) will bring up the monthly costs. For current unadvertised specials and questions you may have, call 1-866-260-2696 (toll-free) and have a representative guide you through.
In general, their pricing structure is reasonable and compares well with other best rated systems. Check out the Compare Medical Alert Systems chart for a side-by-side comparison.
Contract
There are no longer term contracts with the system. Customers can cancel at anytime with no termination fees. Customers need to send their equipment back and provide 30 days' notice in order to cancel.
LifeStation does not provide refunds on prepaid amounts. If you are unsure or want to test out the service before committing to a long period, consider starting with the monthly plan.
Equipment Overview
The LifeStation standard landline home medical alert system equipment consists of two main parts: a base console unit that includes an high power speakerphone, and a lightweight waterproof help button. This base unit is where communications between the user and the LifeStation Care Specialist will take place.
Base Console Unit

The base console unit is UL Listed, a respected safety standard for appliances. Not all home medical alarm system base units are UL certified, so it speaks well of LifeStation's commitment to quality.
Automated Testing
The console is automatically tested each week to ensure that it is functioning properly and ready to work in case of emergencies. That said, LifeStation also advises users to make monthly test calls on their own. This ensures that the entire system is working as expected. It also helps the user become familiar and comfortable with the emergency alert and response process. Users can take the chance to verify and update any new information.
Help Button Pendant

An alert call is triggered when the senior user presses the help or SOS button. The button can be worn either as a necklace pendant or as a bracelet around the wrist. When an order is made, the user can indicate whether they want to wear it as a necklace pendant or a wristband. This button is waterproof, so it can be worn in both the shower and bath.
The LifeStation pendant we received came with a breakaway lanyard. This is a safety mechanism against choking or neck injuries in case the lanyard gets caught somewhere (bed rails, walkers and other objects).
An additional help button, as a second button or for the spouse, can be ordered for $3.99 a month. There are no additional monthly fees for the monitoring services.
The help buttons have a battery life of up to 4 years, which means that there is little worry of the batteries running out and going through the hassle of replacements.
Accessories & Repairs
Useful accessories to the system include a key lockbox and wall mount buttons. These are available for a few extra dollars a month.
LifeStation is responsible for replacing and repairing faulty equipment. This includes replacements for batteries as well.
Auto Fall Detection Pendant
Although it is not explicitly listed on their website, users can upgrade to an auto fall detection pendant for their LifeStation system. This is a pendant that can detect if the senior has fallen and then place an alarm call automatically. While it is an excellent idea, in practice, the technology is still developing. Automatic fall alerts cannot detect each and every legitimate fall, and they will also activate false alarms that can be an added hassle. Related article: Are Auto Fall Alerts In Personal Emergency Response Systems Worthwhile?
If you are interested, the best way to learn more is to speak with a LifeStation representative at toll free 1-866-260-2696. There is an added cost for this service, and readers can get a discount by mentioning the coupon code MASHQ.
Caregiver Alerts
A distinguishing and helpful feature of the LifeStation personal emergency response system is the Caregiver Alerts feature. LifeStation's Caregiver Alerts system will send email alerts to people on the user's contact list in case of emergencies. Contacts can include children, concerned relatives or friends and caregivers who live locally or far away. There is no additional cost for this service.
It is a way for the user's loved ones to keep tabs on any health emergencies that affect the user. Email alerts are sent to important contacts when emergency alerts are issued by the users. They will also receive alerts when the automated tests on the console show that may be a problems with the unit. These notifications allow caregivers a chance to know what is going on. They can check in with the user to make sure that everything is well.
Phone Line Options – Landline, VoIP, No Phone Line Needed
LifeStation indicates that their system is meant for use with traditional phone lines. However, it is likely to work with VoIP (voice over internet) and cable phone lines as well. Though medical alert companies often discourage the use of VoIP and other digital phone lines, it is a fact that more and more users are switching to VoIP and alternative technologies, and no longer have a regular land line. The LifeStation system works with major VoIP and cable phone lines, with a few notable exceptions like Magic Jack. For readers with a VoIP or non-traditional phone connections, we recommend that they speak with a representative when placing your order to make sure that the system will work fine.
For users without a land line or VoIP, LifeStation's "no land line needed" medical alert system device will connect users to their UL certified monitoring center via a cell phone network. This special wireless phone connection comes with the system, so no personal cell phone line is needed. When an emergency alert is activated, the base unit will dial out to the monitoring center directly using its built-in wireless phone connection.
There is a reasonable upgrade fee ($7/month), but it saves the hassle of adding a home phone line if the user does not have one already installed. Interested readers can contact LifeStation at 1-866-260-2696 for more information.
Installation
Installation for the LifeStation is a simple 5 minute process. Almost everyone can do it with ease. It's a mainly about establishing a phone connection to the base unit and plugging the unit into a power outlet. The steps are simple, and if need be, users can call in to ask for additional guidance.
Range
The LifeStation help button has a wireless range of up to 500 feet from the base unit. This is sufficient coverage for most homes, and may extend to peripheral areas like patios and driveways. The range also compares well with the standard offerings of other top tier company systems.
The quality of connections will vary according to the construction materials and layout of the home. Once a user gets started with the system, it is advisable to test it out by making test calls from various parts of the home, especially around areas where the senior frequent. This helps to determine that good signals can still be established in all areas of the home.
Keep in mind that this is the range for LifeStation's home medical alert system, and emergency responders will be directed to the user's home address. For anyone looking for emergency monitoring assistance when the senior user is out of home for a walk or grocery shopping, the mobile GPS medical alert or mobile 911 emergency button would be more helpful products. Both are offered by LifeStation as well.
Monitoring Center
LifeStation runs its own in-house call monitoring center 24 hours a day, 7 days a week, at all times. The quality of LifeStation's in-house call center management and operations is one reason why customers pick LifeStation over other companies.
Managing its own call center in-house allows it to monitor service levels more closely. According to LifeStation's site, supervisors are able to monitor how emergency calls are handled more directly compared to competitors who outsource their call centers to another company. It also speaks well of LifeStation commitment as a top player in the industry, because setting up and running it's own call center takes a serious investment in resources.
Not only that, LifeStation's call center has passed strict industry standards. Their call center is both UL Listed and Central Station Alarm Association (CSAA Five Diamond) certified. Meeting these quality standards provides added assurance to customers who want to make sure that they themselves or their parents whom they purchased the system for are well taken care of in case of emergencies.
LifeStation's monitoring representatives are called LifeStation Care Specialists. They must undergo a 6-week training program and pass a review process. The LifeStation Care Specialist is trained to stay on the line with the customer until help comes.
Backup Battery
The base console unit has backup battery power that lasts for up to 32 hours. This allows the system to continue working even in the midst of a power failure.
Mobile Alert System With GPS

Aside for its home medical alert console units, LifeStation also offers a mobile GPS premium pendant for seniors who spend a good amount of time out of their homes. This on-the-go unit provides seniors with a constant connection to LifeStation's monitoring center, even when they are out and about. This small pendant comes embedded with both a speaker and microphone. Unlike LifeStation's standard home medical alert necklace pendant, this mobile GPS pendant does not need to be paired with a stationary in-home base console unit to work. There are no range restrictions. An emergency call connection can be made anywhere nationwide, as long as good cellular phone connection can be established.
Seniors can step out of their homes and visit other places with this pendant. Should they need help, they can press their SOS button to connect with a LifeStation monitoring agent 24/7. The GPS capability of the pendant provides added assurance for senior users and their loved ones. If they senior is lost and doesn't know her location, or is unable to speak with the agent, the GPS information can make a big difference.
If you are interested and like to find out more, the best way is to call LifeStation directly at toll-free 1-866-260-2696.
Mobile Emergency Button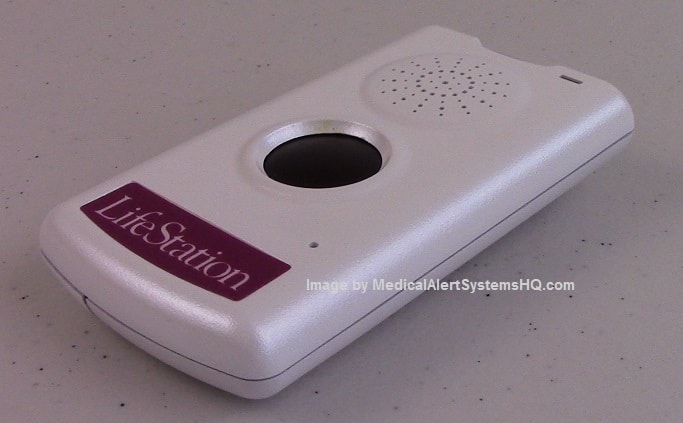 Instead of a full-blown GPS mobile medical alert system, the mobile emergency button is a small button that calls 911 directly. Seniors who are more comfortable with the idea of a reliable home medical alert system that is always plugged in to a power source may want to consider getting the mobile 911 emergency button as a supplement. It can be kept in the senior's purse or glove compartment of the car.
Complaints
LifeStation's BBB file revealed 39 complaints in the last 3 years (as of Mar 2016). On these 39 BBB complaints, 16 were resolved to the satisfaction of customers, while 23 were addressed by the company, but the customer either remained dissatisfied, or there was no indication as to the satisfaction level of the consumer. Reading case details, the company does seem to want to amicably resolve customer complaints and dissatisfaction.
Overall, the company has attained an A+ BBB rating. As one of the bigger medical alert systems companies, this level of complaints is not overly worrisome. Elsewhere in other customer reviews, most customers are pleased with their choice.
Readers can see how LifeStation rates amongst other top rated systems in the Medical Alert Systems reviews section.
Coupon Code
Readers of our site can use the Coupon Code MASHQ to save an extra $2 a month or $24 a year. This discount code works for all payment options: monthly, quarterly or annually. To learn more or order, call toll free 1-866-260-2696.
Disclosure: We receive referrals commissions for purchases made (details).

While every effort has been made to ensure the accuracy of the information contained in this review, the information is supplied without warranties of any kind. We advise all readers to do careful due diligence before purchasing. Take time to visit the company's website and speak with their representatives.