In this section, we review the best medical alert systems for seniors today. You can read through the review summaries to get an overview on each of these individual companies, and then drill deeper into the full reviews of the companies that you are most interested in. When you are ready, take a look at the comparison chart to compare how these companies rate side-by-side and decide which system best fits you or your parent's needs.
Top Recommended!

LifeStation is one of the most reputable and trusted companies in the medical alert systems industry, with many happy customers. They operate their own US-based monitoring center that meets both stringent UL and CSAA certifications, providing assurance to users and their families that they are in good hands when emergencies happen. Besides the traditional home medical alert, LifeStation also offers options like a GPS mobile device and auto fall detection. They have matched a highly rated service with a very reasonable monthly cost without any long term contracts, giving superior value to customers. For all these reasons and more, they are our top recommendation.
Read full review >>
Rating:





Medical Guardian is the leader amongst the new generation of medical alert companies that is bringing new Personal Emergency Response Systems (PERS 2.0) technologies to their customers. Besides the standard home medical alert system, the company offers auto fall detection and mobile GPS medical alert systems to its customers. In the recent years, buoyed by positive reviews and their commitment to provide customers with choice and good value, the company has attracted a lot of senior customers nationwide. The company embraces an open attitude in dealing with customers through addressing their concerns and being flexible in their terms.
Read full review >>
Rating:






[Presidents' Sale – $27.95 $19.95/mo]
Bay Alarm Medical is the top choice for customers who take time to compare and shop around for a high quality medical alert system that offers the best value. Their parent company, Bay Alarm, has been in the home alarms business for over 60 years. They understand what it takes to ensure high service quality without bloating up on business cost overheads unnecessarily. The company offers various systems and devices for seniors to choose from, for either at-home or mobile use, as well as automatic fall detection. Besides having US-based monitoring services that meets both UL and CSAA certifications, they are one of the few to offer options like smoke and carbon monoxide monitoring.
Read full review >>
Rating:






LifeFone is a longstanding medical alert systems company with four decades of experience. Customers can choose from a full line of quality medical alert equipment and plans, including systems that work both in and out of their homes, or automatic fall detection if they like. Customers can add on supplementary caregiver tools like medication reminders, services, GPS locations services, daily check-in calls and activity assurance. The company offers a thoughtful customer experience to each senior they serve. LifeFone stands out from other companies with their customer-friendly policies and customized care plan approach.
Read full review >>
Mobile Alert Spotlight:
The
Great Call Lively
is a GPS-enabled waterproof alert pendant that can be worn in and out of the home. From $19.99/mo.
Learn more >>
Rating:






Philips Lifeline is regarded by many as the largest senior medical alarm company in the US. They are often one of the first brand names that people hear about through hospitals or healthcare organizations that distribute their product. They are a good company with a trusted product, although they could cost a little more than other best-rated companies. Besides their regular home medical alert, Philips Lifeline offers a technologically advanced
GoSafe mobile and home
system. The GoSafe pendant can be used both in and out of the home, and it can detect if the user has fallen and activate an alarm automatically.
Read full review >>
Rating: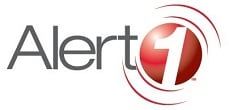 Alert 1 started out as a smaller regional medical alert company in the mid-Atlantic area over two decades ago. It has since grown into a recognized national name. They are customer focused in their approach. Their system comes with various add-on accessory options like wall buttons and voice extender boxes that can enhance the overall product experience for customers. They have partnered up with a quality monitoring services company to provide 24/7 emergency medical monitoring for seniors and customers.
Read full review >>
Rating:






ADT is one of the biggest names in the home security industry. Many seniors or their children have chosen ADT as their medical alert services provider because of ADT's recognized name and expertise in professional monitoring and security. Their medical alert systems can be purchased separately from their other home security products. Consumers are not tied down to long term contracts, and they can choose from a full line of medical alert products.
Read full review >>
Rating:






The CVS medical alert system is supported by Connect America. Although branded CVS, CVS does not manufacture or support the system directly. It is akin to large stores having store branded items that are manufactured by partner firms. Customers will be contacting Connect America for their orders and customer support. It is the same system that Connect America also offers through their own website and other branded websites. Connect America is a well-known name in the elderly medical alarms industry. They offer a flexible month-to-month subscription after an initial 3-month period. For customers who prepay for a year, there is a free month of service included.
Read full review >>
Rating:






Connect America is one of the bigger nationwide medical alarm companies. They market their products and services through their own brand name as well as through partners like CVS, Liberty Medical and Humana. Connect America operates their own UL listed monitoring center. Users can sign up for their service on a monthly basis without long term contracts. However, they need to stay for 3 months when they start. Price-wise, they are middle of the range. Overall, users can expect a good level of service.
Read full review >>
Rating:





The Walgreens Ready Response Medical Alert System is supported by Tunstall Americas. Although branded Walgreens Ready Response, it is not actually developed and supported by Walgreens directly. This is similar to the CVS medical alert system, which is also a system endorsed by a big name drugstore brand, but supported by a partner with more experience and focus on the elderly home alert industry. It is a great easy system to get started with, without getting entangled in long term contracts and installation fees.
Read full review >>
Rating:






Life Alert is a very well-known company. Starting in the late 80s, their TV ads using the "I've fallen and I can't get up!®" catch phrase has popularized them as the go to company for senior medical alarms. In fact, the company name "Life Alert" has become synonymous with the
medical alert systems
product in general. The company offers a high quality service and operates their own UL certified monitoring center. The system also offer additional options, such as for carbon monoxide and smoke detection monitoring. They do require a 3-year contract to get started.
Read full review >>
Compare these medical alert systems using this chart: Compare Medical Alert Systems Side-by-Side
Mobile Medical Alert Systems With GPS can offer the advantage of being used outside of the home. You may like to check out Medical Alert Systems With GPS Reviews, but before you buy, make sure to be aware of the limitations to these systems explained here.
All trademarks and registered trademarks are the property of their respective owners.

While every effort has been made to ensure the accuracy of the information contained on this site, the information is supplied without warranties of any kind. We advise all readers to do careful due diligence before purchasing. Take time to visit the company's website or speak with their representatives.