Connect America Review Summary
Rating: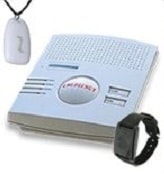 The
Connect America
medical alert company is a leading provider of senior home medical alert systems in the US today. They are behind some of the bigger brands like Medical Alert.com and CVS Medical Alert. Many customers trust Connect America's quality of products and services. On the plus side, users can subscribe to their service without the hassle of signing long term contracts. The only limitation is an initial 3-month commitment period without a money back guarantee for this initial period. Similar to
LifeStation
and other
top medical alert companies
, they have options that allow customers to connect to monitoring help without any home phone lines.
The company has a high A+ BBB rating. That said, there seems to be some customer complaints regarding billing issues. However, the company appears willing to resolve them.

Pros
No Long Term Contracts – Customers are free to cancel at anytime with 30 days notice. There are no additional sign up or installation fees.
Various Product Option – The company offers various product options to suit the needs of consumers. These include a cellular medical alert that works without a home phone line, a mobile alert system and fall detection buttons.
Cons
90 Days Initial Commitment – Customers are obligated to stay for the first 90 days of service when they start.
Connect America Medical Alert Detailed Review
Background
The Connect America Medical Alarm company was founded in 1977. Located in Broomall, PA, it is currently one of the major companies in the home medical alert industry. Connect America medical alert equipment is manufactured by Linear LLC, a reputable company that provides engineering, development and manufacture of products in security and health and wellness.
Connect America markets it's products through various websites, brand names and alliance partners. Website readers can usually tell if the website they are visiting is providing Connect America products by messages on the site. As an example, the CVS medical alert system are both provided by Connect America. Other sites selling Connect America include MedicalAlert.com and Medicalalarmsystems.com.
How It Works
The regular Connect America system works by connecting any senior user in distress to a central monitoring center professional who will assist them. The user issues an alert by pressing on the emergency alert button which is worn usually as a neck pendant or bracelet.
Cost
The Connect America medical alert system costs $32.99 a month. They offer quarterly, semi-annual, and annual payment options. There are no set-up or activation fees.
For customers who prepay annually, they can enjoy a free month of service. Their pricing plan is acceptably competitive, although one can find other systems with better value pricing. Readers can see how they compare with other best rated companies on the Compare Medical Alert Systems chart.
Contracts
The system can be subscribed on a month-to-month basis without any contracts. That said, there is an initial 3 months of service that customers need to commit to. There are no refunds for the first 3 months of service usage. However, if they do need to cancel in the future, they can do so with 30 days notice. Prepaid fees for months of service no longer needed will be refunded to them.
Equipment Overview
Connect America Base Unit
At the center of the Connect America in-home senior medical alert system is a base unit that will connect the user to their 24/7 monitoring center. The unit meets UL Listed requirements, a recognized industry certification standard. The unit has a microphone that facilitates clear communications between the user and monitoring center representative assisting him or her. The company recommends that users make weekly test calls to the monitoring center to ensure that the system is functioning normally.
Connect America Emergency Button
A must-have accessory that comes with the system is a waterproof emergency button pendant. This is the button that the elderly user would press to establish an alert call. The button can be worn as a necklace, bracelet, or clipped to the belt. The waterproof nature of this button means that it can be worn in the shower or bath, where people are most susceptible to slipping and falling.
The emergency button pendant has a battery life that will last a long time, up to 5 years and beyond. At the end of the battery life, Connect America will replace users' buttons for new ones.
If a spouse needs a second button, there is an additional cost for it (normally $35). However, the company runs periodic specials that will send out a second button free with a new purchase. Be sure to inquire about it if you need a second button. There are no additional charges for the monthly monitoring cost.
Phone Line Options
For the Connect America system to work, it needs a phone connection. The system works with traditional land telephone lines as well as most voice over internet (VOIP) phone lines like Vonage. The major exception is Magic Jack.
For users who do not have a phone line, they have a cellular in-home base unit that connects through a cellphone network.
Installation
Users can set-up the system through a straightforward self-installation process. Instructions are provided on their website.
Range
The system has a wireless range between the button and the base unit of up to 500 ft when measured in an open field with no obstacles. This is a good working range that meets most user requirements. It also compares well with other top rated systems.
Keep in mind that one cannot assume the realistic working range will vary, when you consider environmental interference from physical objects like furniture, cupboards or walls. While the system offers a good wireless range compared to the best life alert systems available, users should also test it from various points across their home.
Monitoring Center
Connect America customers can access help through a UL listed monitoring center in case of emergencies. The monitoring center representatives are also Security Industry Association (SIA) certified. The fact that the monitoring center as well as the representatives manning it pass professional certifications is a plus.
Backup Battery
Should there ever be instances of power outages, the senior users can expect a backup battery to continue to power the base console device on. This backup battery is good for up to another 32 hours. Once power comes back up, the backup battery will begin charging up again.
Connect America has a high Better Business Bureau rating of A+ as of September 2017. That said, they also have a number of complaints. According to their BBB record, they have around 322 complaints in the last 3 years. Of these, 138 complaints were resolved to the satisfaction of customers. The rest of issues were all addressed by the business, but customers either did not indicate their satisfaction level, or they were dissatisfied with the resolution offere.
As a comparison, this number is quite a bit higher than complaints against the two largest medical alert system companies Life Alert and Philips Lifeline have registered. In comparison with Connect America's 322 complaints, Philips Lifeline showed 22 complaints within the same 3 year period. Life Alert had 233 complaints (compared to 322) in a similar time frame.
It appears from reading customer reviews on the BBB as well as comments around the web that most of the unhappiness were related to billing issues, rather than the quality of the service. On a positive note, Connect America appears willing to resolve the complaints lodged.
Overall, Connect America could still be a viable choice. At the same time, there are quite a number alternatives in the market today, and some companies try harder than others. We recommend that readers compare them with other top-rated companies on the Medical Alert Systems Reviews section.
Related Services: Mobile Alert 911 Option
Connect America also runs a Mobile Connect America Alert 911 that is a small handheld device that can be carried anywhere. It connects through a cell phone signal. There is a red emergency button on the unit that be pressed to connect with to 911 anytime. This extra service costs around $20 monthly, inclusive of airtime charges.

While every effort has been made to ensure the accuracy of the information contained in this review, the information is supplied without warranties of any kind. We advise all readers to do careful due diligence before purchasing. Take time to visit the company's website or speak with their representatives.