CVS Medical Alert Review Summary
Rating: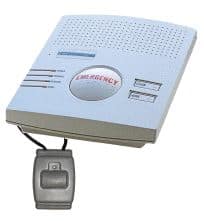 The
CVS Medical Alert System
is offered through Connect America, a well-known company in the home medical alarm industry. The system is offered without any long term contracts for $29.95 a month. The system is not sold through CVS stores, but ordered over the phone through Connect America. The medical alert device and accessories package is then sent out.
Pros
Month-to-Month Flexibility – Customers do not need to sign long term contracts to use the system. They can pay month to month, and are free to cancel at any time after an initial 3-month period.
Cons
3 Months Initial Commitment – Some customers may prefer a shorter term of initial commitment, especially considering that the company does not have a money back guarantee.
CVS Endorsed, But 3-rd Party Supported – For anyone who is attracted to this system thinking they can conveniently go in to a CVS store to see and purchase it, that option is not available. The system is offered by Connect America, and customers deal with their sales reps and billing department directly.

The CVS medical alert system is a great system offered by an experienced company. However, there may be some concerns with complaints on billing issues. Take time to check out the detailed review below, as well as compare it with other best rated companies in the Medical Alert Systems Reviews section.
CVS Pharmacy Medical Alert System Detailed Review
Background
CVS Pharmacy is the largest retail pharmacy chain in the US, with wide brand recognition. It does not produce it's own medical alert system but instead has partnered up with Connect America as an Alarm Alliance Partner. The system is provided and supported by Connect America.
Connect America started business back in 1977 and is highly regarded as a stalwart participant in the home medical alarms industry. Their systems are sold under various alliance partner brand-names, and they also market their systems directly to consumers. For more information, check out the Connect America review here.
Customers will be interacting directly with Connect America when purchasing. The unit is not sold through CVS Pharmacy stores nationwide.
How It Works
When an emergency situation occurs, the elderly user can press the help button. This initiates a call to the central station or monitoring center. A trained professional representative will quickly answer the call to help the user. The representative will evaluate the situation and call someone on the user's contact list or local emergency services to help the user as appropriate.
Cost
The cost of the system is $29.95 a month. If you call the sales hotline, they probably have offers that provide annual prepayment discounts (1 month free) and free gifts (eg. second emergency button).
Contracts
There are no long term contracts with this service. However, there is an initial 90 period that users need to commit to the service. After that, customers are free to cancel at will. According to the sales person we spoke with, any prepaid unused service time on the system will be refunded to the customer.
There are no money back guarantees for the initial 90 days payment.
Equipment Overview
Base Console Device
The look and size of the base console device of the CVS medical alert system is similar looking to other regular senior alert units being offered. It is connected to the user's phone line and facilitates 2-way communications between the user and the monitoring center.
CVS Medical Alert Button
The medical alert button is lightweight and waterproof. It can be worn as a bracelet, pendant or on the belt. The package comes with options to wear the button any of these 3 ways.
The battery on the button is made to be long lasting. Battery life will depend on usage, but it is normally good for up to 4 or 5 years, or even longer.
There is a lifetime warranty on the equipment and buttons.
Phone Line Options
The base unit works with both tradition phone lines and VoIP (Voice over Internet Protocol) lines, excluding Magic Jack. The system works with DSL.
Installation
According to their website, the system requires self-installation, which is a simple 5 minute process.
Range
The CVS medical alert system features a range of up to 600 ft. This means that the help button will work up to 600 feet in an open air, unencumbered environment. However, the actual working range will deteriorate compared to the open air range due to environmental obstacles. For this reason, it is advisable for users to test out the system from different parts of their home after installing it.
Overall, this is a wide range that allows the system to work in most homes. It also compares well with systems offered by other competitors.
Monitoring Center
As described previously, the CVS system is operated by Connect America. Connect America runs their own monitoring center which is UL compliant for protective signaling. In addition, the call agents handling emergency phone calls are Security Industry Association or SIA certified. This is a good sign as having properly trained monitoring staff will impact on how professional the monitoring agents will be in helping users during emergencies. Readers can compare how they rate using the Medical Alert Systems Comparison chart.
Backup Battery
There is a backup of up to 32 hours or more on the base console device in case of power failure. This allows the system to continue to run for some time even without an external power source.
Since the CVS medical alert system is run by Connect America, we took a look at customer complaints and feedback for Connect America. With the Better Business Bureau, Connect America has a rating of A+ (as of Oct 2016). There were a total of 311 BBB complaints filed in the last 3 years. Of the 311 complaints, 131 were resolved to the explicit satisfaction of customers. The rest of complaints were all addressed by Connect America. However, customers either did not find the resolution satisfactory, or they did not respond as to whether they were satisfied or not.
Reading through customer reviews and complaint details, we found that most of them had to do with cancellation and billing issues. The company appears to have some challenges processing through such requests quickly enough to curtail the level of complaints. To their credit, Connect America appears to be willing to resolve the complaints raised.
In Summary
The CVS medical alert system offered by Connect America works fine. They offer various options to customers and their pricing is competitive. What's somewhat worrying is the number of complaints on billing issues. On a positive note, the company does appear to want to act fairly towards customers and do what they can to resolve all complaints. If you are shopping for a good system for yourself or your parents, feel free to check out our comparison chart to compare the top medical alert companies.

While every effort has been made to ensure the accuracy of the information contained in this review, the information is supplied without warranties of any kind. We advise all readers to do careful due diligence before purchasing. Take time to visit the company's website or speak with their representatives.