Bay Alarm Medical Review Summary
Rating:





Bay Alarm Medical
is currently considered a great choice by many for a home medical alert system. Through the benefit of a long company history and good operations management, the company is able to offer their system at a price that other best-rated companies find hard to match, while still offering a top quality system. There are no long term contract requirements either.
The large number of positive customer reviews for the Bay Alarm Medical alert systems is testament to their popularity and service standards.
Disclosure: We receive referrals commissions for purchases made (details).
Pros
Competitive Monthly Cost For Reliable Services – Bay Alarm Medical competes by offering competitive prices to consumers. Their pricing go as low as $27.95 $19.95/month, which is lower than their closest competitors. The best part is that they are able to do it while maintaining high quality standards and customer satisfaction.
No Long Term Contracts – There are no long term contracts to deal with. You can cancel at any time by calling the company and sending the equipment back.
Multiple Product Options – They offer multiple product options for customers to choose from. Their product line includes the standard in-home medical alert system, a cellular no home phone line system, and an on-the-go GPS mobile alert button. They also offer a fall detection button as an option.
Cons
No In-house Call Monitoring Center – Bay Alarm Medical works with a US-based partner company to provide monitoring services. Since they do not run their own in-house monitoring operations, critics point out that this could mean less direct control on managing call quality. To be fair, Bay Alarm Medical uses very high quality call centers that meet both CSAA Five Diamond certification and UL quality standards.

Click to Call Bay Alarm Medical 1-855-397-9964 – Holiday Sale!! $27.95 $19.95/mo
Bay Alarm Medical Detailed Review
Background

Bay Alarm Medical is a top tier provider of medical alert systems to seniors across the country. Besides continental US, their service also works in Hawaii and Alaska. They are the medical alert arm of Bay Alarm, a home security company founded in 1946 (7 decades ago). With their medical alert service, Bay Alarm's goal is to provide the elderly with the protection they require for living independently and in good health. Bay Alarm Medical's office is located in the east San Francisco bay area.
Amongst brand-name medical alert companies, Bay Alarm Medical makes it a point to keep its pricing for medical alarm systems competitive. This is made possible by their low overheads and cost structure. For example, due to their long operations history, they have cultivated relationships with trusted vendors who are willing to extend preferred pricing to them. The savings is then passed on to their customers in terms of a lower cost for their systems and services.
Unlike other competitors, they also are willing to skip doing expensive TV advertisements that could bloat up costs quickly. Instead, they rely on alternative and lower cost methods to get the word out to seniors needing medical alert systems. One such way they rely on is to provide excellent customer service to their current customers. If current customers are pleased with the system, they are likely to refer Bay Alarm Medical to their friends and family who may benefit from having a medical alert system at home.
How It Works
Disclosure: We receive referrals commissions for purchases made (details).
Visit Bay Alarm Medical's Official Website
The in-home Bay Alarm Medical alert system works through a base station and a wireless emergency button pendant. When an emergency occurs, the senior user can press the button to quickly connect with a trained operator. Two-way communication between the user and operator will then take place. The operator will contact the appropriate parties that can help the senior user, whether it is a family member, emergency medical technician (EMT) or other parties.
Cost
The monthly cost of their standard landline service is regularly $27.95 a month, but now on special at $19.95 a month! There are no activation and installation fees associated with getting the service started and working. Customers can choose to pay for their systems monthly, quarterly or semi-annually. By prepaying quarterly or semi-annually, customers receive extra benefits like free shipping (quarterly or semi-annual plan) and a free lockbox (semi-annual plan only).
Additional options will increase monthly costs. For homes without phone lines, a cellular "no landline needed" in-home console unit with a SIM card costs an extra $14.95 a month. Fall detection is also an extra $9.95 a month. Bay Alarm Medical offers discounts to members of the AARP, AAA and possibly other organizations.
To price out your customized system with the appropriate features, accessories and special offers, please contact Bay Alarm Medical directly at toll-free 1-855-397-9964 (click to call) or request for a free quote here.
For a pricing comparison with other top-rated systems, check out the Best Medical Alert Systems Comparison Chart.
Contracts
There are no long term contracts associated with the service. Users can cancel at anytime by calling Bay Alarm Medical's customer support and then sending back their equipment. Cancellation is complete only when the company receives the equipment back in undamaged condition.
The company offers a 30-day trial period as well as pro-rated refunds for months prepaid but unused if the service is cancelled early. These are good terms, newly revised since Sept 2017. In comparison, there are other medical alert companies that do not offer a trial period or pro-rated refunds.
Equipment Overview
Bay Alarm Medical Base Unit
The main parts of the in-home medical alert system are a base station unit that connects to a phone line and a wireless emergency help button. The base station unit includes a special highly sensitive microphone and loudspeaker. This facilitates extremely clear back and forth communications between the elderly user and the emergency center operator.
Besides their in-home medical alert base unit, Bay Alarm Medical also has a "no phone line needed" cellular system base unit that does not require a home phone line connection to operate. The "Phone Line Options" section below has more details on this.
Waterproof Emergency Help Button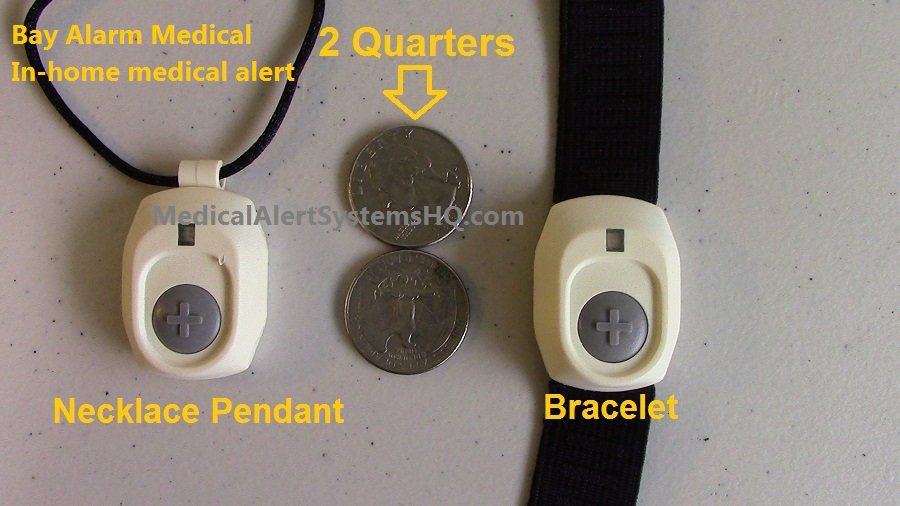 The in-home emergency help button can be worn either as a necklace pendant or a bracelet. It is lightweight and waterproof. This allows for the button to be worn in the bathroom and shower area, where the risk of falling down is a lot higher than normal. The button comes with a battery life of up to 5 years, which means the user does not need to worry about frequently recharging it.
The monitoring service can be extended to a spouse or second person living in the same household at no extra charge. However, you do need to add a second pendant at a cost of around $2 a month.
Wall-Mounted Buttons
Bay Alarm further offers options for wall mounted help button units as well. These provide additional accessibility and convenience for issuing a medical alert call. These buttons can be conveniently placed in locations where falls may occur, or where the user frequent in the home.
Automatic Fall Detection System
Bay Alarm Medical also offers an automatic fall detection alert system. This consist of either a land-line based console unit or a cellular based (no phone line needed) unit, and a fall alert button pendant instead of the standard SOS button.
With the regular non-auto-alert help or SOS button pendant, users need to press the button in order to issue an alarm call. With automatic fall alert detection, the pendant can sense if a fall has taken place and if it determines that it is the case, an alarm call is automatically made. Learn more about Bay Alarm Medical's auto fall alert >>
This is a helpful feature especially for users with medical conditions that could render then unconscious or incapacitate them from physically pressing the help button upon a fall. Seniors or customers with conditions like diabetes, a weak heart, epilepsy or periodic dizzy spells may find this a great feature to have.
However, it is important to note that auto fall alert buttons are not 100% accurate and may fail to detect a fall at times. If an actual fall happens and does not trigger an alarm, the user will need to press the help button on the auto fall alert pendant to initiate an alarm call.
Related: Learn more about auto fall alert detection
Maintenance & Testing
Bay Alarm Medical's website recommends testing their system frequently, perhaps once a week. This can be done by pressing the emergency button, making sure an operator responds and communications established. This is a good point as the user can make sure the system is working well, ahead of any potential emergencies.
There is no need to be apprehensive about calling anytime. Going through customer reviews, it is apparent that the operators are friendly and helpful. Users report that even when they accidentally pressed the button multiple times, the operators were always understanding and easy to talk to.
Should there be any problems with the system equipment, they are covered by warranty from the company. They have a dedicated technical support toll-free number that customers can call in to report problems or ask for help.
Phone Line Options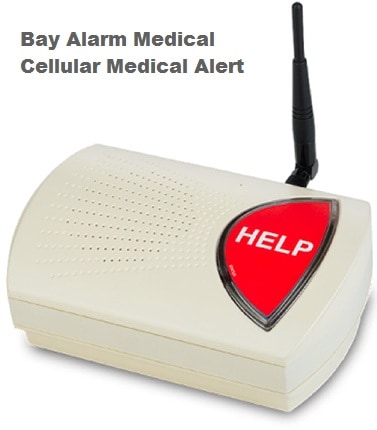 The standard Bay Alarm Medical in-home system will work with most phone lines. This includes traditional residential phone lines, as well as phone lines through cable or VoIP services from Vonage, AT&T, Verizon, Comcast, Cox, Charter, Time Warner and other companies. It will also work if users have DSL internet connections.
That said, bear in mind that traditional land phone lines have been around the longest are likely the most reliable. VoIP services are dependent on the quality of one's internet connection. In a worst case scenario, if the internet connection is down, it will not allow any emergency calls to go through.
Bay Alarm Medical also offers users without any land or compatible VoIP/digital phone lines the option of connecting to their monitoring center through a cellular network connection. Emergency calls will be routed through a cellular network connection that is built into the base unit. This feature is an optional upgrade available to users who need it.
For a look at the main Bay Alarm Medical systems and phone line options, check out our Bay Alarm Medical Alert Systems Guide For Seniors.
Installation
The in-home medical alert system can be set-up through a simple self-installation process. It's a matter of connecting the base station to a power supply and a phone line. Instructions are included in the package mailed out. For the cellular base station unit, there is no phone line connection to be made. Medical alert systems are basically very simple to hook up.
Most users have no problems with this point. They think it's worth saving the extra $80 to $100 for someone to come to the home to get it set-up.
Range
The standard emergency help button has a range of up to 1,000 ft. This is a wide enough range for most homes, covering even peripheral areas like the patio or yard. Most users of the Bay Alarm System have no problems with the range. Keep in mind that home medical alert systems are meant for home use. Emergency responders are directed to the elderly user's home, not to wherever they are clicking the SOS button from.
The actual working range will vary depending on the floor plan of the home, build and construction of the home, as well as other environmental obstacles present. Users are advised to test out their buttons from various parts of the home periodically, such as areas they frequent at home, places they may be susceptible to falling (kitchen/bathroom/stairs), and the peripheral areas.
Just because a button has a good maximum open air range does not mean that it will automatically work through the same long distance with obstacles present. So be sure to test things out. As mentioned, most users are fine with the range offered by Bay Alarm Medical.
Mobile Medical Alert With GPS
If you want a long range system because you want something to work when you are out and about, the company offers a
mobile medical alert option
to complement their home alert system. The mobile system comes with a single piece of equipment – a necklace pendant device. This GPS mobile device combines the functionality of both the base station unit and the help button. The pendant houses its own speaker and mic for two-way communications. However, it is not waterproof and should not be worn in the shower.
Caregiver Tracking Portal
As an add-on service, the senior user's children and caregivers can keep track of his or her whereabouts via an online dashboard. The GPS locations information beamed from the mobile medical alert button is recorded and shared through a password protected online portal. This service is especially relevant for seniors with Alzheimer's Disease or cognitive impairments, where they may wander off while on their own and then have difficulty finding their way home.
You can read our Bay Alarm mobile alert review here. We've also included information on how Bay Alarm's device compares to other mobile GPS medical alert products.
Monitoring Center
Bay Alarm Medical's monitoring service is active 24 hours a day, 7 days a week, all through the year. They have partnered up with a carefully chosen US-based monitoring operations company. There are two full-service US-based centers running, so that in case anything happens to disrupt the activities in one center, the monitoring service will continue to work.
In addition, these monitored centers are certified and monitored by 3rd party quality assurance firms. They are CSAA Five Diamond Certified, a demanding certification that is recognized and respected in the industry. These centers are also randomly inspected by UL to make sure they are meeting with UL quality standards. UL is another well-recognized and respected industry standard.
According to Bay Alarm Medical's website, it usually takes 45 seconds or less to receive a live response from the time the help button was pressed. With almost all test calls we made, this service standard was adhered to.
Multi-Lingual Support
For users who cannot speak English, or feel much more comfortable speaking in other languages, especially in cases of emergencies, the Bay Alarm Medical service addresses that. It provides communications in more than 170 different languages such as Spanish, Chinese (Mandarin & many dialects), Hindi, Armenian, Russian and many others.
Battery Backup
Power interruptions are hopefully rare where you live, but it does happen from time to time. When that happens, the Bay Alarm system can continue to run for up to another 32 hours using a backup battery. When power comes back up, the system will start working again, as well as get recharged for backup use.
The length of 32 hours compare well with other top tier systems. When we tested our Bay Alarm base console unit, the backup battery lasted beyond the specified 32 hours after we unhooked it from the power source.
Carbon Monoxide, Smoke/Fire Alerts
Bay Alarm Medical's alert systems used to, but no longer, work with add-on carbon monoxide (CO), smoke and fire detection sensors. They no longer provide the service where alarm signals are automatically transmitted to the emergency response center and an operator alerted to check in with the user.
However, seniors using any of their systems can still manually press their help button if the CO alarm or smoke/fire alarm goes off at home. The emergencies monitoring operator will provide assistance as part of their service. Based on the situation, the operator could call on emergency services like the fire department and 911 for help.
The Center for Disease Control has released statistics indicating that the elderly is especially vulnerable to carbon monoxide poisoning. CO can emanate from home appliances with no odor. As such, to keep our elderly parents and loved ones at home safe from these dangers, it is important to have carbon monoxide (CO), smoke and fire detection sensors installed at home and tested to work. The detection devices will sound an audible alarm to warn anyone in the home.
Vial of Life
When emergency services personnel arrive at the senior user's home, having an easy way for them to assess the medical history of the user can be very helpful. The Bay Alarm Medical system features a very simple but really useful solution to address this. Inside every package of the system sent out is a free Vial of Life kit ($8.95 value). This is a little kit where the user or a loved one can record the user's medical history. It is designed to be placed on the user's fridge door where it can be easily noticed and opened up to be read.
Complaints
Bay Alarm Medical currently has a A+ grade BBB rating (July 2017). Their BBB record showed a total of 50 complaints in the last 3 years, of which 9 were resolved and closed to the customer's satisfaction. For the rest of complaints, either the complainants did not explicitly indicate that they were satisfied, or that they were not satisfied with how their complaint was handled.
Reading through the complaints correspondence, a key area of dissatisfaction has been how the company handled billing and charges. However, this area of complaints is likely to wind down. As of September 2017, Bay Alarm Medical has revised their contract terms to make it much more consumer friendly.
They now offer a 30-day trial and pro-rated refunds on months prepaid but unused. It's applicable to new customers coming on board. They address the common complaints related to billing and refunds under a more stringent policy of no pro-rated refunds.
For customers who signed up in the past, Bay Alarm Medical had instituted a policy of no refunds after 14 days and that the equipment must be received undamaged before the next billing date. One complainant asked for a reprieve because her father was hospitalized and unfortunately passed away before getting a chance to use the system. She did receive a partial refund after some difficulty (see 11/3/2014).
On the Consumer Affairs website, they received a high average rating of 4.5 out of 5, based on 1,500 customer reviews.
Previous Coupon Code Expired
Although the $1-off coupon code "medical" has expired, Bay Alarm Medical continues to offer discounts selectively to members of various organizations, such as AARP or AAA. Currently, they have a $27.95 $19.95/mo special. To get informed on any special offers, please contact them directly at toll-free 1-855-397-9964.
Disclosure: We receive referrals commissions for purchases made (details).
To compare Bay Alarm Medical with other top medical alert companies, visit the Medical Alert Reviews section or check out the Medical Alert Comparisons Chart.

While every effort has been made to ensure the accuracy of the information contained in this review, the information is supplied without warranties of any kind. We advise all readers to do careful due diligence before purchasing. Take time to visit the company's website or speak with their representatives.