Alert 1 Review Summary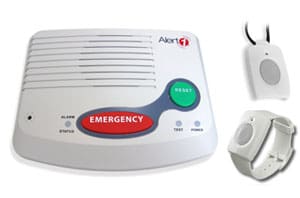 The Alert 1 medical alert system is a quality one offered by a company that values listening to their customers. The main pluses of this system is that there are no long term contracts, and a second spouse button is provided free to customers. In addition, the system can also incorporate voice extender boxes, a feature useful for very large multi-story homes.
On the minus side, Alert 1 does not manage it's own monitoring dispatch center, but outsources it to a trusted partner. Some users may feel more comfortable knowing that the call center is managed in-house. In fairness to Alert 1, the call monitoring centers contracted are US based and adhere to strict industry standards. The final result is high customer satisfaction going by customer reviews. Readers can compare Alert 1 with other systems on the Medical Alert Systems Reviews page.
See Current Special Offers From Alert 1
Pros
No Long Term Contracts – Users are not locked into long term contracts. They are free to cancel at any time by calling the company for instructions and a return authorization code.
Free Spouse Service & Button – Users receive a free spouse button and service.
Voice Extender Boxes Option – The option of extra voice extender boxes (approx. $99) can be helpful for larger homes. They allow for more easy communications between the dispatch representative and the user when the user is far away from the standard base unit.
Cons

No In-house Call Monitoring Center – Some people prefer to buy service from a company that manage their own call monitoring center in-house. This is based on the underlying belief that the company can more directly manage call activities. However, Alert 1's outsourced call centers are US based and pass stringent quality assurance requirements.
Alert 1 Detailed Review
Background
Alert 1 is a company based in Williamsport, Pennsylvania, the company started operations back in 1988 (25 years in business). Back in the day, they were known as AlertOne, but currently uses the Alert1® name. They made a name first in their local region, before becoming one of the major providers of medical alert systems in the mid-Atlantic region. Currently, they serve customers nationwide.
Their focus is strictly on home medical alert systems. Alert 1 employees from sales personnel to technical support staff are trained to be respectful of customers.
The company markets their systems directly to consumers, as well as through a distribution network of healthcare providers across the country.
How It Works
Alert 1's medical alert system consists of a monitoring console and a wireless help button that is worn either as a necklace or a bracelet. When a medical emergency occurs, such as when the elderly user slips and falls, he or she can press the help button. This establishes an alarm call to the 24/7 emergency response center.
Within moments, a response representative will answer the call and speak with the elderly user needing help. The response representative will assess the situation and contact the appropriate parties for help.
Cost/Contracts
The Alert1 service cost is $29.95 a month. There are no activation or installation charges associated with this service. Users can also opt for quarterly or yearly billing. Going on the quarterly plan will bring the monthly cost down to $27.95 a month, and the yearly billing to $25.95 a month. If you do choose monthly billing, the first payment is for a minimum 3 months. Alert 1's service cost is right about average for the market. You can see how it compares side-by-side with other systems on the Compare Medical Alerts Systems Chart.
All payments are backed by a 30-day money back guarantee. Users can also cancel anytime by calling a toll free number. There are no termination fees. However, after the first 30 days, there will be no refunds for any previously paid fees, as well as fees that have been prepaid for the months ahead.
Equipment Overview
Alert1's monitoring console includes a very sensitive microphone that enables senior users to easily hear and talk to with emergency response center representatives.
Users also have the option to wear their panic button either as a necklace pendant or wrist strap. The button is waterproof, which allows for them to be worn when showering.
The service covers monitoring and a button for an additional person living in the same household.
According to their website, the equipment provided is covered by a lifetime replacement warranty. They will repair and replace equipment that are not working, including batteries. If the battery on the panic button becomes weak, both the user and Alert 1 will be notified automatically. The user can expect to receive the appropriate battery or accessory needed to keep the system functioning.
Alert 1 routinely runs tests to ensure that the medical alert system is working. Users are also advised to make monthly test calls to ensure that everything is working before a real emergency takes place.
During these non-emergency calls, the representative will take the chance to verify the senior's address. This is a good thing. It does not hurt to be double sure on things, and it ensures that help will be directed to go to the right address.
Wall Mounted Buttons & Voice Extender Boxes
Users can also choose (at extra cost) to get extra wall mount buttons to be placed around the home for added convenience.
The Alert 1 medical alert system can also accommodate add-on voice extender boxes that can be placed in different areas of the house. Voice extender boxes are helpful for ensuring clear two-way communications in larger houses. It acts as a satellite speakerphone when the user is far from the base unit. A phone and connection is needed.
Phone Line Options
As with other medical alert system companies, Alert1 recommends connecting the monitoring console to a regular phone line. It is possible that the system will still work with VoIP phone lines. However, the user is subjected to greater risks associated, as VoIP phone lines do not have the same level of reliability as regular land lines.
For users with DSL internet services through their regular phone company, they can indicate this when ordering. Alert 1 will send out a free DSL filter.
Installation
The Alert 1 system is meant to be self-installed. The procedure is easy. The main connections are plugging the monitoring console's power cord into a power outlet and connecting the console to a phone line.
Range
The range of the Alert1 panic button is up to 600 feet in an open area. However, in homes, a more realistic range is up to 250 feet. That provides ample coverage for most homes. However, the actual range will depend on the layout of the home and its construction materials. Alert1 advises all users to test their system out through different areas of their home.
Monitoring Center
Alert 1 monitoring response centers works 24 hours a day, 7 days a week through the year. The services are actually provided through a US based company that they have partnered with, with 28 years of experience in emergency monitoring. Their call centers are both CSAA Five Diamond and UL certified.
Multi-Lingual Support
All representatives are US based. In case the user cannot speak or understand English, these trained representatives also have access to translators who can understand and speak 50 global languages such as Spanish, German, Chinese (Mandarin, Cantonese), Tagalog, Vietnamese etc.
Backup Battery
Should power unexpectedly go out in a home, the system can continue working through a backup battery that lasts for up to 24 hours.
Complaints
There aren't many Alert 1 complaints to be found. The company has a BBB rating of A+ (June 2013). Amongst the 6 BBB complaints in the last 3 years, 2 had to do with problems with the product/service.
Reading through a lot of customers reviews, most people are pleased with the Alert 1 service. On the Consumer Affairs website, the company obtained a rating of 4.7 out of 5 (713 ratings). On other websites like Yelp and Pissed Consumer, there were hardly complaints with good valid concerns.
The company also appears to actively work to resolve any customer complaints if they turn up. Through their website, they state that they are serious about listening to their customers. They also have a dedicated Complaints Resolution Manager on board.
See Current Special Offers From Alert 1
Disclosure: We may receive referral compensation when readers purchase through affiliate links on this site (see details).

While every effort has been made to ensure the accuracy of the information contained in this review, the information is supplied without warranties of any kind. We advise all readers to do careful due diligence before purchasing. Take time to visit the company's website or speak with their representatives.