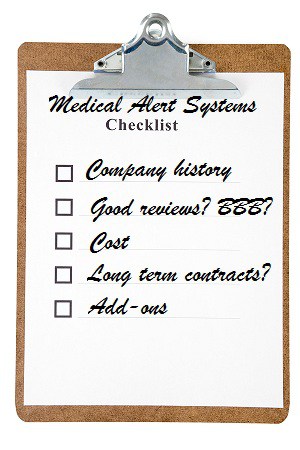 On this page is a checklist of items to consider when buying a home medical alert system. If you require additional background information on what medical alert systems are and how they can help you or your parents, check out the monitored medical alert systems guide.
One of the first things that you need to consider when choosing medical alert systems for seniors is the competency of the company. The medical alert systems industry is fragmented with lots of different companies to choose from. There are new companies popping up now and then, stringing a service together by using low quality equipment and contracting with a third-party monitoring center that may not have the necessary experience or credentials.
By choosing a company with a good background and track record, you or your parents can be assured that the system will work well when an emergency happens. Consider the number of years they have been in business, type of training that their monitoring center representatives receive and certification and industry standards they adhere to. Other factors include their Better Business Bureau ratings, customer reviews and complaints, as well as memberships with relevant industry associations, such as the Medical Alert Monitoring Association.
On the internet, you can research into a lot of these factors. In addition, pay attention to the your service experience with the company. If you are unhappy interacting with the staff of the company, it may be a red flag.
For a start, take a look at the best rated companies here on the Medical Alert Systems Reviews section. All these companies have been shortlisted because they have the ability to offer reliable service to customers.
Call Monitoring Center Quality
When an emergency happens, senior users and their loved ones definitely want to make sure that emergency calls are quickly and professionally handled. For that to happen, the call center or central station needs to be technologically effective, and the operators well-trained. There are industry certification standards for this. A call center that is UL Listed has met stringent conditions for being technologically effective. The CSAA Five Diamond certification standard is the gold standard for having properly trained emergency dispatchers. These are the two standards to lookout for when choosing a good medical alerts company.
In-House or Outsourced Monitoring Center
Another related consideration to call monitoring center quality is whether the call center is managed and operated directly by the medical alerts company or outsourced to an outsider firm. Some would point out that their is less quality assurance if a company that does not own and manage it's own call monitoring center. If anything, the sign that select companies are willing to maintain their own call center facilities show their serious commitment to the business.
All things being equal, it would be more reassuring to know that the company itself can directly manage call quality. That said, a few of the best rated companies currently do not run their own call centers, and customers have reported that they are happy with the service. If you do choose to go with these companies, be sure to inquire as to what type of training the monitoring center operators go through. In addition, it would be best if the call centers have passed industry standards like UL and CSAA Five Diamond described above.
Pricing
The monthly costs of these systems vary. They range from $20 to $35 a month for a standard home medical alert system. Expensive does not necessarily mean better. Conversely, cheap does not mean you got a good deal if the service is unreliable. Some companies have higher overheads and advertising budgets and the added costs are passed on to consumers, who may happily pay the price; perhaps because they don't do much comparison shopping. For a comparison of prices, check out the Compare Medical Alert Systems chart.
Contract Terms
Some systems are available on a month-to-month basis, but others require multi-year contracts. If you purchase a system that requires a multi-year commitment, you will need to keep paying for it even if you or your parents do not need it any longer. This could result in difficult situations. In one case, a medical alert company wanted more than $700 from a dead man's estate to end the contract. Make sure to find out ahead of time what the terms are, and that you are comfortable with it. Some multi-year contracts also carry auto-renewal clauses, which makes the customer liable for another 2 or 3 years of service at end of the initial term.
While some companies are technically correct when they advertise themselves as having no contract, they do not offer any refunds on prepaid amounts. That means that if you have paid for a year's service upfront and cancel in 3 months, you may not get any money back for the unused period.
Money Back Guarantees/ Prorated Refunds
Sometimes, despite your best efforts at researching prior to purchase, you can't tell for sure if you like the service until you give it a shot. In case you really don't like what you bought, a money back guarantee will ensure that you do not lose out in terms of money spent.
Realistically, it may take longer than the money back guarantee period of 14 to 30 days for you to really test out the service and run through a number of test calls/ actual emergency phone calls before you get a good feel for the system and the company behind it. In this case, a good refunds policy on months prepaid but not used may be more relevant. Another tip is to get on a shorter billing period, means less headache when dealing with auto-renewed payments at a time when you or your parents no longer require the service. For more tips, check out the Medical Alert Systems Refunds, Auto-Renewals & Cancellations: Tips & Warnings guide.
Installation
Does the company have technicians to install the system for users at home or is this something that you install on your own? Consider your comfort level with installing the system. Luckily, home medical alert systems are designed to be easy to install, and almost no one has said that they were troubled by it. The advantage of self-installation is that there are no extra installation fees.
Type of Telephone Line Connection
It is essential that you identify line connections before making a selection. Most systems will work with both landlines and VoIP (voice over internet) phone services. It ultimately depends on what your parents have available. For the unit to work, it should be compatible with the existing phone connection at home. Some equipment will work using an in-built connection through a cellular-based console unit, which means that no phone line is needed! If you are interested, check out the LifeStation system.
Wireless Range
Most good systems would feature a range of 300 ft or more between the base station and the panic or SOS button. This is sufficient for most homes. Keep in mind that the actual working range will always be less than the full range, due to physical obstacles like furniture, walls, construction materials and other environmental factors. Once you set-up the system, do test calls from various areas of the home, including the peripheral areas furthest away. Make sure wherever they are, they will be able to make contact.
Fast Response Time
The company should be able to provide assurance of a prompt response time. Fortunately, this is usually not an issue if you are dealing with a good company. With most good senior home medical alert companies, emergency calls are answered promptly, usually within a minute or less.
Power Backup
If you or your parents are living in an area susceptible to power outages, the power backup of the system is a definite consideration. Most medical alert base stations have a backup battery that will continue to power the system on for 12 or more hours. That allows the system to continue working even in the midst of a power failure.
Mobile/GPS
A mobile medical alert with GPS can be used both in and out of the home, or as a separate add-on product to regular home medical alert systems. Mobile medical alert systems are getting very popular, but they may lack a similar level of reliability that classic home-based medical alert systems offer. When considering these systems, you should weigh their benefits like having wider coverage against limitations such as having a heavier pendant, shorter button battery life and difficulties with locations tracking. A more complete discussion can be found in this Mobile Medical Alert Systems Guide. There are companies offering medical alert cell phones and mobile devices that will complement existing home alert systems.
Additional Options
Besides the basic functions, a number of medical alert systems offer additional options that can offer additional protection or ease of use. These features include key lockboxes, direct connections with carbon monoxide alarms, satellite wall mounted buttons, voice extenders, auto-fall detection and other options. Having those could give you peace of mind with the thought that your parents have all they need in case they require additional assistance.
Functionality in Other Locations
In case your parents move to a different location, will the unit still be useful? Not all systems offer nationwide coverage. Do you have to buy another unit? This may not be applicable to everyone, but it is a good thing to know unless you are sure your patents will stay in the same location for a while.
Repair and Replacement of Equipment
Since most medical alert systems are considered rentals, the company is usually responsible for repairs and replacements, including the battery in the help or SOS button. If you are purchasing the equipment outright, the company may still provide a reasonable warranty policy, especially if you are subscribing to the ongoing monitoring service.
Aesthetics & Comfort
It may be a minor concern. But may also want to consider choosing a pendant or bracelet that is aesthetically pleasing and comfortable to wear.
Looking for a good medical alert company?