The MobileHelp medical alert system product line offers several options for consumers. It's in-home and out-of-home Duo system combines the reliability of a home base station unit with the portability of a mobile device unit. Their equipment provides users access to emergencies monitoring response both in and out of their homes. The mobile device also incorporates a GPS tracker for convenient location tracking.
For anyone looking for a great mobile medical alert system, MobileHelp is worth taking a careful look at. Consider both the pros and cons, compare it with other systems to see if it fits your parents or your personal needs best. See Medical Alert Systems With GPS Reviews.

Pros
In & Out Of The Home Use – MobileHelp's Duo and Solo systems allow the senior user to be protected both in and out of their homes.
GPS Tracking – With GPS tracking, the location of the user will be automatically retrieved.
Includes Home Base Station – MobileHelp's Duo system includes a home base station that is plugged into a power source. This keeps the system working when the senior is at home.
Cons
Larger Mobile Device – The device is a little on the big side. It may not be as convenient to carry around and access.
Two Piece System – The medical alert buttons they wear at home will not work outside without the mobile device. Senior users need to remember to take the mobile device out with them when going out.
Good AT&T Wireless Reception Needed – The home and mobile alert devices work off the AT&T cellular network.

MobileHelp Detailed Review
Background
MobileHelp is a technology leader in the medical alarms and health management solutions maketplace. Their flagship Duo mobile GPS medical alert system was launched in Nov 2009. It's thoughtful design of having both an in-home console unit and portable mobile extension places this personal emergency response system product in a class of its own.
Besides offering their products and services directly to seniors and other consumers, the company also markets their equipment to other businesses. For example, MobileHelp manufactured in-home cellular console units and portable devices have been incorporated into the systems of other medical alert companies. Although the front-end box or device may look the same to the system user, the purchased solutions will differ company to company. There will be differences in customization of features, monitoring services, customer support and billing terms.
Besides being a technology provider for mobile personal emergency response systems (MPERS), the company differentiates itself through its research and development efforts in health activity and data monitoring technologies. It's MobileVitals service offers additional monitoring options for subscribers of their cellular medical alert console uni. These include blood pressure, weight and heart rate measurements. At the Consumer Electronics Show (CES) 2017, the company announced that it will be launching a new MobileVitals tablet product.
MobileHelp operates out of the innovation hub of Research Park at Florida Atlantic University (Boca Raton, Florida). They are sometimes referred to as MobileHelpNow.
How It Works
The Mobile Help medical alert system, MobileHelp Duo, works both in the home and outside. The senior user would wear a bracelet or neck help button pendant while at home. By pressing the help button, a call to the monitoring center would be made, connecting the senior user in distress to a trained monitoring center professional. They can have two-way communications through the speakerphone of the base station unit. The call is connection through a cellular phone network. No home phone line is needed.
MobileHelp Duo Out Of Home
When out of the home, the senior user would carry a portable wireless medical alert device that incorporates the emergency help button, a cell phone connection, GPS tracking and a speakerphone. It can be thought of as a handheld "base station" unit. By pressing on the help button, a call to the monitoring center will be made. The user can also wear the same at-home bracelet or pendant and press the emergency help button on these accessories to issue an alarm call through the portable alert device.
The GPS tracker on the portable medical alert device will allow the senior user's location to be visible the monitoring center professional. Additionally, there are online MobileHelp Connect CareGiver Tools that allow authorized users such as loved ones and caregivers to see where the mobile device or user is located.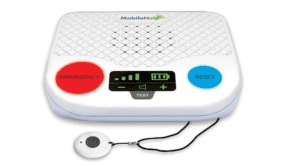 Besides the MobileHelp Duo system, there are also the MobileHelp Classic and Mobile Solo systems. Both are cellular based systems, whereby connection of emergency calls are made through a cellular network phone connection. MobileHelp Classic consists of the in-home base station unit (like the Duo) but not the portable device (unlike the Duo). Thus, the option only works in the home.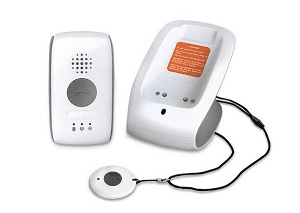 The Solo system consists of portable unit but not the in-home base station. The Solo portable unit works both in and out of the home. If you or your parents need coverage both in and out of the home, either the Solo or the Duo system will work.
Compared MobileHelp Solo, the Duo system is more elaborate as it includes an in-home base station unit. The advantage is that it offers access to two separate speaker/mic and emergency call connecting units. The disadvantage is that there are additional equipment and costs involved.
You can compare how MobileHelp's products work versus other mobile medical alert systems here. To learn more about the various types of mobile alert systems and devices, check out our guide here: 3 Main Types of Mobile Alert Systems and Devices Explained.
Cost
The cost of the MobileHelp Cellular Duo system which includes devices for both at-home and out-of-home coverage is $41.95 a month. MobileHelp also sells a home use only (no mobile device) Cellular Classic package that costs $29.95 a month. Pricing can change without notice, so please check with MobileHelp before you purchase.
The cost of subscription includes use of the equipment and cell phone network services for making emergency alert calls. The user does not need to subscribe and pay for cell phone service or a cell phone separately in order to use the Mobile Help system.
A $40+ a month price tag may seem like a lot, but this is a combination that includes both in and out of home use. If one were to purchase a regular home system and combine it with a mobile medical alert pendant like this, it will cost about the same.
Contract
There are no long term contracts or cancellation fees. Prepaid fees will be refunded in a prorated manner. To complete a cancellation, customers must return their equipment and accessories back to the company. Like other medical alert companies, MobileHelp will only process a refund upon receipt of all outstanding items in good condition.
Equipment Overview
The home plus mobile cellular medical alert system, MobileHelp Duo, has 3 main pieces of equipment: home base station unit, portable mobile device and bracelet and/or necklace emergency button pendants.
It's two other products, the MobileHelp Classic and the Solo are pared down versions of their flagship Duo system. The Classic system includes the home base station but not the portable device. The Solo includes the portable device but not the home base station unit. Both systems have bracelet and/or necklace emergency button pendants.
According to the MobileHelp website, their system complies with FDA good manufacturing standards, and meets UL standards related to the "operation and safety of digital alarm communicator system units." This provides assurance to the user that they offer quality system equipment that works well.
Home Base Station Unit
The home base station is similar to the base stations of regular home medical alert systems. The main difference is that alarm call connections are made through a cellular phone network. This cellular connection is built into the system.
Mobile Cellular Portable Device
The mobile cellular device is about the size of a deck of cards and weighs 3 oz. It works just like the home base station described and has the additional feature of GPS tracking. The mobile device is portable and meant to be carried by the senior when they are out and about. The company provides a carrying case for it.
It works as a standalone mobile unit, or together with the bracelet or necklace emergency button pendants (ie. the emergency buttons can activate an alarm call through the wireless mobile device). The mobile device is not waterproof.
MobileHelp Button Pendants
The bracelet or necklace emergency help buttons are waterproof and can be worn in showers and baths. They also have a battery life of 4 to 5 years.
Auto Fall Detection Button
For a small monthly fee, Mobile Help's systems can be upgraded to include automatic fall detection. This involves the use of the MobileHelp Fall Button. Auto fall detection is especially useful if the elderly system user meets with an emergency and is unable to manually press the alarm button. It is an extra feature that helps, but user should not assume it to be 100% accurate. There will be falls that the sensing technology cannot ascertain. Whenever possible, the system user should still press their help buttons to call for help.
Accessories
Extra accessories like key storage lock boxes, wall buttons, car or wall chargers are also available through MobileHelp.
AT&T Cellular Network Connection
The Mobile Help medical alert system works using AT&T's cellular network. All alert calls are routed through AT&T.
Range & Connectivity
The system has a maximum wireless range of 600 feet between the emergency button pendants and the base station. Between the mobile device and the emergency button pendants, the range is about 250 feet.
The actual working range will depend on environmental factors, such as physical obstacles or signal interference. How well the system will work is also affected by the connection to AT&T's wireless network. We recommend users to test their systems by making test calls from outlying points in their homes, and spots that they spend a lot of time at when at home.
When outside, if the user is clicking the emergency button directly on the mobile device, initiating an alert call is not an issue. However, the call can only go through if the strength of AT&T's wireless signals is good. We recommend users test out a few different scenarios to make sure the system works for them.
Monitoring Center
Mobile Help's monitoring services are outsourced to partner firms with US-based monitoring centers. Their emergencies monitoring service is available 24 hours a day, 7 days a week.
Home Base Station Backup Battery
The home base station incorporates a backup battery that lasts for about 30 hours. This keeps the system working for a while in case of a power blackout at home.
Mobile Alert Device Recharging
The mobile alert device is charged through a slot on the home base station. This device is meant to be placed in a separate charging charging cradle whenever the user is home. When fully charged, the portable device should have enough power to last through a few hours and longer. An optional car charger can be purchased for on-the-go recharging.
The Mobile Help system can be configured to send out email alerts to the user and/or caregivers whenever power on the mobile device is low and need to be recharged.
Complaints
MobileHelp has a BBB rating of A+ (as of Feb 2017). It's record showed 18 complaints in the last three years. All 18 complaints were earnestly addressed. Most of the complaints had to do with billing issues. 6 customers explicitly stated their satisfaction with the resolution, while the other 12 did not get back with the BBB on whether they were happy with their response or not. Started in late 2009, Mobile Help is a relatively new entrant to the medical alert systems marketplace so the feedback will be limited, whether good or bad.
The MobileHelp system is great, but you may also want to compare this to other mobile emergency alert systems such as Lively mobile device or Mobile Guardian. Check out the Mobile Medical Alert Systems Guide to learn what to look out for before you buy a mobile System.


While every effort has been made to ensure the accuracy of the information contained in this review, the information is supplied without warranties of any kind. We advise all readers to do careful due diligence before purchasing. Take time to visit the company's website and speak with their representatives.