ADT Medical Review Summary
System Rating: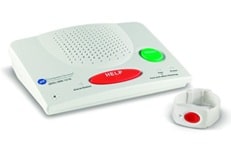 The ADT® medical alert system is provided by one of the best known names in the home security services industry. Seniors or other users are free to purchase this system whether they are ADT home security monitoring customers or not. The advantage of the ADT personal medical alert system is that customers can purchase additional services like burglar alarms or carbon monoxide monitoring from the same company, relying on it as a one-stop emergency services alert provider.
The main disadvantage of picking ADT as a home medical alert monitoring provider is that the cost of using their system is higher compared to other quality competitors. They also lock users into an initial 12 month contract. This means that if users do not like the system or if circumstances change and they no longer need it after a few months, they are stuck with paying through the first year.
Pros
Full Home Security, CO2, Fire/Smoke Alert Services Available – The main advantage of ADT is that it is a home security company that offers a full menu of services including burglar alarms, carbon monoxide monitoring, fire/smoke monitoring and other services. For users who need all of these services, they can simply purchase it from one vendor.
Cons
Higher Cost – ADT charges an installation fee of $50 to $75 to get their systems up and running. Their monthly fee is $34.95. This does not compare well with other top tier companies that provide their services free of installation and activation fees, and lower monthly fees. See comparison chart.
Initial 12 Month Contract Commitment – User are locked into a 12 month contract upon signing up for the ADT system. This does not compare well with other top companies that allow customers to cancel at anytime.
ADT Medical Alert Detailed Review
Background
ADT is one of the most highly regarded home security companies in North America. Their headquarters is in Boca Raton, Florida, and their stock is publicly traded on the NYSE. Besides home and business security services, they also provide medical monitoring through their Home Health division. Known as the ADT Companion Services Personal Emergency Response system, the ADT medical alert system can be purchased separately from home security services.
The ADT company has a history of over 130 years, while their medical alert monitoring service was launched more recently in 2004. According their website, their goal is to help seniors and people with disabilities live independently. Despite the relatively shorter period of time that the company has been offering senior medical monitoring, their operations expertise in security equipment and monitoring has been proven. There are many transferable skills and technicalities that enable them to run a good home medical alert monitoring system.
How It Works
The ADT medical alert system works by connecting users who are in distress with an ADT monitoring professional who call for help on their behalf. When an unfortunate scenario such as slipping and falling occurs, the user can press a help or panic button that they wear either as a necklace pendant or on their wristband.
A signal is transmitted to the base unit of the system, triggering a call into the ADT monitoring center. This establishes 2-way communications with the ADT monitoring representative. The ADT monitoring representative will then contact necessary help to assist the user in their situation. This monitoring help is available 24 hours a day, everyday.
Cost
The cost of the ADT senior medical monitoring service is $34.95 a month. In addition, they also charge installation and activation fees to get the system set-up. The installation charge is $75 normally, but an internet special at the time of this writing has lowered it to $65. With this internet special, the usual $75 activation fee has been waived (ie. $0 activation fee).
ADT's current customers can receive installation for their service at $49, with no activation fee. The monthly cost is reduced to $29.95 a month. This appears to be the lowest discounted monthly fee charged by ADT. However, it is still higher compared to the monthly costs offered by other top tier companies.
AARP members pay a lowered cost of $52 for installation, with no activation fee. The monthly cost is reduced to $32.95 a month.
There are also additional pricing specials and other offers depending on the users local area, or if customers meet qualifying factors. The prices quoted here is based on what is listed at the time of writing, and subject to change over time.
Contract
There is an initial 12 month contract requirement to subscribe to the ADT medical alert service.
Equipment Overview
Base Unit
The ADT medical alert base unit looks very much like regular medical alert base consoles you see provided by other top tier systems. It contains a sensitive speak phone which allows the user to hold 2-way conversations with an ADT trained monitoring rep when an emergency occurs.
An added feature with the ADT base unit that is not normally available with standard industry offerings is the inclusion of a heat sensor that can tell when the temperature is too cold or too hot. This triggers an alert.
ADT Button Pendant
The system comes with a light-weight panic button pendant that is waterproof. The pendant can be safely worn, as well as work, in the shower. Their are 2 options for wearing the button, either around the neck as a neck pendant, or around the wrist as a band.
For spouses and housemates, extra buttons can be purchased at $40 a piece, with an added $6 in monthly service fee per additional user.
The system equipment comes with a full warranty for repairs or replacements. Users will always have a system that works for the monthly price they pay. However, this warranty will not cover for lost equipment.
Monthly Testing Encouraged
Users are advised to test their units every month to ensure that it is functioning well. A light will come on on the unit to remind users to run the test.
Phone Line Options
The ADT medical alert system is meant to work with traditional phone lines. Voice over internet or VoIP phone lines could work with the system. However, it is subject to additional risks of incompatibility with the system. Power outages will also cut off the ability to establish communications with the monitoring center. For anyone who want to use a VoIP service, do discuss this with an agent from the company before getting the system.
Installation
Installation of the ADT Companion Services personal emergency alert is done at the user's home by professionals. This can save some headaches for users who do not like to fiddle with equipment. On the flip side, it will cost an additional $50 – $65 to get the system up for what most consider to be a very easy set-up process.
Range
The ADT medical alert system comes with a good wireless range of 300 feet. This is sufficient range for most homes. However, the actual working range can vary based on the layout of the rooms, placement of furniture, home construction materials, obstacles and other interferences. For these reasons, it would be good to test the system out from various parts of the home to make sure the system works well.
Monitoring Center
ADT medical monitoring services are provided 24 hours a day, everyday. They operate their own monitoring centers, with 4 interconnected locations around the country. On the plus side, some users prefer the assurance the company offering medical monitoring have direct day-to-day management of how emergency phone calls are handled.
On the minus side, ADT does not disclose the type of training received by ADT monitoring center professionals, especially how they differentiate between the training for professionals handling medical alert calls vs. regular home security calls.
Backup Battery
Having a backup battery source is important in instances of power outages. Users need to know that they will continue to be protected even as power goes out. The base unit of the ADT medical alarm system has a back-up battery source that will last for 12 to 20 hours.
Furthermore, before the battery runs out, a low battery warning will be activated alerting ADT call monitoring center professionals of the situation. They will then call the user to let him or her know about the low battery condition and assist them further as appropriate.
Home Security, Carbon Monoxide, Fire/Smoke Monitoring
As a full service home security company, ADT can provide additional services that allow home residents additional protection. Besides medical monitoring, the company also offers monitoring for burglar alarms, fire and smoke, carbon monoxide (CO2), water detection and temperature. All of these services come packaged under their Home Security package for around $48 a month.
For seniors living on their own, all these services can provide additional assurance that someone is ready to help when an emergency occurs, beyond medical related situations. Most medical alert companies specialize in medical alert monitoring and do not offer these services. Users interested in these services usually purchase them as a separate package from a home security firm.
The exception is CO2, fire/smoke monitoring which is an area of overlap service provided by select medical alert companies, as they are sometimes requested by customers of medical alert systems. The elderly can be more susceptible to conditions of CO2 poisoning as it is an odorless gas that can render a person dizzy and confused. They may also not be conscious enough to act when caught in fire and smoke. That is when a direct connection to monitoring personnel when such events occur can really help.
Complaints
It is difficult to gauge the level of ADT medical alert complaints as most feedback about the company pertains to their home security services. ADT Security Services has a BBB rating of A- and over 4700 complaints in the last 3 years (as of Nov 2014). As a comparison, Bay Alarm, a home security company that also operates a medical alert arm, received a BBB rating of A+ for their home security services, and A- for the medical alert services.
It would certainly be more reassuring to potential users of medical alert systems if ADT overall is a little better rated by consumers. That said, we did find a few positive customer reviews, and little meaningful complaints to report here.
Review & Compare With Others
When choosing the best medical alert system for your parents or yourself, you can find quite a number of good companies to pick from, so take time to do your research and make comparisons. The ADT medical alert could work, but you may also want to review a few others and compare before you buy. Readers can compare ADT medical alert with other highly rated medical alert companies in the Medical Alert Systems Reviews section, or through the Compare Medical Alert Systems chart.

While every effort has been made to ensure the accuracy of the information contained in this review, the information is supplied without warranties of any kind. We advise all readers to do careful due diligence before purchasing. Take time to visit the company's website or speak with their representatives.