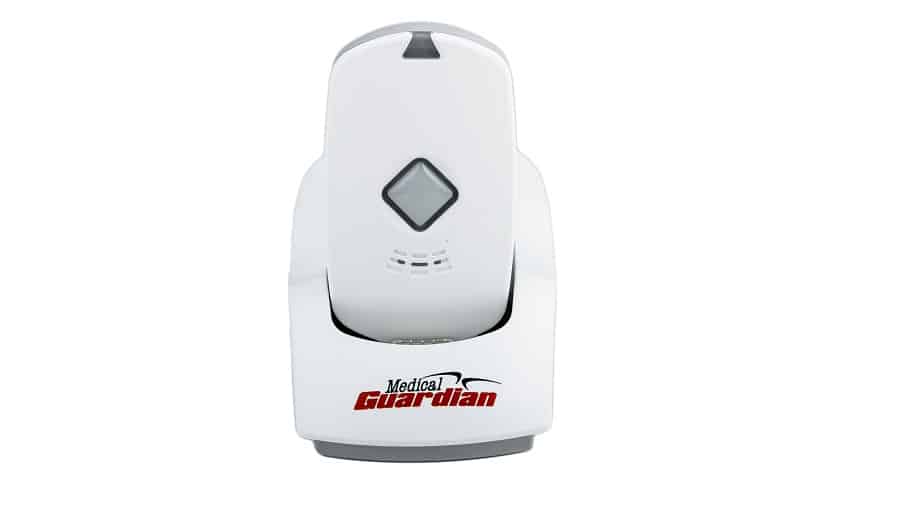 Today's medical alert systems are no longer limited to in-home speaker units with standard issue necklace buttons. Premium Guardian is a modern-day alert device that offers seniors the freedom to move about everywhere with the peace of mind that they can access live monitoring services in case of emergencies. This is a small mobile alert GPS device that can be worn with a lanyard or belt-clip.

Disclosure: We receive referrals commissions for purchases made (details).
Since Oct 2017, the Premium Guardian has been superseded by a newer product called the Active Guardian. In addition to having the main features of the Premium Guardian, Active Guardian also includes wifi positioning for more accurate locations tracking. To learn more about this mobile alert product, see our Active Guardian Review.
In the past few years, a number of new mobile alert products have entered the market. Medical Guardian is a well-recognized and leading provider of both home and mobile personal emergency response systems for elderly consumers. Some of key features about this system and how it differentiates from a standard in-home medical alert system are the following:
Pros
Can Be Used Both In and Out of the Home – Senior users can wear this with them at home, and take this out with them when they leave their homes.
Long Range – Seniors are sometimes worried about the range of their medical alert systems, about whether it will work when they are far from home. Unlike in-home systems where the SOS buttons activate and alarm call through separate base console units, this small-pendant is a single-piece all-in-one SOS button and call-activation unit. This pendant works is meant to work anywhere there is good cell phone connection. Currently, it works through the AT&T network.
Speaker and Mic on Device – The speaker and microphone for two-way communications is built into the device itself. This ensures that the senior user can easily hear and speak with the monitoring center agent. Regular home medical alert buttons activate a separate speaker/microphone unit that is placed in a central area of their homes.
Water-Resistant – This pendant is water-resistant and can be worn in showers.
GPS Tracking – GPS tracking makes it possible to relay the location information of the senior user. This could come in handy when the user is unsure of where he or she is, or if they are unable to communicate.
Auto Fall Detection – With automatic call detection, the device is able to tell if the senior user has fallen and then activate an alarm call. For the most part, automatic fall alert detection works as it is supposed to. However, there could be times when it doesn't work as well. Seniors can still manually activate an alarm call if they need assistance and are able to do so. This is a premium add-on feature that costs an extra $10 a month.

Click to Call 1-800-311-6142
Cons
Regular Charging Required – Unlike regular home medical alert systems where the button battery last for years, this pendant needs to be charged almost daily. The battery specifications states that it will last up to 36 hours on stand-by.
Bulkier Button – As an all-in-one speaker and button unit, it is heavier and bulkier than regular home medical alert buttons. Medical Guardian also offers another mobile system with a portable unit that pairs up with a regular lightweight button. The user experience is somewhat different and worth comparing with this pendant. See Medical Guardian Mobile Alert review here.
In-home/Indoor Location Tracking – With in-home systems, the senior's home address is tied to the unit, so responders can always be directed to the senior user's home address without hesitation. With a GPS mobile alert like this, there is a smidgen of risk that GPS cannot correctly identify the location of the user when they are indoors (eg. at home). That's a limitation in how GPS works indoor environments in general. This disadvantage needs to be put in perspective when compared to the benefits of being able to access to monitoring help everywhere.
Overall, this is a useful addition to Medical Guardian's line of medical alert systems. This is especially useful for seniors who appreciate a medical alert device that can work everywhere and that includes all premium features like GPS and fall alert detection. To see how Premium Guardian has helped saved the lives of seniors, check out our blog post Premium Guardian Medical Alert Saves Lives Just-In-Time.
If you are interested, getting started on this system is straightforward. There are no activation or equipment fees upfront. Pricing starts at $49.95 a month, and there may be a reasonable shipping charge. If you have concerns and questions, the best way to clarify them is to speak with a representative at Medical Guardian directly (toll free 1-800-311-6142).
Read the full Medical Guardian Review >>
Disclosure: We receive referrals commissions for purchases made (details).
Related Resources:

Medical Guardian Review
Medical Guardian GPS Mobile Alert System Review
Mobile Medical Alert Systems With GPS Reviews
While every effort has been made to ensure the accuracy of the information contained in this review, the information is supplied without warranties of any kind. We advise all readers to do careful due diligence before purchasing. Take time to visit the company's website and speak with their representatives.