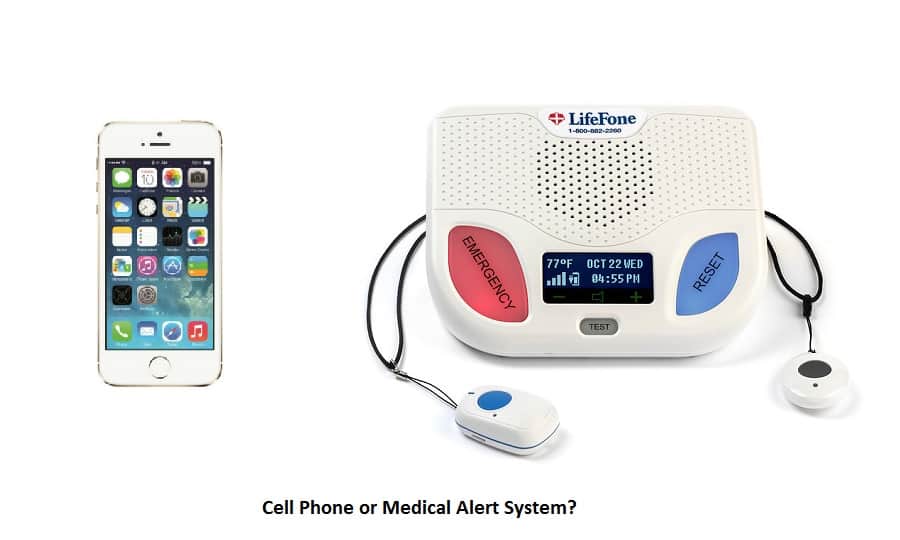 Seniors and their children sometimes wonder if having a cell phone can replace the need for a medical alert system. Since cell phones can be used to notify 911 or an emergency contact when an emergency occurs, why get a new device? There are pros and cons to each solution. In this article, we have listed various reasons for choosing to rely on a cell phone, or for getting a medical alert system.
Why Cell Phones?
No Extra Device To Carry/Learn To Use
Most seniors these days have a cell phone, be it is a basic phone, iPhone or Android smartphone. They already know how to operate their cell phones, so there is nothing new to get used to. Most people also have their cellular phones with them most of the time, whether at home or out.
Save Money
If the senior is already paying for her cell phone, there are no additional costs required. Medical alert buttons will mean extra costs for the device or subscriptions.
Not Tethered to Your Home
Cell phones are mobile by nature, and they can be used both in and out of the home. The traditional medical alert button is tethered to a home base console for it to work. However, newer mobile medical alert buttons do offer the benefit of being able to operate both in and out of the home.
"Medical Alert" Cell Phones
There are senior cell phones these days with medical alert features. For example, the Jitterbug flip-phone comes with a button that dials into Great Call's 5-Star Urgent Response monitoring service. Their Jitterbug Android smartphone feature a virtual emergency alert button that the elderly can tap into to reach a monitoring representative quickly. A good feature is that customers pay for these month to month without being tied to a two-year contract in order to start.
Related: Senior Cell Phones with Medical Alert Like Features
Why Medical Alert Systems?
Simple One-Click Operation
Medical alert buttons and devices are designed to be really simple to use in case of emergencies. All the senior customer needs to do is click on the button. Most medical alert buttons are specially designed to be worn around the neck, on the wrist or with a belt clip.
The user experience is easier than whipping out the mobile phone, waking it from sleep mode, and then dialing 911, or a family member.
Monitoring Help Available
The availability of 24/7 monitoring help dedicated to working with seniors and customers with disabilities can make a difference to the speed at which the customer can access help. Their son or daughter may not be able to pick up their phone call right at the moment, and they may hesitate to call 911. The monitoring operator can help the senior with calling their doctor, daughter/son or caregiver, without needing to involve 911. Here is yet another example of how having monitoring help can make a difference.
No Frequent Charging Needed (In-Home Systems)
Cell phones require more frequent charging when compared to traditional in-home medical alert buttons where the batteries last for years without needing to be changed. Keep in mind that mobile medical alert devices usually require frequent charging as well.
Small Lightweight Button
Unlike small lightweight medical alert buttons, cell phones are more bulky. Understandably, the senior user may not feel inclined to carry their cell phones around with them all the time when in their own home. But if a fall happens unexpectedly, they can't dial out for help.
Use Around Shower Areas
A lot of medical alert buttons are waterproof and can be worn in showers and baths where its easier to slip and fall. Cell phones are not waterproof and we tend to keep them away from the shower in case they get wet. Check out this video where we tested a medical alert button in a shower (last 1/3 of video).
Integrated Fall Alert Detection Option
Medical alert buttons that come with built-in automatic fall alert detection are common and used by many. This feature is integrated into the medical alert system, so that emergency calls are triggered when a fall has been detected (not 100% accurate but works).
Although there are more and more smartphone Apps featuring automatic fall detection, most are not that simple to use. They depend on the smartphone's operating system, and may require additional manual manipulation. Many of these Apps do not dial out to monitoring centers, something that many dedicated medical alert buttons have been preset to do.
Related: Medical Alert Systems Reviews
Summary
Whether or not to rely on a cell phone or to go with a medical alert system depends on you or your parent's level of comfort with the benefits and risks that these options present. A cell phone is probably something that the senior already has. It is one way to reach out for help, but it may not be as simple and reliable as a medical alert system as described above. If you have strongly feel that a cell phone is not sufficient protection, it's probably a sign to consider having a medical alert system in place.
 
Another option is to consider is something like Great Call's Jitterbug phones, which work normally as cell phones, but have additional features that help seniors establish contact with monitoring help in case of emergencies.