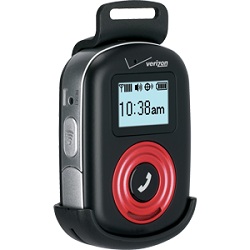 The Verizon SureResponse Personal Monitor system is designed to fulfill the promise of a single seamless mobile emergency alert system that can be used both in and out of their homes. Seniors can wear and use a water-resistant emergency button pendant that works both in and out their home. The pendant is also a GPS tracker that will register the user's location.
The concept of the Verizon SureResponse is impeccable, but lukewarm customer feedback for the system reveals the practical challenges in making the concept work. Reports of difficulties experienced with the system, together with the 2-year contract requirement have discouraged the rate of adoption for this system. As of 12/31/2014, Verizon has stopped selling this device. Those who were Sureresponse users were able to continue their service for a while until it was discontinued in Nov 2016. For similar products, please visit the GPS mobile alert reviews section.

Pros
In & Out Of The Home Use – The SureResponse emergency help button pendant (mobile wearable device) works both in and out of users' homes to activate alarms calls.
GPS Tracking – GPS tracking allows the location of the senior user to be beamed to monitoring center agents, so they know where to send help. Authorized family and caregivers can use GPS tracking to locate where user is as well.
Waterproof Pendant – The emergency button pendant is waterproof and can be worn in showers and baths (can sustain temporary shallow submersion in water).
Cons
2-year Contract – The system requires a two-year contract commitment unless the user pays $220+ for the initial equipment cost.
Frequent Charging Required – It could be a hassle for senior users to have to charge their personal wearable devices almost every day.
Good Verizon Reception Needed – It will not work where Verizon wireless reception is weak.
Lukewarm Customer Feedback – Customer reviews of the product are overall worrying.
Verizon SureResponse Detailed Review
Background
Verizon Wireless is one of the largest telecommunications provider in the US. In late 2012, Verizon launched the SureResponse Personal Monitor system, a GPS mobile personal emergency response system (MPERS) that promised lots of outstanding features. (See the Mobile Medical Alert Systems With GPS Reviews for more comparisons.)
In entering the personal emergency response systems market, Verizon is competing with established systems offered by Life Alert, LifeStation, Philips Lifeline or Medical Guardian. Their edge is in presenting a small wearable device that seamlessly works both at home and outside.

How It Works
Senior users of the system use a portable wearable device that can be worn with a lanyard around the neck, attached to a wrist strap, or clipped to the belt. The same device is worn and used both at home and outside.
By pressing the emergency help button, this device will initiate a call to the monitoring center where SureResponse Care Agents are standing by to help the user. The call is routed through the Verizon cellular network. Through the speakerphone on the SureResponse button device, a 2-way conversation is established, and the agent will assist the senior user.
The agent will also have information about the user's location through the GPS tracking function of the device. This GPS locator information is also shared through the SureResponse Online dashboard with authorized users such as children, family and caregivers of the senior using the device.
Mobile medical alert systems work in somewhat different ways, with different sorts of equipment. One advantage of the Verizon Sure Response system is that seniors can wear the same pendant for both in and out of home use. You can compare how this to other systems in the Medical Alert Systems With GPS Reviews section.
Cost
The minimum cost to get set-up on the system is about $55. This breaks down into the cost of the Verizon mobile personal monitor for $19.99 with a two-year contract or $229.99 otherwise. Besides that, there is a $35 activation fee.
There is a $30 a month monthly access charge for ongoing alert calls monitoring.
The monthly access charge includes 60 minutes of cell phone convenience calls. The elderly user can call into the monitoring help center and request for a call to be patched through to another number. Overage charges about the 60 minutes used is 45 cents a minute.
Contract
There is a 2-year contract requirement if users choose to get the equipment at the steep discount of $19.99.
There is an early termination fee of around $175. There may also be a restocking fee on top of that.
The Verizon Sure Response system is usually covered by a 7 or 14 money back guarantee.
Equipment Overview
Docking Station
The main equipment items of this system is the Docking Station charger and the mobile SureResponse device. The Docking Station is used to charge the SureResponse device.
SureResponse Mobile Wearable Device
The SureResponse wearable mobile device is akin to the emergency button pendant for any standard home medical alert system; but besides the help button, it also houses the emergency help button, GPS tracker and small two-way speakerphone. It is a small pendant unit that measures 2.4″ (H) x 1.7″ (W) x 0.7″ (D) and weighs 1.9 oz. This is heavier when compared to medical alert buttons in home-based systems, which typically weigh around 0.4 to 0.5 oz. The Sure Response wearable device contains an in-built tiny speakerphone, which adds to its weight.
One downside of this pendant, as pointed out by users, is that the button tends to be easily activated by mistake these ways: when docking it into the charging station for recharging, and when sleeping with it in bed.
Mobile Device Is Waterproof
The SureResponse alert device is waterproof, splash and rain resistant. It can be worn in the shower or bath. However, it should be not submerged in water for long periods, or worn when swimming, snorkeling or diving. According to Verizon's website, the SureResponse device is IPX7 rated, which means that "it can sustain temporary immersion in one meter (39 inches) of water for up to 30 minutes."
Being waterproof is a plus, as seniors are very susceptible to falls in showers and baths. Waterproof pendants are taken for granted in home medical alert systems, but can be a challenge to implement in mobile systems.
Accessories
The Verizon SureResponse Personal Monitor package includes a number of accessories, besides the main equipment items. There is a travel charger, wrist strap, belt clip and lanyard.
Battery Recharge
According to Verizon's website, the SureResponse alert device can hold a charge of up to 36 hours (1 1/2 days) with each recharge. A number of users have described that they need to recharge their devices almost every day, confirming the product's official specifications.
Verizon Wireless Service
The Verizon mobile medical alert system works through the Verizon wireless network. There is no necessity to subscribe to extra wireless services or have a land or home phone line for the service to work. The downside is that the system will not be able to operate where Verizon cellular reception is weak.
The Docking Station come with outlets to connect to a land telephone line connection. In future updates, the company plans to allow emergency phone calls to be routed through home phone lines as well. As of early Jan 2014, this feature is not yet active.
Installation
Installation and activation instructions are provided in the user guide that comes in the box. For customers needing extra assistance, there is an option to have a technician do the installation at your home, for the price of $149.
Each Sure Response mobile device needs to be "paired" with the docking station for the system to function. The pairing has automatically been done for the any new set of docking station and wearable mobile device. The is all explained in the user guide, and most users do not seem to have any problems with the "pairing" concept. However, it does introduce a tad more complexity to the installation of replacement of wearable device units, especially when compared to most other medical alert systems.
Complaints/ Customer Reviews
The number of Verizon SureResponse complaints is worrying. For sure, there are customers who are really enthusiastic about this product, but the overall tone from customer reviews is not upbeat. On the Verizon website, we found an average rating of 2.5 out of 5 from 20 customers (as of Jul 2014), and only 42% would recommend the product. Below are samples that echo what other users are facing:
"…It is difficult for [the] elderly to place in the recharging device and it does require daily charging. That battery issue is my real concern." From Beth48 on Verizon's website.
"Device is too easy to set off (button should be inset so not possible to set off if you cross your arms while wearing with any of the carry devices); battery life is awful; not recommended for anyone who is getting less that 4 bars where they live." From 9knife on Verizon's website.
This user had problems with getting the system work, was sent parts that did not solve the issue, and ready to cancel the service:
"…We are currently replacing Sure Response system for the 3rd time since 1/2013 due to "systems/connectivity issues"….I was back in the phone loop and every rep wanted me to start from the beginning again…." From soosun50 on CNet's website.
Overall
Overall, we think that Verizon has made a bold and admirable attempt to solve the mobile medical alert puzzle to bring about a seamless system that works both at home and outside. On a practical level, there appears to be room for improvement. Although the concept sounds beautiful and even very doable, the technology behind it is not as simple as one may imagine. In any case, Verizon has decided to stop selling the product (as of Dec 2014). Perhaps they may make another attempt in the future.
If you or your parents are looking for a mobile alert device, there are other systems in the market to compare the Sureresponse device with. A mobile emergency alert device like Great Call Splash 5 Star Urgent Response, is close in concept to the Verizon SureResponse system and has a wide user base. Another option to look at is the Medical Guardian's Mobile Alert system, a hybrid in-home and mobile response system that can be paired with a water-resistant necklace/bracelet like traditional medical alert systems.
To learn about what to look out for before you buy a mobile system, check out the Mobile Medical Alert Systems Guide.



While every effort has been made to ensure the accuracy of the information contained in this review, the information is supplied without warranties of any kind. We advise all readers to do careful due diligence before purchasing. Take time to visit the company's website and speak with their representatives.