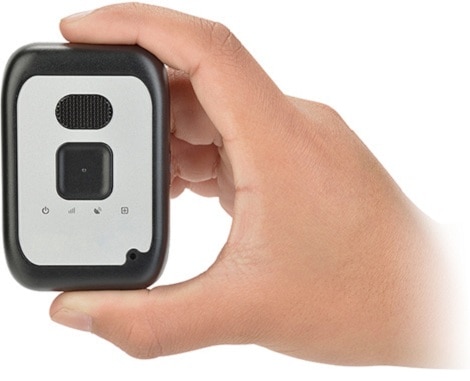 Like it's top-rated competitors, Bay Alarm Medical offers a GPS Mobile Alert System. It is suited for seniors leading active lifestyles that frequently take them out of their homes. This is a portable mobile help button device that will allow users to connect to Bay Alarm Medical's 24/7 monitoring help center by simply pressing on the help button. In this detailed review, we go over how the device works and the pros and cons of this system.
Disclosure: We receive referrals commissions for purchases made (details).
Medical alert companies have been cautious with introducing new mobile alert systems as the current state of technology presented limitations (which we will discuss in this review) that made mobile systems less easy to use than the tried and tested classic home medical alert system. Nevertheless, with proper education for consumers and careful understanding of how the product works, mobile medical alert systems can offer more freedom to consumers looking for medical alert monitoring outside their homes.
GPS Mobile Medical Alert System Review
How It Works
Disclosure: We receive referrals commissions for purchases made (details).
The Bay Alarm Medical mobile alert system revolves around one central piece of equipment: a portable help button device with GPS tracking capabilities. Before the first use, the device needs to be charged in the provided charging cradle for 3 to 4 hours to gain a full charge. After that, the mobile device can be removed from the cradle and carried by the senior user with them anywhere they like. It will work as long as the mobile cellular connection is good.
When an emergency occurs, the senior user can press the button in the middle of the device for a few seconds until it vibrates. A monitoring center operator should connect in around a minute to assist the senior user. If need be, they will contact the other family members or emergency contacts, or else call on emergency services. The operator should also be able to access the user's approximate location via GPS.
Each full charge lasts for up to 2 days, according to the instructions manual. This checked out in our experience.
Currently, emergency calls are facilitated through AT&T's cellular phone network (subject to change). Subscription fees for monthly monitoring will cover any cellular service connection fees required for operations of the medical alert pendant. No other phone subscriptions are needed. To find out if service is available in your area, Click Here and attempt to order the product. You will be shown a link to check coverage.
Equipment and Accessories
The Bay Alarm Medical mobile medical alert system with GPS consists of a main mobile pendant device (pictured above), plus accessories like a charging cradle, necklace lanyard, pouch and belt clip (pictured below).
Central to the system is the small rectangular mobile pendant with an SOS help button, 2-way speakerphone and GPS tracker. The small device can be worn either around the neck with a lanyard or placed in a carrying case that attaches to a belt clip. It is lightweight and compact, measuring 2.7 inches from top to bottom, 1.8 inches across and is 0.7 inches thick.
Senior users can use this pendant device at home and carry it with them everywhere they go. Should help be needed, they can press on the SOS help button to be quickly connected to a monitoring center operator who can assist them.
Does It Work At Home?
As long as the cellular phone network connection is good, this mobile help button can work at home as well. However, there are several reasons to consider supplementing this device with a traditional home medical alert system if you or your parents are also looking for home medical alert monitoring. These are the factors to consider:
a) GPS tracking works better when the device is moving around outdoors, when the GPS tracker can establish a clearer connection to the satellites. It is less accurate for determining indoor locations, such as inside a home. With home medical alert systems, the user's location is directly tied to their home address. Operators always know the address to send help to.
b) The Bay Alarm Medical mobile button is not waterproof and cannot be worn in the shower. Seniors are at risk of falling in slippery shower or bath areas.
c) The mobile button device requires frequent recharging. This could be a hassle.
d) The mobile button device is heavier and bulkier than the home medical alert button. It contains both a speaker and microphone, as well as technology to dial out to the monitoring center. Bay Alarm's mobile GPS button weighs around 2 oz, compared to less than 0.5 oz for a typical home medical alert button (weights approximate).
Currently, Bay Alarm Medical offers a steep discount on their in-home medical alert system when someone subscribes to their mobile GPS button device.
Not Waterproof
Since a lot of falls happen in the bathroom shower area, it has limitations as a home medical alert system. Other than that, it can be just like any other GPS mobile medical alert system – when users are out to run errands, meet with friends or when taking a walk. The mobile system will work wherever AT&T's cellular network services have strong enough signals.
Cellular-Based In-Home Medical Alert System Different
Bay Alarm Medical also has a home-based console unit that works through its own built-in cellular phone service. That system is different from this mobile medical alert in two main ways. Firstly, it is a home-based system and cannot be used out of the home. Secondly, it comes with a small waterproof help button that activates the alarm. The mobile device is a one-piece "console plus button" unit and not waterproof-rated for use in showers.
You can compare this GPS mobile alert device to other Bay Alarm Medical Alert systems in this guide.
Cost
The Bay Alarm Medical GPS mobile alert system costs $29 a month to use. There is also a start-up cost of $49 for the equipment use. Users can get a further discount if they prepay for 6 months upfront. Note that after the initial 14 days refund period, Bay Alarm Medical will not issue any refunds for fees prepaid upfront if users cancel before the prepaid period is over.
Bay Alarm Medical offers discounts to selected readers, possibly if you are a member of the AARP or AAA. To learn more, please call a rep directly at toll-free 1-855-397-9964.
For users who are actively seeking a mobile medical alert system with GPS, the Bay Alarm Medical product appears decent. That said, the marketplace is competitive and there are lots of good options to compare it against.
Caregiver Tracking Portal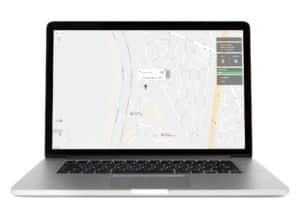 Bay Alarm Medical offers an add-on online Caregiver Tracking service for customers of this mobile device. Through a password secured online dashboard, children and caregivers of the senior using the mobile medical alert can check the senior's location. This is a useful service as it allows the senior's loved ones and caregivers to know where he or she is. It allows them to more easily locate the senior if the situation calls for it. More information is available here.
Compared With Great Call Lively
One comparative product is the Lively alert device by Great Call. It works very much like the Bay Alarm Medical GPS Mobile pendant. We found the Great Call Lively easier to use. Unlike Bay Alarm Medical's device, the Splash has a service indicator light that makes it easy to tell when the Splash is ON and ready to be used.
Other differences are that the Great Call Lively is waterproof and can be used in showers or baths (up to 3 feet and under 30 min). Besides, the Splash unit offers additional options, such as a automatic fall alert option and an option to share the GPS tracker location with authorized users online or through their app.
If you are interested, read the full Great Call Lively review here.
Compared With Medical Guardian Mobile Alert
Another comparative product worth taking a look at is the Medical Guardian Mobile Alert System with GPS. Compared to the Bay Alarm Medical mobile system, the Medical Guardian system has a mobile speakerphone device that is slightly larger. Besides activating alarm calls through the portable device, it also syncs up with a lightweight waterproof home medical alert pendant or bracelet. At home, the portable unit can be left on the cradle, and the senior user will only need to wear the smaller help pendant.
For seniors who are forgetful and/or tend to spend more time at home, the portable unit can be left in the charging cradle while at home, and they only need to wear a lightweight help button. That button has a long lasting battery, so there are less worries associated with forgetting to keep their button charged.
If you are interested, read the full Medical Guardian Mobile Alert review here.
User Tips
Placing Device In Cradle Turned It On, No Need To Press On/Off Switch
As stated somewhere in the user guide, once the Bay Alarm Medical help button device was placed in the cradle, it would automatically be turned on. When you remove the unit from the cradle, clicking on the on/off switch on the side would turn it off and not on! After removing the device from the cradle, our first instinct was to press the device on/off switch on the side to turn it on. We later realized that this was not necessary.
To initially set the system up, we placed the device in the charger for around 4 hours. After that, the device was fully charged and ready for use.
The user guide stated that the on/off switch could be disabled. Since there was not much use for the on/off switch, we thought it would be a good idea to disable it. However, upon speaking with Bay Alarm Medical's customer support, we were told that the button cannot be disabled.
Test Device Periodically
As demonstrated in the review video above, we thought the lack of a service availability indicator made using this device confusing. We brought the device out and about through a day and noticed this: at times, the indicator lights will blink, but for the most part, none of the indicator lights came on or blinked. When the device is "silent," does it mean that it's working? To make sure that everything is working, we recommend for users to test their button periodically, perhaps a few times a month.
Keep Device Charged
In addition, do monitor and make sure the device is charged. Users should monitor their devices or establish a routine (such as charging it every night) to keep it charged. A red indicator light should come on when there is less than 30% of power left.
Summary
All in all, Bay Alarm Medical's GPS mobile alert system is a decent option to consider for anyone seeking a good mobile GPS medical alert system. In this review, we went over the main highlights of the system, how well it functions, as well as the quirks. We've also compared it to alternative systems like the Great Call Lively and Medical Guardian's Mobile Alert system.
Take time to consider how the Bay Alarm Medical mobile system can benefit you, and compare it with at least one other well-known system to make sure that it is the best choice for you or your parents.
Disclosure: We receive referrals commissions for purchases made (details).
Related Links:
Mobile Medical Alert Systems With GPS Reviews – To check out additional mobile medical alert systems and compare it with this system.
Bay Alarm Medical Official website – For more information on Bay Alarm Medical or to order the Bay Alarm Medical GPS Mobile Alert system.
Bay Alarm Medical Alert Review – For more info on the Bay Alarm Medical company and to learn about their classic home medical alert system details and pricing.
Disclosure: We receive referral compensation for purchases made (see details).

While every effort has been made to ensure the accuracy of the information contained in this review, the information is supplied without warranties of any kind. We advise all readers to do careful due diligence before purchasing. Take time to visit the company's website and speak with their representatives.