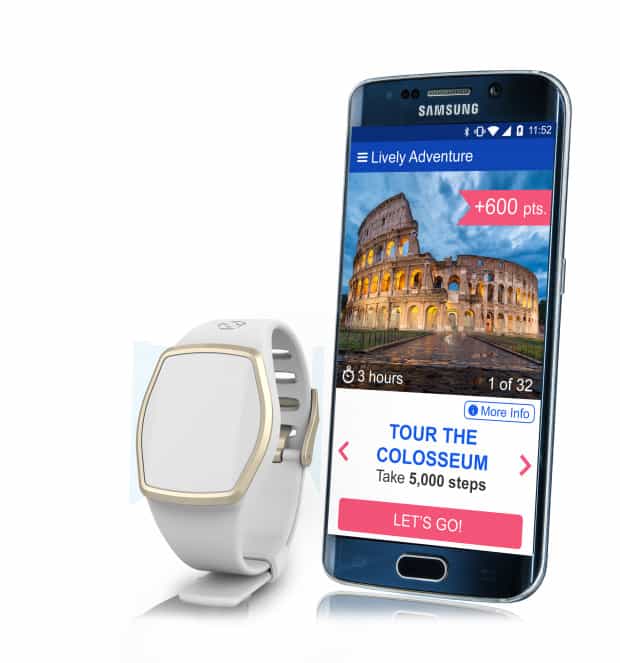 The GreatCall Lively Wearable watch or pendant is a modern and stylish activity tracker and emergency response button accessory designed for seniors. GreatCall is the company behind Jitterbug phones and the Lively personal emergency alert device. As a technological leader in connected health for active aging, the Lively wearable product represents a cutting-edge take on aging-in-place devices that allow seniors to move around with greater independence.
This product has been released since April 2016. The Android version was released first, and the iPhone version is expected to go live in Summer 2016.
Nothing in the GPS mobile alert devices marketplace works quite like the new Lively Wearable, but if site readers who want to compare this to an existing product with a proven track record, Great Call's Lively device is probably worth looking into. Over the last few years, the Splash and its successor, the Lively alert has been very well-received by many seniors and other users. To be clear, the Lively Wearable (pairs with smartphone via Bluetooth) and Lively alert devices (standalone mobile device) are two different concepts, so the Wearable is not meant to replace the Lively.
Beginnings
Back in 2013, the Lively product started off as an at-home activity tracking system that works through a base console unit and sensors. In its earlier iterations, the product's emergency help button would send a signal to a monitoring center that will then call the user's phone.
After the Lively company was acquired by Great Call in Dec 2015, Great Call further developed the product into a wearable accessory that leverages Great Call's expertise in senior health and monitoring apps, 24/7 emergency monitoring services and senior-related mobile app development. The product relaunch through Great Call provides consumers with the ability activate a direct connection to a monitoring dispatcher through a smartphone (both Android and iPhones), enhancing the product experience.
Syncs With Senior Users' Smartphone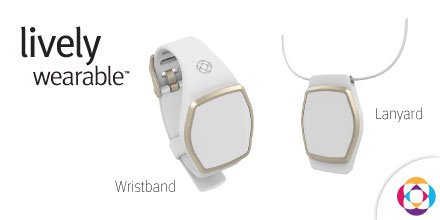 Compared to being a separate alert device like the Lively Alert, the Great Call Lively Wearable is meant to work with the user's existing smartphone. It will sync with the senior user's smartphone via Bluetooth.
At the push of a button has been discreetly set into the watch/pendant, the device will send a signal to the user's smartphone to call Great Call's 5Star monitoring center. 5Star Agents are certified by International Academies of Emergency Dispatch, and will be able to evaluate and assist with the situation. 5Star Agents may call 911 or the user's emergency contacts (eg. a child, neighbor, caregiver, doctor). 5Star Agents can access the information the Lively Wearable user chooses to share in their profile to ensure more efficient assistance and provide multilingual support for more than one hundred languages.
The initial device (Apr 2016) will work with an Android 4.4+ Smartphone, and the Apple iPhone version is expected to surface around Summer 2016. (Update Feb 2017: The device currently works with iPhone 8.0 and above with Bluetooth 4.0.)
Top Features
The device is waterproof and battery life lasts up to six months, so your loved one can wear it anywhere without having to worry about re-charging so often. They can choose from two colors: gold and silver.
When the Lively Wearable pendant is worn around the neck using the specially-designed lanyard, it is capable of fall detection. The senior's smartphone will automatically call into the 5Star Agents call center once a fall has been detected. An agent will converse with the senior customer and help him or her, contacting emergency contacts or emergency services as necessary.
The National Institutes of Health said studies have shown that exercise and physical activity are among the healthiest things that seniors can do for themselves. The Great Call Lively app will help them stay on track because it offers daily mind and body challenges. Senior Lively wearers are encouraged to stay active by keeping track of the steps they take throughout the day through the Lively app.
Stay Connected With Mom or Dad
Children or relatives of the senior can be authorized to use their smartphones to connect to their loved one's Lively app via the GreatCall Link app. This way, you are able to monitor your loved one's activity, cheer them on by sending encouraging messages and be alerted in case they fall or push the emergency button on the wristband.
Not only will the Lively Wearable allow seniors to benefit from this easy access to help, they will also feel more at peace knowing their children or loved ones will always be informed of changes in their activity levels or if they have pressed their Lively Help button.
Parting Words
According to the American Psychological Association, loss of mobility and independence are among the mental and behavioral problems associated with growing old. The Lively wristband or pendant allows the elderly to feel more secure and independent, knowing that 5Star Agents are just a push of a button away. The app provides assurance to children to senior Lively users that their mom or dad is well and active on their own, and they will be notified if an alarm call has been sent out. The user-friendly app will also encourage senior Lively wearers to take daily mind and body challenges to strengthen their physical and mental well-being.
Over the past few years, Great Call's Splash and its successor, the Lively Alert mobile GPS device, has attracted a lot of senior customers as a user-friendly and economical emergency alert device. Unlike the Lively Wearable, it is a standalone button device that does not require pairing with a smartphone in order to work. For some seniors, this mobile device is sufficient to replace a traditional home medical alert. It comes with it's own speaker and microphone for communications. Learn more about Great Call's dedicated emergency response device, the Great Call Lively Alert >>
 
Related: Mobile Medical Alert Systems with GPS Reviews