Great Call has introduced the new Lively device as of July 29th, 2016. This is a small and lightweight GPS mobile alert button device. When an emergency occurs, seniors and other customers can quickly connect and speak with a Great Call 5Star urgent response agent by pressing the device's button. The Lively is meant for use both in and out of the home. It is the successor to the Great Call Splash, and incorporates all features of the Splash while being smaller and lighter.
Note: The Lively was originally named the Lively Alert in July 2016. This article has been updated to reflect it's new name since Nov 2016.
The Splash has already been widely adopted as a mPERS (mobile personal emergency response) device by legions of seniors and other users. As the Splash' successor with all the features that the Splash has, and more, Great Call appears confident that the Lively alert device will become a leading mPERS solution for seniors and others. Here's an article and chart that compares the Splash to the Lively.
To confirm coverage in your area, Click Here and Scroll Down to the Purple Map near the bottom. Alternatively, you will be prompted to confirm that there is coverage in your area as you go through the Buy Now purchase process.
Note: Online sign-up is currently disabled for mobile devices like tablets and iPads, but works on computers (Eg. Macs, PCs, Laptops). Sorry for any inconveniences.
Disclosure: We receive referral compensation for purchases made (see details).
What the Lively is
The Lively alert device is a small waterproof help button device that can be worn around the neck with a lanyard or clipped to a purse or belt (wristband to be added). It is similar in concept to a traditional home medical alert button, but offers a lot more features as we will cover in this article. Medical alert buttons allow seniors and other subscribers the ability to call for help easily whenever emergencies occur. You may remember old advertising by Life Alert where a senior who has fallen and has difficulty getting up on her own.
Another related product is the Lively Wearable wristband or pendant that pairs up with a smartphone. Compared to the Lively Wearable, the Lively is a dedicated standalone mobile alert button that carries its own speakerphone for two-way communications. The Lively Wearable can be touched to activate the senior subscriber's cell phone to call the emergencies monitoring center.
Product Features & Highlights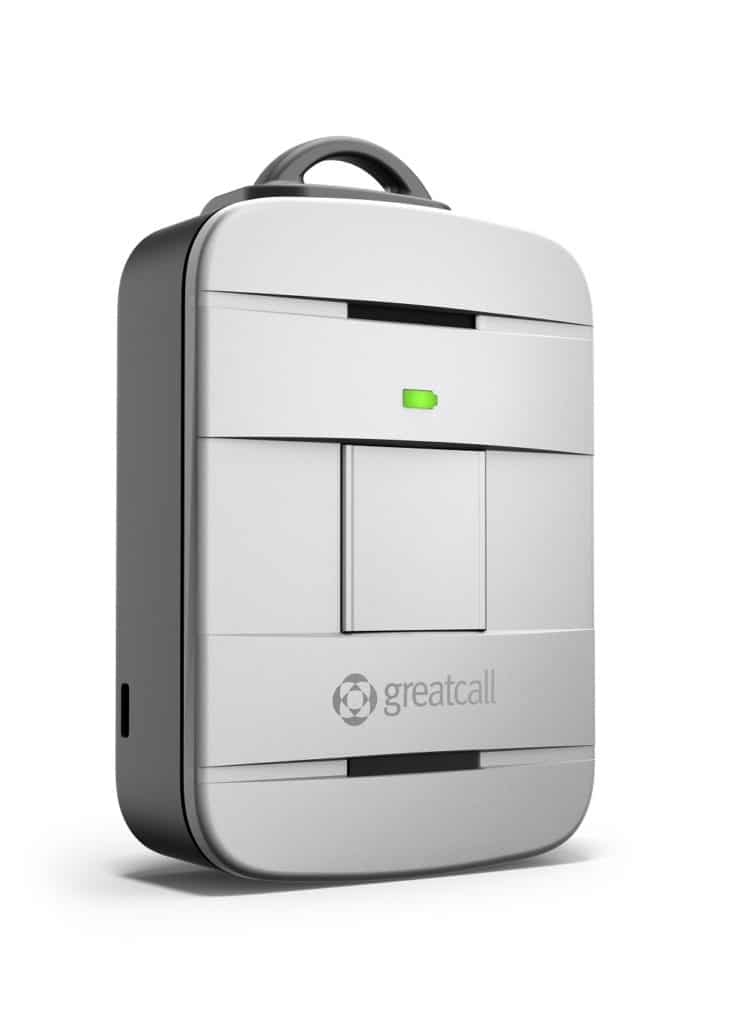 Great Call markets it's product as "more than a medical alert," possibly because it comes with an extensive bundle of features. Consider the following:
| Feature | Description & Benefit |
| --- | --- |
| Small Lightweight Button | With a height of 2.19″, width of 1.6″, depth of 0.63″ and weight of 1.41 oz, this is the smallest and lightest iteration of Great Call's mobile alert devices. The previous version is called the Splash. |
| Waterproof | Can worn in showers or used in baths |
| Mobile Device with Speakerphone | The mobile device is not tethered to any home base unit in order to work. It can work at home or far away |
| 24/7 5 Star Urgent Response Monitoring | US-based IAED (International Academies of Emergency Dispatch) Certified 5Star Agents are ready to assist their customers anytime day or night |
| Bluetooth connectivity | For better communications and sharing of the senior or user's activity or health data. |
| Urgent Care Hotline | 24/7 access to speak with a live registered nurse or a doctor. Service includes prescriptions by phone when necessary. |
| GreatCall Link app | Sharing of senior customer's activity data and location |
| Fall Detection | Fall sensing technology is included in the Lively alert device. Option to have this monitoring added with extra monthly fees. |
| GPS Tracking | Ability to tell where the senior user or customer is based on GPS locations accuracy. This location information can be shared with authorized other users like family members or caregivers. |
| What's Included in Package | Lively alert device, Charging Cradle, Lanyard, Accessory Clip (clip to handbag, pocket or belt). |
| Pacemaker Wearers Beware | Pacemaker and defibrillator wearers, and others with implanted medical devices should be consult with their physician before using a device like the Lively Alert. The various technologies (eg. GPS, cellular) inside the Lively Alert could conflict with the functioning of their pacemaker and other implanted medical devices. |

Read the Full Lively Mobile Urgent Response Device Review
How it Operates
The Lively button is a mobile alert device and works both in and out of the home. The button device is the main piece of equipment. It houses the help button, speaker, microphone and GPS tracking technology. The Alert device also comes with it's own cellular phone connection for initiating alert calls to the monitoring center. This connection works separately from the customer's cell phone subscription (monthly charges apply). The package comes with a charging cradle for charging up the device.
When an emergency occurs, the senior or device subscriber can press the help button to initiate an alarm call. The call is quickly routed to a trained emergency Great Call 5-Star Urgent Response agent who will then assist the customer in need. This could include contacting the customer's family members, doctors or other caregivers; as well as sending out emergency first responders to help the customer. You can read the full Lively Mobile Urgent Response Device Review to learn more.
Compared to the Great Call Splash
Great Call has been providing mobile alert devices to seniors and other consumers since 2011. It began with the 5 Star Urgent Response device in 2011, followed by the Splash device in 2014. The Lively is Great Call's third generation mobile alert device. It incorporates all the features that we have found in the Splash, such as being mobile, having GPS tracking, being waterproof and having fall detection sensing.
The Lively demonstrates improvement over the previous generation device (ie. the Splash) in two main areas. Firstly, the new Lively Alert is smaller and lighter. The Lively is 2.19 inches vertically, compared to the old Splash at 2.9 inches vertically. The above image show how they look side-by-side.
Another area of improvement the new Lively product has compared to the Splash is that it features Bluetooth connectivity. This facilitates future syncing and sharing of health and activity data between the senior user or device user and their family members or caregivers. For more information, please check this article: Great Call Lively And Splash Comparison: Which is Better?
Final Thoughts
Great Call is entrenching itself as a leader in the connected health marketplace through it's introduction of the Lively mobile alert device. This new generation device not only has a proven predecessor, it comes with a comprehensive bundle of features that seniors find useful in a mobile alert product. The inclusion of Bluetooth connectivity allows it to extend its data capture and sharing capabilities in cutting-edge unimaginable ways.
Note: Online sign-up is currently disabled for mobile devices like tablets and iPads, but works on computers (Eg. Macs, PCs, Laptops). Sorry for the inconveniences.
Disclosure: We receive referral compensation for purchases made (see details).

Read the Full Lively Alert Mobile Urgent Response Device Review

While every effort has been made to ensure the accuracy of the information contained in this review, the information is supplied without warranties of any kind. We advise all readers to do careful due diligence before purchasing. Take time to visit the company's website and speak with their representatives.