Lively mobile medical alert
device is the latest third generation mobile GPS alert button device by Great Call. With one touch of the help button, seniors and other users can reach a trained 5Star response agent. There is a speaker and microphone on the Lively mobile medical alert device to allow for two-way conversations.
Besides offering access to 24/7 live monitoring help, the Lively alert is GPS enabled, waterproof for use in showers and has sensors for fall detection.
Great Call describes the Lively alert device as more than a medical alert because of it allows users access to an Urgent Care line staffed with nurses and doctors. In addition, the Great Call Link smartphone app or online dashboard allows loved ones and caregivers who are authorized to view activity data relayed by the Lively device.
To confirm coverage in your area, Click Here and Scroll Down to the Purple Map near the bottom. Alternatively, you will be prompted to confirm that there is coverage in your area as you go through the online Buy Now process.

Disclosure
: We receive referral compensation for purchases made (see
details
).
Summary of Pros and Cons
Pros
One-Touch Help Button – Great Call's Lively mobile medical alert device features a one-touch button that seniors can easily press in case of emergencies. In emergencies, it gets difficult even to dial phone numbers. Seniors simply have to touch a button, and the device itself will call th 5Star response center.
Mobile – The Lively's small size and light weight makes it portable and handy. It comes with its own built-in cellular connection and speakerphone. This mobile device is a standalone unit that does not depend on a separate base unit or cell phone.
Phone-Less Connection – There's no need to get a home or cell phone line for call connections. The device comes with a cellular connection built into it. This is one less hassle for seniors.
GPS Tracking Enabled – A built-in GPS tracker is included in the alert device to help establish the location of the user.
Shower Friendly – Great Call's Lively device is waterproof for use in showers and baths, making it more useful for seniors. A lot of senior falls happen in slippery areas such as the bath or shower.
Convenient Visual Indicators – The mobile alert device has visual indicators that can inform senior users if their device is low in power or out of reach of a cellular connection. The flashing glow on the button makes it easy to know where to click in the dark.
Fall Detection Technology – The Lively alert device has built-in technology that can sense sudden falling movements. If a fall is detected, the device will automatically call the Urgent Response center for assistance. Ultimate Plan subscription needed.
Cons
Good Cellular Reception Needed – The Lively can only make calls if there is a good cellular phone connection is available. The device's visual indicators can tell its user if the connection is available.
Daily Charging Required – To keep the device operational, senior users must remember to recharge it every day. Great Call recommends that users place their devices in the charging dock at night before they sleep to let it charge up.
Detachable From Lanyard – The clip-on mechanism that attaches the device to the lanyard can be undone with a strong tug or pull. If the Lively alert device falls away from the user when they need help, it will be harder for them to reach over and press the button.
Not for Swimming – Though designed as a waterproof device, the Lively alert device should not be used when swimming. It is IPX7 rated, which means the device can withstand being submerged in up to 3.3ft of water for up to 30 minutes.
Caution for Medical Implant Wearers – For seniors wearing pace makers and other medical devices in their bodies, please consult with a doctor before the Lively or another other mobile GPS alert device. Regardless of brand, manufacturer or model, there could be issues of incompatibility.
Lively Detailed Review
Company Background

Based in San Diego, California, Great Call has come a long way since it was originally founded in 2006. The company started business as a cellular phone company that developed Jitterbug senior mobile phones. These phone featured a simpler interface and bigger graphics to appeal to seniors.
With time, Great Call expanded into mobile services that connected seniors to nurses and physicians 24 hours a day. The company also saw the urgent need for devices that can monitor the movement of seniors, and help them get connected to an emergency response service if something bad happens.
Great Call's foray into the mobile personal emergency response systems (mPERS) market started in 2011 with products that were precursors to the Lively mobile alert device. They developed the Great Call Splash and 5Star Urgent Response devices that connected seniors and other subscribers with 5Star monitoring agents. In the summer of 2016, Great Call introduced the Lively Mobile and Lively Wearable. The Lively was first named the Lively Alert but Great Call updated it to be called the Lively. The Lively line of products came about after Great Call's acquisition of Lively, Inc, a company that specialized in senior activity monitoring technology.
Other Great Call products include the Jitterbug Smartphone and Jitterbug Flip phone. Great Call's mobile applications include 5Star, Link, Urgent Care, and MedCoach. All their products are designed with the elderly in mind, although they are frequently used as emergency devices for children and people with disabilities.
Great Call is a member of the Medical Alert Monitoring Association, alongside major medical alert companies. The company is defining itself as a leader in connected health technology that supports seniors in living a worry-free active lifestyle as they age.
How It Works
The Lively mobile medical alert device is easy to use. Here's how:
(1) When help is needed, the senior user can press the square call button in the middle of the device briefly. A voice prompt saying "Calling 5Star" can be heard and soon after, a 5Star monitoring center agent will come on the line to greet the caller.
(2) The 5Star agent's voice will come through the small speaker on the Lively alert device to inquire about the emergency situation. Device users can hold the button slightly away from them, and then speak into it. It is best to speak at least an inch away from the device's microphone that is located just underneath the call button.
(3) Depending on the situation, the agent could take various next steps, such as contacting the senior's family members or caregivers, dispatching emergency services, calling 911 and other arrangements as appropriate. After the call has ended, there will be a voice prompt that announces "Call ended."
Alternatively, the caller can directly call 911 by pressing the call button until a voice prompt saying "Calling 911" can be heard. Users can also receive incoming calls from 911 and 5Star agents through the device. A user simply has to press the call button briefly to answer the call. This is a less common occurrence.
Cellular Network Connection
Both outgoing and incoming calls done through the Lively mobile medical alert device is connected through a wireless cell phone-based connection incorporated into the device. This may come as a surprise for home medical alert system users who rely on a home base unit in order to make and receive calls. This device is not tethered to a separate item such as a base unit or a cell phone. It can be brought out of the home and used everywhere the device is able to establish good cell phone reception. Although the company does not state it, cellular coverage is most likely provided through the Verizon prepaid network.
No cell phone subscription is needed. The Lively's built-in connection enables it to connect to a wireless network without the requirement for a separate cell phone subscription, or the need for users to pair up their Lively mobile device with their existing cell phones.
To confirm coverage in your area, Click Here and Scroll Down to the Purple Map near the bottom.
Cost and Plans
The Great Call Lively alert button device costs $49.99, and requires a monthly subscription to operate. Monthly subscription starts at $19.99 per month for the Basic plan. This includes 5Star's Urgent Response monitoring service that runs 24/7 round the clock. Users also get access to an online dashboard where they can input detailed personal information such as important addresses and emergency contacts.
The Basic plan also includes the Ping and Test Call features. With these features, users can Ping their devices to locate it, or run a Test Call to ensure that their device is functioning.
Preferred Plan
Customers can upgrade to the Preferred plan for $24.99 per month. Aside from what's already part of the Basic service, the Preferred plan includes two extras: Urgent Care service and GreatCall Link.
With Urgent Care service, seniors can ask a 5Star Urgent Response agent to connect them to a registered nurse or board-certified doctor. The service is available 24 hours a day, 7 days a week. The GreatCall Link is a smartphone App (iOS and Android) that allowed family and friends to monitor the whereabouts of senior user. This information is also available through an online dashboard.
For both the Basic and Preferred plans, subscribers can add on Great Call's Device Replacement coverage for $3 per month. Damaged devices can be replaced with a co-payment fee and replacement of devices is allowed once every 12 months.
Ultimate Plan
Finally, for the most complete access to Lively services, Great Call has an Ultimate Plan option at $34.99 a month. Aside from Great Call's 5Star Urgent Response monitoring, GreatCall Link, and Urgent Care that are included with the Preferred Plan, this plan has Fall Detection technology enabled. To top things off, the Ultimate Plan also includes the Device Replacement plan, which is a $3/month value.
Other Fees
To get started with any of these plans, there is a one-time $35 activation fee.
Although Great Call's plans feature low price points relative to other mPERS or medical alert systems, we found that our monthly bill included extra taxes and fees. If you are comparison shopping, the price advantage may still be present since their prices are so low. However, it may not be as inexpensive as you expect.
Month-to-Month Service, Cancel Anytime
Seniors can choose to continue with this service month-to-month. There are no long-term contracts and cancellation fees.
Compared to traditional medical alert systems where the equipment usually needs to be sent back to the company in order to complete a cancellation, there is less hassle associated with canceling the Lively mobile alert device. Customers do not need to send their device back. Since customers have ownership of their Lively devices, they can do whatever they want with it.
This can save some hassle when the service is no longer needed, but customers do pay more to get started because of device and activation fees.

Disclosure: We receive referral compensation for purchases made (see
details
).
Equipment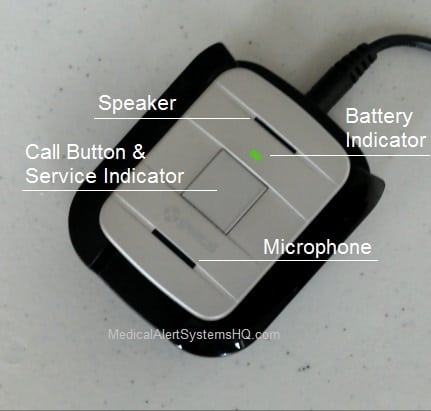 The Lively medical alert device package we received included the device and a charging dock (or charging cradle), accessory clip, magnetic lanyard, quick-start guide and user guide.
The Lively mobile alert pendant itself measures 2.19 inches height x 0.63 inches depth x 1.60 inches width. It weighs 1.41 ounces. The device houses the alert button, speaker, microphone, GPS tracker, accelerometer (for fall detection), and cellular calling technologies. The device is small and light enough to be worn around the neck or clipped to a keychain. It is over 30% smaller than it's previous version from 2014 called the Splash (see Lively and Splash comparison article). It is available in Silver or Gold.
The device is designed to work as long as it is charged and the cellular network connection is good. It is a mobile unit and can accompany the senior user everywhere.
Magnetic Lanyard
Detachable Clip-On
The magnetic lanyard clips on to the device in a mechanism that makes it both easy to attach and detach. Although this makes attaching the device to the lanyard easier, it also makes it easier for the Lively to detach from the lanyard with a strong pull or tug.
In the past with the Splash (precursor of the Lively mobile alert), some consumers had found the lanyard to be difficult to attach. It is possible that Great Call's design team wanted to offer something easier to work with. The disadvantage is that if the device slips away from the user when they need help, it will be harder for him or her to reach over and press the help button.
The magnetic clasp of the lanyard further accentuates the risk of the device separating from the user, as we will discuss next.
Magnetic Clasp
The lanyard has a magnetic clasp that separates. If pulled hard, the lanyard will unclasp. This minimizes the strangulation risk in case the lanyard gets caught somewhere (eg. bed rail or chair handle). The lanyard strangulation risk is a known industry topic, although occurrences have been rare.
On the flip-side, the device can become separated from the senior user when the lanyard becomes unclasped. If the device gets flung a distance away, the senior user may not be able to reach their device to press the help button. We came across one case where a lady had her Splash unit detach from the lanyard. It was flung far enough that she was unable to press the button for help.
Waterproof Capability
The device has a waterproof rating of IPX7. This rating allows the device to be submerged in water up to 3 feet for as long as 30 minutes. This is a good feature have. A lot of senior falls happen in the shower or when getting out of the bath. There are other similar mobile devices out there that are not waterproof and cannot be brought into a shower.
Fall Detection Technology
The Lively device has a built-in accelerometer with patented algorithms that has been configured to determine a fall. This fall detection technology can sense and calculate the sudden changes in a user's body movement based on posture and physical activity to ascertain if the user has fallen on the ground or not. The technology can only work if the user has fallen while wearing the device attached to the magnetic lanyard.
With fall detection technologies, there is no guarantee that it will be able to detect each and every fall. This is a premium option that requires the Ultimate plan.
In terms of features, the Lively has more included than other mobile medical alert systems in the market. For more comparisons, visit our Medical Alert Systems with GPS section.
Daily Charging Needed
Great Call recommends daily charging of the Lively medical alert alert device. They suggest doing this nightly while the customer is in bed. Some seniors could blend this charging routine into their daily living easily, but others may find it a hassle to do.
In our experience, the Lively stayed charged for around 1.5 days with each full recharge, while on stand-by with no fall detection monitoring activated. It took us one to two hours to fully recharge the battery each time. Since the device will not stay charged for an extended period, we believe that Great Call's recommendation to recharge the Lively daily is very important.
Accessories
The Lively alert package comes with accessories like the magnetic lanyard, charging cradle, and accessory clip. However, seniors can buy other accessories such as the slim wristband (available soon) and protective case ($14.99). All accessories can be bought online.
In case some items become damaged over time, they can be replaced as well. The Lively charger ($19.99), extra clip ($9.99) and lanyard ($14.99) are also available online.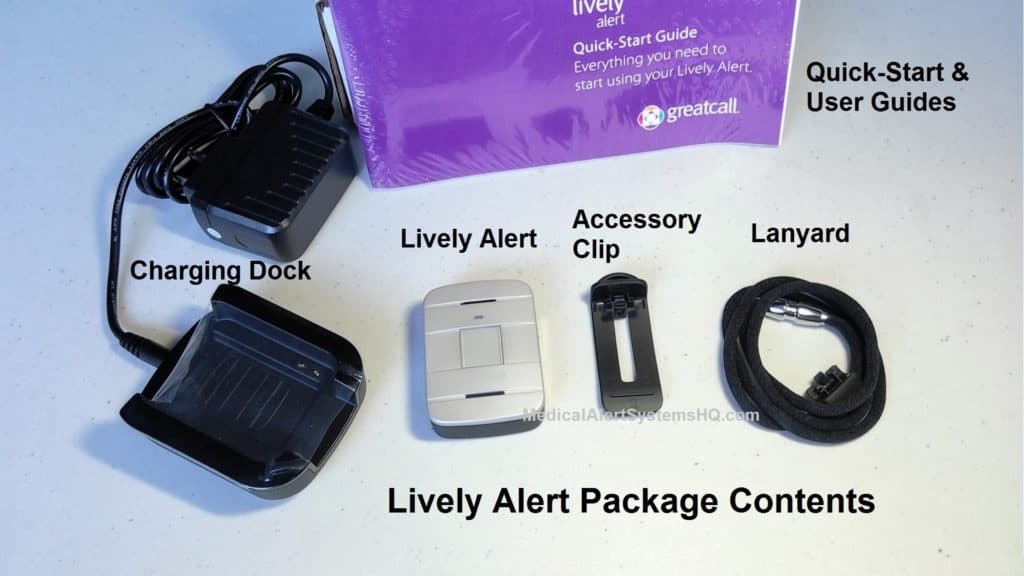 Range
Lively alert device users do not have to worry about this device's range. Unlike most home medical alert systems, this device has no range restrictions nationwide.
The standard medical alert system uses a stationary base console unit that is placed inside the house. This home base unit contains the phone connection, speaker and microphone. Their button range is usually about 150 feet to 400 feet, which is sufficient for most home users. These in-home alert systems are also configured to link the caller to their home address if emergency help need to be sent over.
With the Lively device, range is not a problem. This device is stand-alone and does not rely on a base unit for call connections. Furthermore, it is equipped with GPS capabilities to help establish the location of the user.
Set-Up
The Lively mobile medical alert device doesn't require any significant installation steps. It only has to be activated and fully charged first before use. If you bought the pendant device from the Great Call site directly like we did, your account should already arrive activated with your purchase. To complete the set-up process, we turned the device on and placed it in the charger in accordance with instructions provided in the Quick-Start Guide. You can see the video here.
If the device was purchased from other vendors, seniors or their children will need to go to Great Call's website to activate the new account. If the customer has no Internet connection, Great Call has an Activation Line that can be called. Great Call's operators will assist the senior through the process.
After the activation and set-up, the device has to be initially charged fully until the visual indicator for the battery is showing a solid green light. A flashing green light means it's still charging.
Monitoring Center
Great Call's 5Star monitoring center is US-based and available 24 hours a day, 7 days a week. According to Great Call, their agents are trained in CPR and other emergency procedures and certified with the International Academies of Emergency Dispatch (IAED). These agents can call on the subscriber's family members, emergency contacts or 911. Some subscribers reported that 5Star agents have facilitated a resolution to their situations by conferencing in one or more of their contacts in a live call together.
The test calls we have made were answered fast by a live agent, all within 20 seconds of pressing the button. In busy times, Great Call indicates that it can take up to a minute to answer a call.
Urgent Care Line (Nurse-line)
In addition to their emergency monitoring services, Great Call also provides customers who are mostly seniors access to a nurse line or urgent care line 24/7. Through the company's Urgent Care service, customers can be connected to registered nurses and board-certified physicians for advice. They will even provide prescriptions by phone. This extra feature definitely sets Lively's service apart from most medical alert companies. Some customers have indicated that this is a feature that prompted them to sign up for a Great Call plan.
Do keep in mind that Great Call is not a healthcare provider and they have disclaimers surrounding this service. Basically, this is not a substitute for emergency services, or proper medical attention.
GreatCall Link
Caregivers, family members, and close friends who are authorized contacts can monitor the safety of the senior person through the Lively's GreatCall Link feature. Currently, the app alerts family members if an emergency call has been made and the power level of the user's Lively alert device. Authorized contacts can also find out the GPS location of the senior user. Great Call Link is available as an app that can be accessed through a smartphone or through Great Call's website.
Complaints
According to the Better Business Bureau (BBB) website, Great Call has an A+ based on the following reasons:
First, the company has closed a total of 250 complaints in the last three years, 110 of which happened in the last 12 months (as of February 2017). Reading through the complaints, the company appears serious in resolving the complaints forwarded by their customers.
Second, the company's length of service of 10 years indicates that they are stable and that they know what they are doing.
While the number of complaints is high, keep in mind that Great Call's record includes Jitterbug complaints. Cell phone services typically deal with a higher number of complaints. Through our interactions with their customer support personnel, we found them to be sufficiently trained.
One BBB complaint from July 2016 stood out. This was for the previous version of the device, the Splash that connected senior customers to the same 5Star Urgent response service. The complaint was from a customer who pressed his help button to test it and received a voice recorded message to call 911 instead. That was very surprising, as he was expecting a live monitoring agent to answer the call. An agent did call "a minute later" into his device to follow-up.
In answer to that complaint, Great Call clarified that "In a rare instance that an Emergency Response Agent is not immediately available, a recording will play advising a caller to dial 9-1-1 for a critical emergency." This does appear to be a rare incident, as we have not heard of a similar experience from elsewhere. Nevertheless, it's good to be informed of the possibility. Great Call ended up refunding this customer the money he had paid.
Overall
The Lively mobile medical alert button device can help seniors lead more active and independent lives by providing the assurance that they can readily access help anytime. As a mobile personal emergency response system (mPERS), it comes with a comprehensive bundle of features like 24/7 access to live monitoring help, being water-resistant for use in showers, GPS tracking, a companion App for data sharing and fall detection. Should you have any questions, please visit Great Call's Official Website.

To confirm coverage in your area, Click Here and Scroll Down to the Purple Map near the bottom. Alternatively, you will be prompted to confirm that there is coverage in your area as you go through the Buy Now purchase process.


Disclosure

: We receive referral compensation for purchases made (see

details

).

For more comparisons and reviews, please check out Medical Alert Systems with GPS section.


While every effort has been made to ensure the accuracy of the information contained in this review, the information is supplied without warranties of any kind. We advise all readers to do careful due diligence before purchasing. Take time to visit the company's website and speak with their representatives.

The