A waterproof medical alert button is an important feature when it comes to choosing a good medical alert system. This is because a lot of senior falls take place in the bathroom, whether in the shower and bathtub areas or on slippery floors. According to the National Institute on Aging, 80% of falls at home that seniors experience take place in the bathroom.
Real Life Example
Here is one real life example. A little over a year ago, Medical Guardian customer Ms Edie unexpectedly fell backwards into her shower and broke her pelvis. Fortunately, she had her medical alert button on her wrist and pressed it to get assistance from a monitoring center agent. Emergency responders promptly arrived and took her to the hospital. As much as it was an unfortunate incident, things could have been worse if she had not worn her SOS button.
Extra Freedom & Protection
Having a waterproof medical alert button that works even after it's been submerged in water offers additional protection for the elderly. This feature gives them the freedom to wear it with them at all times, even while taking a shower or bath. If they have trouble standing up after taking a bath, the button is right there for them. Should anything unexpected happen, they can push their button to connect with a monitoring representative.
Things to Note
When shopping for a medical alert system with a waterproof button, here are a few things to take note of:
Standard Home Medical Alert Systems By Top-Rated Companies
Most top-rated companies offer waterproof buttons as part of their standard home medical alert or cellular home medical alert systems. When activated, these buttons will wirelessly send a signal to the base console units that then dial out to the monitoring center.
Not To Be Worn When Swimming
In industry jargon, a waterproof button is usually IPX 7 rated. That means that it can be submerged in water up to 3 feet deep for up to 30 minutes. Buttons with lower IPX ratings like IPX 6 or 5 are splash proof or water-resistant but not officially waterproof.
You can always confirm with the medical alert company by asking if the buttons they offer can be worn in showers and submerged in baths.
As described above, waterproof medical alert buttons have limits as to how long or deep they can be submerged in water. These buttons are not meant to be used while swimming or for long soaks in the bathtub.
Mobile Waterproof Buttons & Devices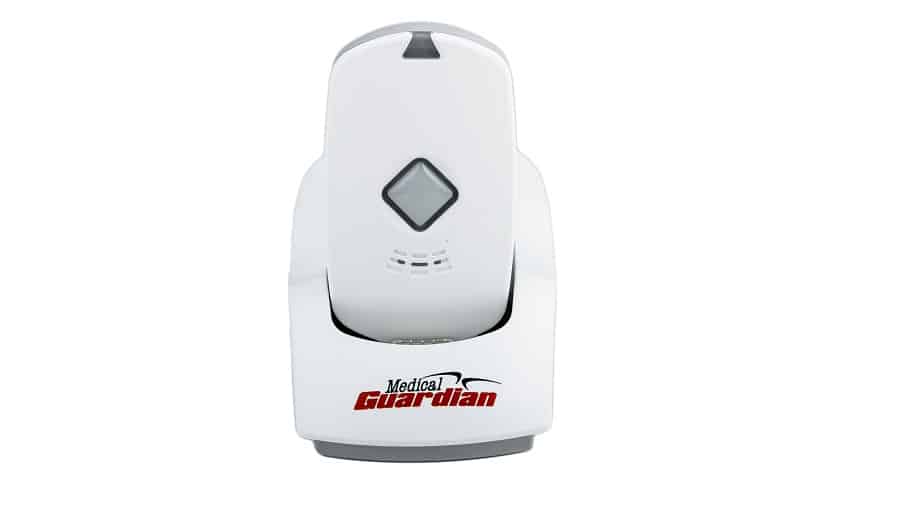 Mobile GPS medical alert buttons or devices with embedded speakers and microphones are usually not waterproof. There are a few that are waterproof, such as the Premium Guardian or Lively Alert devices. Even if these devices are waterproof, keep in mind that they may not work equally well with water on them as compared to when they are dry.
This is because the water droplets could cover the speaker and microphone and muffle sound communications. While it's not perfect, the fact that these buttons still work after being submerged in water can make a world of difference in case of emergencies.
Whichever emergency response system device you choose, consider doing a few test calls from the bathroom to get familiar with what to expect. Most companies encourage their customers to do monthly test calls regardless.
To learn more, check out these top-rated medical alert companies and the types of waterproof buttons they offer.