Life Alert
or
LifeStation
. It turns out that this is not just a "nice to have" accessory. It plays a critical role when an elderly user experiences a life-threatening situation and needs help from emergency responders as quickly as possible.
What Is A Key Lockbox?
A key lockbox is a box constructed of tough metal with a combination lock that is used to store the keys for entry to a home. The storage box can be unlocked through a secret combination code (usually a 4-digit code) set by the user. You may have seen these lockboxes hung on railings or mounted on walls outside homes. It's common practice in the real estate industry for these boxes to be used for sharing access to a residence or office space. Key lockboxes allow ready access to homes for people who have been given the secret and secure combination code.
For users of medical alert systems, having a keys storage lockbox allows for emergency responders to quickly and easily enter their homes and help them. The secure combination code can be placed on file with the monitoring center, and shared with first responders and emergency medical services (EMS) personnel. The lockbox can also be placed in discreet locations, hidden from plain view. For additional background information on how a lockbox works alongside medical alert systems, check out this post.
Benefits Of A Lockbox For Keys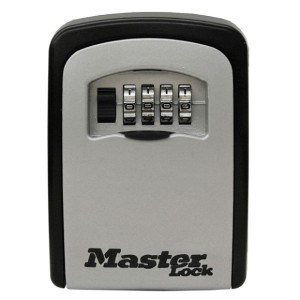 Key lockboxes are recommended accessories to work alongside medical alert systems, especially for the elderly living on their own. There are several reasons for these:
Bypasses Damage To Doors In Forced Entry Situations
When answering to emergency calls, first responders such fire fighters will need to get to the senior user to help him or her. If there is no easy way to enter the home, the fire fighters will be forced to break open the door. This could cause a lot of damage that is expensive and a hassle to repair. Before that, the broken door will have a gaping hole while the senior is taken away to the hospital. If no one is available to guard the home, it is a security risk.
A majority of personal emergency response systems users are seniors living alone, so there is no one else who can open the door for emergency responders from the inside. Even in living situations where spouses, room-mates or children are at the home during the emergency, it will be nice to not to have to worry about getting the door.
A few years ago, a story appeared in the news where a lady was away from home when her home medical alert system malfunctioned. It erroneously sent an alarm to the central monitoring center. Since there was no response when the first responders knocked on her door, they broke down the door. The damage was in the region of $5000. She was trying to get the medical alert company to pick the tab to no avail.
It's really a bittersweet type of story. She was fortunate not to have faced a real life-threatening injury. But she was unfortunate to have to deal with the damage and monetary loss – through no fault of her own. Life is unpredictable in so many different ways. The episode illustrates how a damaging situation could have been averted with a small low-tech item like a lockbox.
For emergency alert systems users who are prepared for the possibility of firemen or EMTs responding to an emergency call, it makes a lot of sense to provide the responders with a smooth entry in case their presence is ever called upon.
Faster Attention From Responders – This Can Be Critical
Another advantage of having a key lockbox is that it gives more time for the first responders to attend to the senior patient rather than figure out a way to open the door.
In emergency situations, every second counts! A traveler died from a heart attack at Kennedy Airport because first responders were unable to open the locked doors and get him help in time. Apparently, the first responders had key cards that failed to work because they were outdated.
A Safe Place For Spare Keys
An associated reason for having a key lockbox is that it provides elderly medical alert system users with another place to store a set of spare keys. It's a more secure solution than hiding the keys under the doormat or behind the plants. If they lock themselves out of the home, or can't remember where they left their keys, they always know where to turn to for the spare keys. It's also a convenient way for their children and loved ones to enter the home when they come visit.
Low Cost
The cost of a keys storage lockbox is around $30. It's inexpensive compared to its potential benefits. Many medical alert companies also carry this in stock, so that users can order it along with a medical alert system. Otherwise, they are readily sold at hardware stores and online. Check out the top best-rated key lockboxes on sale.
Medical Guardian will even send out a free lockbox to new users, as thank-you for choosing their system. (If you are interested in the offer, visit this link for additional info or to sign up. The free lockbox gift will show up on the same page that you fill out your name and address. Readers with questions can call 1-800-311-6142. See full Medical Guardian review.)
Getting A Key Lockbox Is Recommended
A key lockbox is a highly useful, if not critical, accessory that works alongside personal emergency response systems. They allow for easy and fast access through the door to help seniors who have issued emergency distress calls. Although it is technologically simple and inexpensive, it plays a critical role by preventing potential damage to a home, and allows help to come through as quickly as possible. It is a potentially life-saving item.

How A Key Lockbox Works With Medical Alert Systems

 

 

Disclosure: We may receive referral compensation for purchases made (see details).

A key lockbox is often cited as a great accessory to work alongside personal emergency response systems like