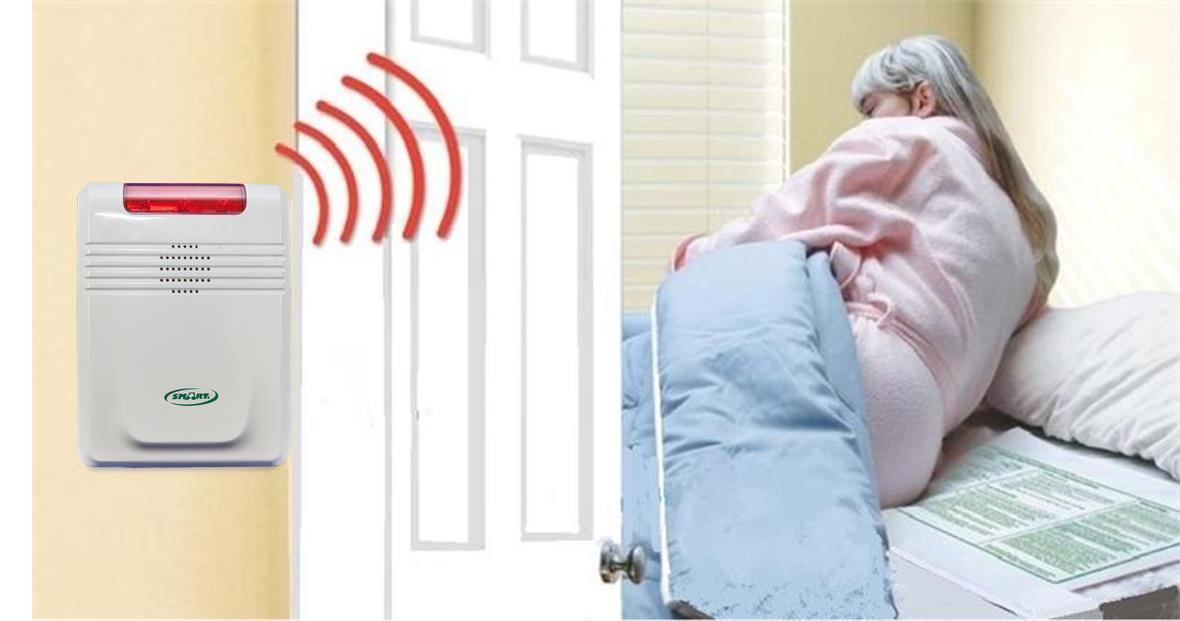 The Smart Caregiver Wireless Cordfree Bed Alarm and Bed Pad 433-EC allows caregivers of seniors to be alerted should their patient/parent need to get up from bed. It prevents falls and injuries that may result with their patient or parent getting around on their own without help. See review summary.
As a best-selling bed alarm for the elderly, it has helped lots of caregivers sleep better and get on well with their daily activities, knowing that they will be alerted appropriately to help their elderly patient or parent. Since this fall prevention alarm is wireless, the senior will not be "alarmed" or disturbed in any way. Let's take a look at this product's highlights and review the pros and cons in greater detail.

Smart Caregiver Wireless Bed Alarm 433-EC Highlights
Bed alarm product comes with 1 wireless bed alarm & 1 cordless bed sensor pad.
Wireless alarm unit can be kept with caregiver, so that the elderly user is not disturbed. The alarm unit can be placed away from the patient's bed or room.
Alarm will sound when elderly user gets up from bed, as the sensor on the bed pad can detect the change in weight on it.
LED lights will flash when alarm rings.
Low battery light.
Bed pad is made of soft vinyl for easy to wipe cleaning. Incontinence resistant.
Runs on 3 C size batteries, or with Smart Caregvier's AC-04E power adapter.
Option for additional chair pad in this package here.
1 year manufacturer's warranty.
Smart Caregiver Wireless (Cordfree) Bed Alarm Review
Ease of Use
This wireless bed alarm is easy to set-up and use. Most users were able to have the bed alarm set up and running within a short time of unpackaging it. The bed alarm pad is streamlined and comfortable enough that a lot of patients have no idea that they are lying on a sensor pad and being monitored that way. In addition, the alarm is remotely kept away from them and will not disturb them when it rings.
Volume
Most users say they like the volume of the alarm. It also helps that there are various alarm volume settings, such as low, medium, high, or a gentle chime.
Place Sensor Pad Under The Bedsheet
The bed alarm sensor pad should be placed under the fitted bedsheet, not on top of it and directly touching the elderly user. Otherwise, the user may feel uncomfortable especially when they sweat, and it could affect how long the item lasts.
Longevity of Use
Several users mentioned that they have problems with their bed alarm working after a few months. This is a risk, although judging by the overall reviews from users of SmartCaregiver 433-EC wireless models, it happens only sporadically. Fortunately, too, the product comes with a one-year warranty that is well-supported. Kerr Medical is a seller for this item on eBay, and we have heard good things about their service.
Comparable Alternatives
As far as alternatives to consider, there isn't a comparable wireless bed pad alarm product set that matches its features, ease-of-use and great user satisfaction. We spent hours looking through listings from numerous senior medical supply shops and Amazon, and the search always led us back to Smart Caregiver 433-EC. Fortunately, the product has very high user ratings. If you are concerned about the longevity of this bed alarm, consider the bedside (non-wireless) alarm model here. The wired connection could provide more stability, but it can defeat the purpose if you need the alarm to sound away from the patient.
Weight of Elderly Patient/Parent
The senior patient or parent should weigh at least 115 lbs for this product to work well. For lighter weight seniors, this fall prevention wireless floor mat system (as little as 6 lb weight activation) is an alternative.
High User Ratings
Amongst wireless bed alarm products, this is one of the highest rated on the market.
Accessories
Power adapter: The bed alarm system works on batteries, but you can also choose to get an AC-04E power adapter. This is highly recommended by many users. It saves the hassle and cost of changing out the batteries periodically. Usually, the package on eBay already includes the adapter, otherwise the product description will provide information on how to purchase it.
Upgrade package with chair pad: The Smart Caregiver wireless bed alarm system is available in an upgrade package that includes a chair pad (wireless alarm unit + bed sensor pad + chair pad). More info.
Test System/Check in with Patient
Sometimes, we set a product up to work with the best intentions, but for whatever reason, a snag occurs. Maybe the battery has run out or the bad pad is not sensing as well anymore, you want to be informed as soon as possible. It would be prudent to test the system out first upon installation and then periodically over time. Be sure to read the instructions that come with the package.
Also, if possible, it would be great to still check in frequently with your parent or patient as their situation demands, to help them with needs and preempt them from getting into vulnerable situations or falling down.
If you are worried about your parent/patient falling down or hurting themselves, this Smart Caregiver bed alarm system will allow you to be stay informed, while being unobtrusive to your parent/patient. The incontinence-resistant bed sensor pad is designed to sound and flash an alarm when it senses the patient or your loved one is trying to get up from bed. The product's features, ease-of-use and high user ratings make it likely the best wireless bed pad alarm on the market today.
 
For additional options, check the fall prevention products and motion sensors page and the Guide To Bed Alarms for the Elderly.
Disclosure: MedicalAlertSystemsHQ.com receives referral compensation when site readers purchase from various websites through the links on this site. This supports our website operations. Thank you for your support and understanding.
 
While every effort has been made to ensure the accuracy of the information contained in this review, the information is supplied without warranties of any kind. We advise all readers to do careful due diligence before purchasing.