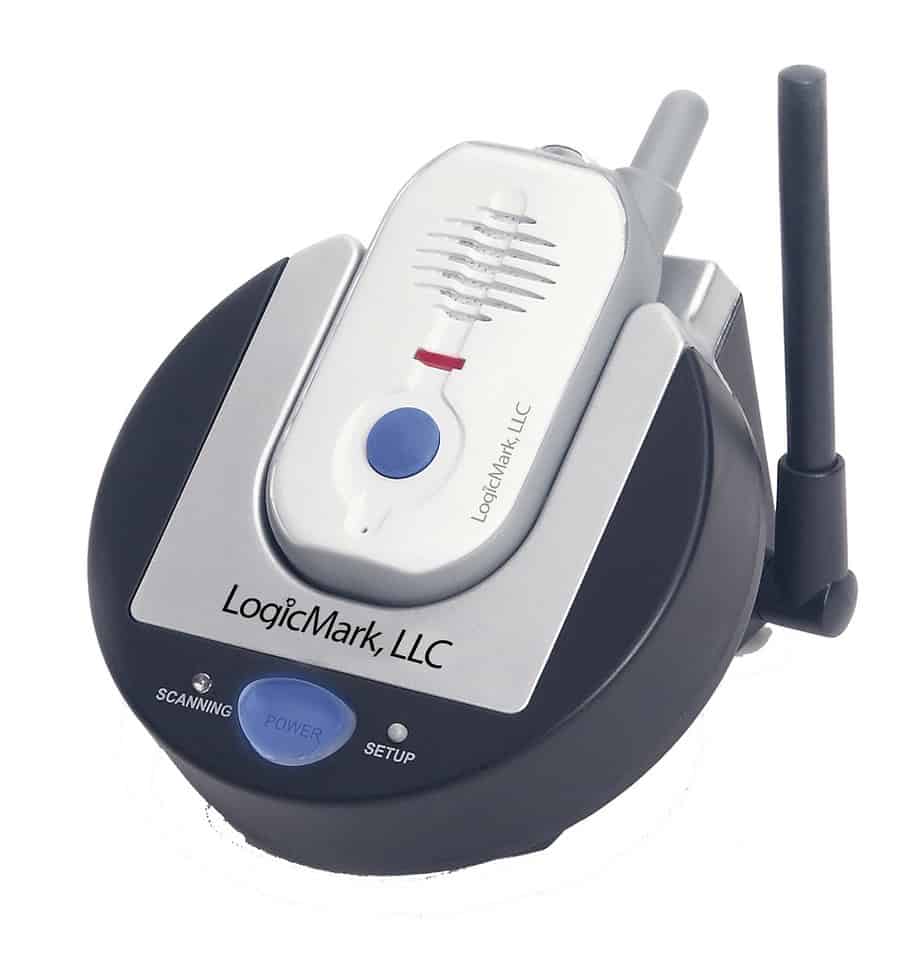 LogicMark's Guardian Alert 911 (model 30911) is the best known medical alert 911 dialer in the market today. With no monthly fees, it saves users a lot of money while at the same time providing direct and fast access to 911 for help in emergencies. Here is a summary of the highlights, and a full detailed review into the system below.
Pros
No Monthly Fees – Unlike most medical alert products with monitoring services, there are no continuing monthly fees with the Guardian Alert 911 (#30911) system. Users pay a one-time suggested retail price of around $200 (check discounts through eBay.com listings).
Speakerphone In Guardian Alert Pendant – The medical alert pendant facilitates clear 2-ways conversations through an built-in cordless speakerphone.
Test Button – A test button makes it easy for users to do regular testing to make sure the system works and the pendant battery power is sufficient.
Cons
Can't Be Worn While Showering – The medical Guardian Alert is splash-proof, but not waterproof. It can be placed around the shower or bath, but should not be submerged in water. A lot of senior falls occur around bathroom showers and baths. This can be a disadvantage should the senior user fall down and cannot reach the pendant.
Only Dials 911 – This system only dials 911 directly. This can be both an advantage and a disadvantage. It is an advantage as the fastest way to reach 911. It is a disadvantage if the elderly user would rather be connected to a custom contact first (eg. their child or caregiver).
LogicMark Guardian Alert 911 Detailed Review
Background
LogicMark, a company founded in 2006, set themselves the goal of revolutionizing the world of 911 dialers and emergency call system technology. The LogicMark Guardian Alert 911, is an example of their ability to create products that are both unique and extremely cost effective. The company is a leader in the non-monitored/ no-monthly-fee medical alert systems field.
Besides the Guardian Alert 30911 emergency alert phone pendant, LogicMark's product line also includes the Freedom Alert 35911 system that automatically dials custom contacts before calling 911 whenever an emergency alarm call is initiated. The company seriously aims to provide medical alarms and products that help elderly and ill people preserve their quality of life, and remain safe at the same time.
How It Works
The Guardian Alert 911 (Model 30911) system is a very streamlined and focused medical alert product – it is meant to do one thing only (call 911), and to do it really well. When an emergency occurs, senior users of the product would press the panic button on the 2-way medical alert pendant. This transmits a signal to the base unit of the system that is connected to a phone line, initiating a call to 911. The senior user can speak directly to the 911 operator and let the operator know what has happened.
The Guardian Alert 911 system makes it very easy to contact 911 emergency services directly. This system provides the fastest direct access to 911 possible. Wearing a Guardian Alert pendant means you're never more than a single push of a button away from emergency services.
Senior users do not need to fumble to reach a phone, then dial 3 digits. Unlike the Freedom Alert system, there is no calling of custom contacts, which could just be unproductive time spent if no one is available to answer. Unlike monitored systems, there is no need to wait for a monitoring agent to call 911 on the user's behalf.
Cost
The entire Guardian Alert emergency alert system costs around $120 in total. The reason why most people invest in a non-monitored medical alarm system is that either they do not have the budget for monthly fees, or do not want to pay recurring monthly fees it. While $350 per year might not seem like a lot, if you look at the cost such a system over an average subscription period of 3 years, that's over $1,000 in monthly fees.
The initial package price of around $120 (recommended retail price) includes everything you need to get started in the box, including the base station, a pendant, telephone cord, duplex telephone jack, AC adapter, a lanyard, a belt clip and the single AAA battery you need to power the pendant. There are other optional accessories available from LogicMark, but the system will work fine without these additional accessories.
Equipment Overview
Base Station
A neat base station unit forms the heart of the Guardian Alert 911 personal emergency response system. The base station receives signals from the medical alert pendant to dial into 911 whenever the blue panic button on the pendant is pressed. The base station itself connects to all standard phone lines, most VOIP phone lines, and has a wireless maximum communications range of 600 feet with the pendant.
Two-Way Medical Alert Pendant
Incorporates Small Speakerphone
The Guardian Alert 911 pendant is a small device that can be worn around the neck or on the belt. It incorporates a small speakerphone, so that communications can be done directly through the pendant. Most medical alert systems work through a sensitive speakerphone in the base station unit. However, LogicMark's range of medical alert systems specializes in facilitating two-way voice communication directly through the alert pendant itself. The makes communications easier, even in the attic or basement, when the user is really far from the base station unit.
An emergency call is activated by pressing on the blue panic button on the pendant. The button is designed to be pressed for more than one second to work, so accidental touching will not set it off.
Water-Resistant To Light Water Splash/ Sprays
This pendant is water-resistant to the extent that it will still work when sprayed with water lightly. However, it will malfunction if submerged in water. This means that it should not be worn around the neck when showering or bathing, but can be placed close-by, even if sprayed with water droplets from the shower.
Pendant Size And Weight
The pendant weighs just over 2.4-ounces, is about 3.1 inches long (closer to 4 inches with antenna), less than 2-inches wide and under 1-inch thick. It is fairly light to wear, although bulkier and heavier than traditional medical alert pendants that do not have a built-in speakerphone (usually 0.5 ounces or less in weight). For carrying a little weight, users receive the added benefit of clearer communications with this pendant.
Powered By AAA Battery
The Guardian Alert pendant is powered by one AAA-sized battery. It should be replaced every 6 to 12 months. There is a testing button on the pendant and a warning message will let the user know if the battery needs to be changed.
Optional Accessories
Backup Battery Unit
LogicMark also manufactures an optional battery backup unit for the Guardian Alert 911 (30911) dialer system. This gives users 24-hours of power for your LogicMark medical alert system. Unlike the Freedom Alert base station unit which has a backup feature powered by batteries, the Guardian Alert battery backup does need to be purchased separately. This costs around $40 to $50. Check the best price on the Guardian Alert backup battery unit >>
Key Lockbox
Most medical alert companies including LogicMark recommends getting a key lockbox to complement their systems. This is a combination lockbox which can store one or more keys. The lock combination can be shared with the 911 operator so that emergency responders can quickly enter the home to help the senior in need. It prevents damage to the doors, and expedites the entry of first responders into the home so the senior can get help as fast as possible. In emergencies, every second counts. A small item like a lockbox can play a crucial role. For more information, check out the Key Lockbox article.
Warranty
The Guardian Alert system comes with a 1-year limited warranty, although the system itself is designed to give many years of faithful service. The entire system also has very few parts, moving or otherwise, so there are far fewer components which could potentially fail.
LogicMark is also known as a company that stands behind their products. Should users or their children who are setting up the system for them have problems, LogicMark representatives are willing and ready to help.
Phone Line Options
The LogicMark Guardian Alert system can be connected to any standard phone line. It also works with most VoIP lines. For VoIP lines, it is important to make sure that the senior user's physical address is updated with the VoIP company, and that the VoIP system is able to handle 911 calls. Digital phone systems like Magic Jack or Ooma are not meant to work with emergency call systems like the Guardian Alert.
The Guardian Alert 911 system will not work with cell phones.
Installation & Maintenance
Getting the Guardian Alert 911 up and running is fairly straightforward. The base station needs to be connected to a phone jack and plugged into a power supply. Placing the battery into the pendant would require the battery compartment cover to be unscrewed using an included screwdriver. Note that users do not need to, and cannot program it to store and call emergency contact numbers because it's only pre-programmed to call 911.
One great feature of the system is a System Check test button at the bottom of the Guardian Alert pendant to check and confirm that the system is working properly. The convenient test button can be used to check the system every month to make sure that it is working. Users or their family members helping them can refer to the manual for details. The manual also contains useful tips for troubleshooting, and users and family helping them can call Logic Mark's technical support for assistance.
Besides using the test button monthly, users can also make an initial/occasional test call directly to 911 by pressing on the panic button. Preface the call by letting the 911 operator know that you have just set-up the system and/or it is a test call from a medical alert device. Check with the 911 operator that they have the right address tied to the phone number in their computer system. In addition, the 911 operator may also be able to record a special note for the address, such as a lockbox combination code, or a note to contact the elderly user's son or daughter in case of emergency.
Range
The range is defined as the distance between the base station unit and the Guardian Alert pendant for an emergency call to go through. The maximum range of the system could extend as far as 600 feet, if there are absolutely no obstacles or interference in between. In real life, obstacles and interference (especially from electronic devices) will always exist and will limit the actual working range of the system.
The Guardian Alert system would function well in most homes, typically with a square footage of 3,500 sq ft or less. The reach could also extend to the peripheral areas like the front and backyards. Users or their loved ones helping them to set the system up are advised to use the system's testing button to run tests throughout the home and especially carefully from areas where the senior user frequent or are most vulnerable to falling (eg. the bathroom).
Since this is a home-based system, it is designed to work within the home setting, so it should not be used as a mobile alert system. If users who are outside their home manage to initiate a call through, the 911 operator may still see them as calling from their homes and send help to the home location.
Backup Battery
The Guardian Alert 911 (30911) system does not feature a backup battery by default. There is a backup battery unit that will provide up to 24 hours of backup. It needs to be purchased separately. The base station relies on AC power to connect to your pendant, so without a backup battery set-up, the medical alert system will stop working if there's a power outage in the area.
Guardian Alert 911 Complaints
As a company, LogicMark consistently receives high customer ratings and holds a A+ BBB rating. They are also responsive to communications and complaints from customers. They are friendly to talk to and good with providing troubleshooting advice, sending out replacements and repairing equipment as needed during the warranty period.
That said, there has been a few complaints regarding their system. The biggest problem seems to be a few users reporting failed equipment during the warranty period. One man said he experienced a product problem about 10 days into using it. That was back in 2010, and he updated the review after 2 1/2 years to explain that the replacement unit has been working very well for him, and he appears pleased with the product. Another minor issue is that the battery compartment needs to be unscrewed with a screwdriver. The good thing is that the screwdriver is provided in the package, so users or their loved ones helping them with the set-up can do it easily.
One last complaint that may not be relevant to a lot of users is that the base station's performance can be affected by cordless phones. So users with only one phone jack that is connected to a cordless phone need to be aware of the interference issues, and experiment to find appropriate spots to place the equipment. One lady noted in her review that she went ahead and had another phone jack installed in another room, bypassing the interference problem.
The Guardian Alert 911 may not be a perfect product, but it is the best in its class. It delivers what it promises to do for a lot of people. User feedback is almost always positive. When there are complaints, the company does try its best to help the user. Logic Mark shows a definite interest in supporting their product and helping their customers.
Not sure about the Guardian Alert 911? Check the No Monthly Fee Medical Alert Systems guide for more options and ideas. The Guardian Alert 911 is currently a best-selling 911 dialer, and most users select either this product or the Freedom Alert 35911 for a no-monthly fee personal emergency response system.

While every effort has been made to ensure the accuracy of the information contained in this review, the information is supplied without warranties of any kind. We advise all readers to do careful due diligence before purchasing.