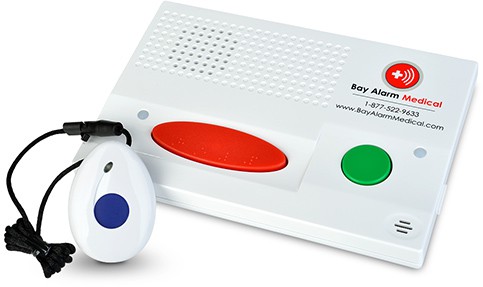 Bay Alarm Medical is now offering an automatic fall detection system option for senior users. This system has sensors built into the alert necklace pendant to detect if a high impact fall has taken place.
What Automatic Fall Detection Is
Bay Alarm Medical's automatic fall detection system consist of a base console unit and a lightweight and waterproof fall alert pendant button that seniors wear around their neck. If a fall is sensed, an alarm call is automatically placed to the central monitoring center where a trained agent can assist the user further. There is no need for the senior user to manually press the help button in order to call for help. This a great feature to have, especially for seniors who may be at risk of becoming disoriented or fainting after they fall. Seniors with diabetes, cognitive disorders or tendencies to faint could find this helpful a blessing.
Disclosure: We receive referrals commissions for purchases made (details).
Read the full Bay Alarm Medical review here >>
Works With Landline-Based & At-Home Wireless Console Unit
The auto fall alert button works with both Bay Alarm Medical's landline-based console unit and cellular "no phone line needed" console unit. When the auto fall alert pendant was first introduced, it not available with Bay Alarm Medical's "no phone line" console unit. The feature is still not available with their mobile GPS device. The feature costs an extra $10 a month to access. For new customers, this can be directly ordered online or by phone at toll-free 1-855-397-9964 (ask about their special offers). If you are a current customer and want to upgrade, please contact Bay Alarm Medical to discuss how and when they can send out the new equipment and button accessory to you or your parents.
Auto Fall Detection Now Commonly Offered
Auto fall detection technology has been around for a number of years already, and companies like LifeStation, Lifeline or Medical Guardian have been offering it. There are both pros and cons to using it, but it is becoming a standard add-on feature with most top systems these days.
Bay Alarm Medical has resisted providing this option for a long time due to the issues like the lack of accuracy in detecting 100% of falls and chances false alarms. At this point though, it looks like they have found a fall-sensing standard that they have confidence in. On their website, Bay Alarm Medical state that "No auto fall system will detect every fall" and "our system is optimized to reduce the amount of false alarms and to trigger on high-impact falls."
What To Be Careful About
While automatic emergency calling is a great additional choice to offer consumers, senior users should be careful not to be over reliant or misunderstand the feature. It's not 100% foolproof. Sometimes, a fall may have taken place but due to various factors, the fall sensor could fail to detect a positive signal. Whenever possible, senior users are advised to stay observant and be prepared to click on the pendant's Help button should they need assistance.
Disclosure: We receive referrals commissions for purchases made (details).
If you are not sure, read the full Bay Alarm Medical review, compare medical alert systems here, or learn more about automatic fall detection here.
Disclosure: We receive referral compensation when readers purchase (see details).



While every effort has been made to ensure the accuracy of the information contained in this review, the information is supplied without warranties of any kind. We advise all readers to do careful due diligence before purchasing. Take time to visit the company's website or speak with their representatives.