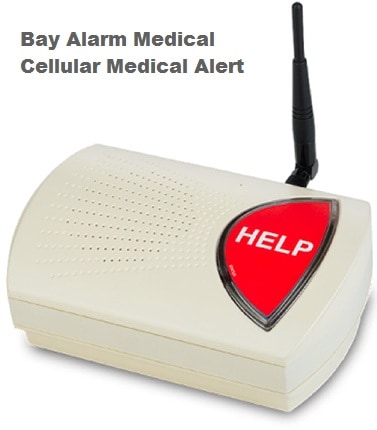 Bay Alarm Medical has introduced its new cellular medical alert console unit. For more information, check out our Medical Alert Systems That Work Without A Home Phone Line guide.
Disclosure: We receive referrals commissions for purchases made (details).
Update
: This post has been updated in Dec 2015 to include mentions of newer products by Bay Alarm Medical and other companies. Bay Alarm Medical has
updated pricing
for 2016.
Customers no longer need a traditional or VoIP/digital phone line to get the protection they need from a medical alert system. The cellular console unit (also called the base station) will place medical alert calls directly through an AT&T cell network connection. This is great for seniors who no longer use a home phone, or who may have Magic Jack or Ooma digital lines that are incompatible with the regular medical alert console unit.
The use of cellular medical alert base stations are on an uptrend as regular landline phone costs have risen in the last few years. Besides Bay Alarm Medical, LifeStation and Medical Guardian also offers these systems.
The monthly subscription cost to Bay Alarm Medical will cover the cost of the cell phone connection, so subscribers do not need to pay for an extra phone line on their own. Note that the connection is done directly through the medical alert console unit, with no connection to a user's personal cell phone service.
Without a phone line, the cellular medical alert system is even easier to set-up. All that's required is to connect the cellular console unit to a power supply. With just one step, elderly users can readily issue alert calls through their SOS help buttons.
Since late 2015, Bay Alarm Medical's cellular-based "no phone line needed" systems will also work with an automatic fall alert pendant. Previously, we suggested that shoppers look elsewhere if they needed that feature. However, you can still comparison-shop. If you are seeking to get an auto fall alert pendant and a "no phone line needed" console unit at the same time, LifeStation offers a system like that. If you need a mobile alert system that also has an auto fall alert feature, take a look at Great Call instead.
At the time of this writing, the basic cost of the system is $39.95 a month (updated to $39). Is Bay Alarm Medical a good system? Check the full Bay Alarm Medical review here. This system does not work with Bay Alarm's automated fall detection pendant.
With more and more seniors getting rid of expensive home phone lines, a cellular home medical alert unit that does not require a phone line is a wise choice. It uses a solid home base console or station unit, which is still by far the most reliable type of medical alert equipment. The one thing to lookout for is that user's homes need to have good wireless cell network phone signals, such as good AT&T cellular network signals if you choose Bay Alarm Medical's cellular alert.
Other Bay Alarm Medical products that you may be interested in include their automated fall detection and their mobile medical alert device.
While Bay Alarm Medical's mobile alert device (obviously) does not need a home phone line to operate, the company recommends getting an in-home base console unit to work alongside it as well. You can learn more in the video here.
While every effort has been made to ensure the accuracy of the information contained in this review, the information is supplied without warranties of any kind. We advise all readers to do careful due diligence before purchasing. Take time to visit the company's website or speak with their representatives.