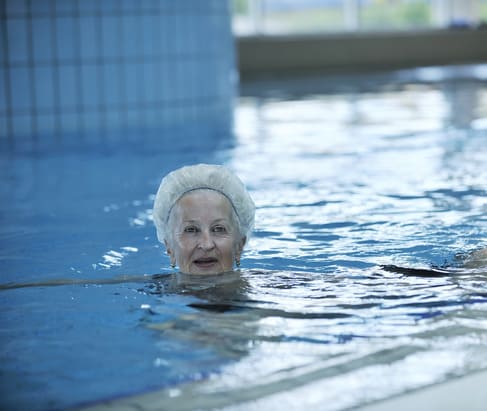 A recent study highlights the importance of swimming in helping prevent senior falls. The researchers said that walking is the most common form of exercise that the elders did, but that it did not lower the risk of falling. The author of the study, Dr Dafna Merom, postulates that stable and strong core muscles, which are necessary for good balance, are developed through swimming. This means that swimming is an exercise that helps in preventing falls.
According to Dr Merom, Associate Professor of Physical Activity at Australia's University of Western Sydney, when people try different types of physical activity, it benefits them in different ways. For example, if one wants to gain better reaction time and gait, he should go dancing. She said that "as people age, they should regularly participate in, and select motor activities that are complex, and not just concentrate on functional walking alone."
The research findings were published in the October 15 2014 issue of the American Journal of Epidemiology. 1,700 men aged 70 and older were observed by researchers in Australia to compare the different types of exercises they did in a four-year period to see the amount of falls that they may experience. During the study, around 2,700 falls were recorded by the researchers.
Elderly falls is an important topic of concern for seniors, their family members and caregivers. According to the Center for Disease Control and Prevention (CDC), one in three adults aged 65 and older yearly experience a fall. It is said that even the least serious falls can actually lower mobility, while serious falls can cause severe injuries, broken bones and head trauma, and may even lead to other problems.
Readers of this site often spend time researching the various medical alert systems listed. For sure, these are very useful devices that allow the elderly or handicapped to quickly summon help whenever falls or accidents happen. However, a helpful external device cannot substitute for having healthy bodies and muscles that can withstand the risks of falling. We hope that articles like this will spark the interest of readers in a having multi-faceted approach towards managing the risks of falling as a person ages.
The researchers found out that men who did complicated exercises, such as playing lawn bowling games (which is almost the same as Bocce Ball), stationary bikes, treadmills, golf and calisthenics were not less likely to fall. But among all of the men in the study, those who swam were proven to be 33 percent less likely to fall.
Dr Dafna Merom, who is also the author of this study, said that "to produce a coordinated movement of both upper and lower extremities, it's important for swimmers to create their own base of support, unlike those who do land-based sports."
In a standing balance test called "Postural Sway," researchers measured the amount of how much the men's body moved at the waist level by asking them to stay still for at least 30 seconds at a central position. They found out that among all the men in the study, the swimmers did better on the said test.
The study was done on men, so does the study's findings have an impact on women? Since women's muscles are less strong than those of men's, Dr Merom thinks that women's risk of falls will also be lowered through swimming. Dr Merom also said that it would also be possible for cyclists to have lower risks of falls, but the researchers can never know for sure because the number of men who cycled and were part of the study was just too small.
This study marks the first time that fall prevention is studied by means of comparing the various kinds of physical activities that men did. Dr Merom said that further studies are needed to make sure that what the researchers found are true.
Related Articles:
10 Fall Prevention Tips For The Elderly
Fall Prevention Products For The Elderly