Family Guardian by Medical Guardian is an emergencies alert and activities monitoring system that goes beyond what a standard medical alert system does. If your elderly relative is independent and has chosen to live on their own, you may be aware of the benefits of a medical alert system.
Beyond a medical alert system, you may also want to have a monitoring system that pro-actively monitors your parent's or loved one's activity levels and uncover potential problem areas ahead of time. That way, you receive regular feedback signals related to dad or mom's daily routines. The system provides greater assurance that they are safe.
Medical Guardian's Family Guardian is a two-in-one medical alert system and activity monitoring system that allows you to monitor your loved one's health and well-being from afar.
The Family Guardian package includes a base console with an emergency call button, a medical alert button (either a necklace or wristband) and three safety sensors, which can be placed around your loved one's home.


Click to Call 1-800-311-6142
Family Guardian's Key Features And Benefits
1. Medical Alert Monitoring
The Family Guardian monitoring system will allow your loved one to call for help in the event of an emergency by simply pressing on their personal medical alert button. It's water-resistant and lightweight, and can be worn as a necklace. Alternatively, your parent or loved one can request assistance by pressing the large emergency call button that is featured on their base console.
An alarm call will be activated manually by pressing on one of the buttons, and it sends a call through a cellular phone connection. No home phone line is needed.
2. Multiple Sensors For Activities Monitoring
While having a medical alert system allows seniors to access monitoring help readily, there will be instances where caregivers and loved ones also want to be informed of signs of activities or inactivities that deviate from the senior's normal patterns.
For example, a system that will send off an alert if mom has not appeared in the kitchen area by noon will be really helpful. This is a red flag that mom may be unwell and need to be called on.
A system like this is possible through the multiple motion activated sensors of the Family Guardian system. There are two activities sensors and a door sensor. Where you decide to place your sensors is dependent on the type of activities you want to monitor.
For a lot of people, having a sensor in your loved one's bedroom, kitchen and front door would make a lot of sense. These cover the main areas of routine activities, such as waking up, taking meals or stepping out of the home. What's great is that the entire system is simple to install for home users.
The alert triggers are customizable based on the habits of the senior users. A "Wake and Well" alert can be set up such that every morning, once senior wakes up and moves, motion is detected and an alert sent off to their children or caregivers.
Information from the activity sensors will be directed through Medical Guardian's cloud servers and then transmitted to the cell phones or handheld devices of authorized family members and caregivers. To access these alerts, Android or iPhone apps are needed.
3. Family Guardian Monitoring App (Android or iPhone)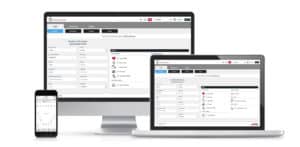 Once you've successfully downloaded the Family Guardian Monitoring App onto your smart phone, you'll be able to track your loved one's daily activities, from your home or office.
You'll be able to monitor how many times your loved one has entered each room and sign up to receive a daily report of your loved one's activity levels over the past 24 hours. If you see a staggering change in your loved one's activity levels, it's a sign to call or visit your loved one in person.
Best of all, you can set up your senior monitoring app up to alert you about 15 different types of situations. There are alerts like "Wake and Well," "Dining Time," and "Out and About." Out and About lets you know if your loved one has stepped away from home. You can also choose to be notified of any status updates via email or text message.
If you have additional family members who would love to be able to track the health and well-being of your loved one, you can set-up for multiple monitoring accounts.
In summary, Family Guardian is a great addition to Medical Guardian's current product line of in-home and mobile medical alert products. These motion detectors can quickly detect if your loved one isn't going about their everyday routine. If you would love for your mother, father, grandparent, aunt or uncle to retain their independence, for as long as they can, it's well worth taking a look into the Family Guardian activity alert system and activity monitor.
To learn more, please call Click to Call 1-800-311-6142 or visit Medical Guardian's website.
Disclosure: We receive referrals commissions for purchases made (details).