Here is a Medical Guardian medical alert video review featuring their Home Guardian system. If you have heard about Medical Guardian's popularity and are wondering if this company is right for you, this is a good video to check out. It's also worthwhile to view this video if you are looking for general information about medical alert systems and how they work.
Disclosure: We receive referrals commissions for purchases made (details).
Medical Guardian offers several different systems to senior consumers. In this video, we demonstrate the Home Guardian system. This is an in-home system that does not require a home phone line to work. The main components are a base console unit that come with it's own cellular phone connection and a medical alert pendant. Viewers may to pay attention to the test calls conducted, as they offer a good idea on what to expect when using a system like this.
Towards the end of the video, viewers can see a demonstration of the button working after it has been soaked in water. This was to test the water-resistant nature of the button, as a lot of seniors need something they can wear while taking a shower. Although not demonstrated in this video, seniors have the option to choose another style of help button that has automated fall detection sensors.
There is also additional information about Medical Guardian's mobile systems in the video. Each of these systems operate along the lines of having a portable help button that will connect system users to a Medical Guardian call center representative. The main differences lay in the equipment features and size of the button.
If you are specifically interested in GPS mobile systems that work both in and out of the home, check out the Mobile Guardian review. For more information and comparisons of the various Medical Guardian systems, check out the full Medical Guardian review.
For other videos, check out the MedicalAlertSystemsHQ.com/Videos section.
Pictures From Medical Guardian Video
Medical Guardian Home Guardian Equipment: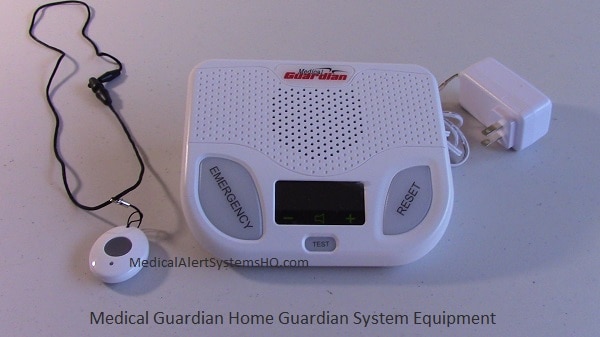 Digital display on Home Guardian base console unit: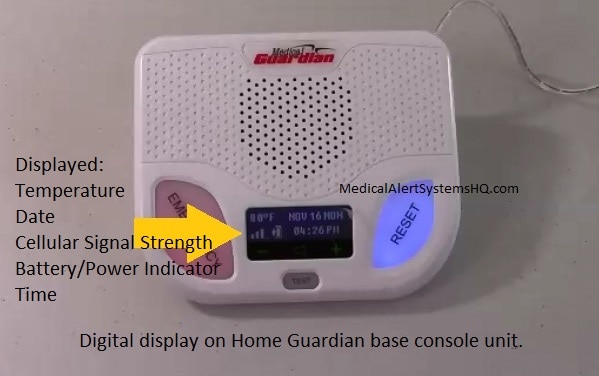 Home Guardian medical alert button compared to quarters: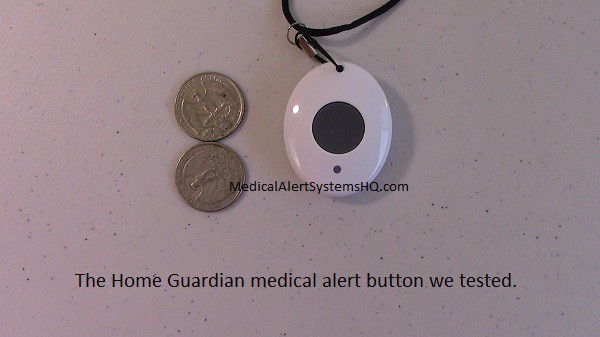 Disclosure: We receive referrals commissions for purchases made (details).
View additional Medical Alert Video Reviews