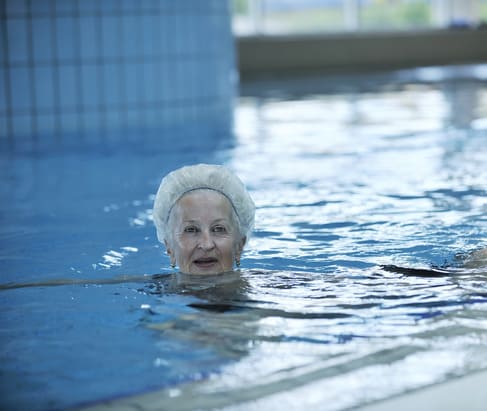 Exercise or other forms of physical activities are commonly shunned by elderly as they deem that they are too old for it. They usually underestimate their strength and settle for just being safe by spending their days sitting or lying on their beds.
But as what studies say, workouts are still essential for aging adults. Sometimes, those who shun it need it the most. Before starting, check in with the doctor to get his/her OK.
Making workouts fun and creative perhaps is the solution for people who dislike the notion of exercising. Why not encourage your parents to go on a splashing fitness fun? There are certainly a number of unique water workouts that you can suggest to your parents.
Experts say that physical activities done in water generally improves metabolism and cardiovascular health, builds up more strength, makes age-related loss of muscle mass a little slower, and it slows down anything that is related to aging.
There is also a study that says water activities are more likely to increase strength as compared to the ones done on land. It is said that you sweat more when you are in water. And that is one thing that no one can barely notice. Moreover, aqua exercises increase strength in the participant's quadriceps, hamstrings and in the upper body region in such good and commendable numbers.
Related: 10 Physical Activities to Keep Seniors Moving
An example of a workout that can be done in water is aerobics. The routines that are being done are somehow similar to land exercises. This may include walking, jumping jacks and the like. One can also take their exercises into the waters.
Some relaxing standing yoga postures, Pilates moves and Tai Chi can be done in water too especially the ones done vertically. To add more fun in the activity, sports-specific workouts can also be done. But do consider if the elderly can still take part in the sport or game. A simple ball catch could be fun as well. And for those who have arthritis, prescriptive workouts are very well suggested. This is because aqua exercises lessen the stiffness and pain in the joints. Moreover, it improves flexibility and especially range of motion that will eventually lead to a better mobility.
Some water fun is best enjoyed when done with other people. If elderly person is engaged in water activities along with other people, it subtly contributes to their psychological health. This works best if the people they will socialize with are their loved ones, too. The supposedly workout turns out to be a play for them and makes them happier than usual. It also makes them feel good about themselves because that is what socializing is practically all about.
Also, the good thing about aqua exercises is that once everyone dips into the pool, all seems to be equal. There is no sense of intimidation unlike what is happening inside gyms where every side you can see a mirror.
It is certainly important to put a little play into the workout routines of seniors. They have always feared exercise so it must be an effective way to veer them away from this myth and embrace the benefits and the fun they could get from a creative exercise.
Related:
10 Daily Posture Exercises for Seniors
Sitting Yoga Exercises For Hips Ankles And Knees
4 Handy Medical Alert Devices for the Elderly