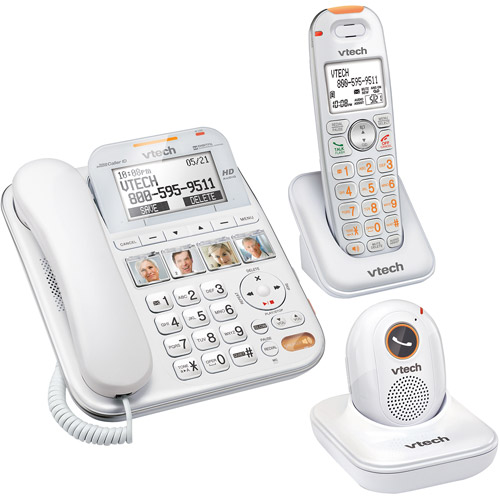 The VTech CareLine Home Safety Phone product line (SN6197, SN6187, SN1197, SN6107, SN6307) is a senior phone system with large buttons and a satellite wearable pendant that emulates a senior "Life Alert" system. The pendant allows users to press a button to call their loved ones or 911 emergency service operators in case of emergencies. Besides this, this phone system includes additional features tailored for elderly users, such as reminders (use it for medications), voice calling commands and audio volume boosting.
The VTech CareLine Home Safety Phone is recommended for seniors who are looking for a top-notch home phone communications set-up, complete with lots of convenience features. It could also work as an alternative to traditional medical alert systems. The CareLine phone system is economical as compared to medical alert systems with monthly fees. The system costs about $90 to $120 to get started and there are no continuing monthly monitoring fees.
Get Additional Cordless Handset
Disclosure: We participate in the various affiliate advertising program and will earn referral commissions on purchases made through the advertising and links on this site.
Company & Product Background
The VTech® brand name is synonymous with cordless phones. The company name VTech actually stands for Video Technology Limited, simply because their first product was a video game console way back in the 1970s. Since then VTech has gained a huge amount of international business momentum and recognition thanks to their range of educational electronic devices for kids of all ages, but they're also the world's largest manufacturer of cordless phones.
VTech Communication Inc have carved out their own niche in the cordless communication industry by offering extremely cost-effective and high-quality products. The VTech CareLine Home Safety Phone system was introduced in 2012. It represents the company's successful foray into a senior home phone product with features similar to non-monitored medical alert systems.
Users Like Their VTech Careline Phones
User reviews and feedback of the VTech Careline phone product has been overwhelmingly positive. It's become a product that pretty much sells itself, because it is high quality and has the most relevant and helpful features placed in one package. There is no senior phone system that is quite the same out there.
There are companies offering senior phones with corded handsets and large buttons, cordless phones that doesn't leave a senior tethered to talking only at the phone base unit, and emergency alert button systems. VTech Careline product line (SN6197, SN6187, SN1197, SN6107, SN6307) includes various elements and accessories that work together as a coherent and useful single system for seniors.
How It Works
The VTech CareLine system is an expandable phone communications system. You can select a corded phone base unit, a cordless handset and an egg-shaped emergency pendant which the elderly user wears. The system employs cordless DECT 6.0 technology. It only needs a single phone jack connection, even with multiple accessory handsets and an emergency pendant.
The senior phone base unit comes with big buttons, large displays, and slots for adding in pictures of the children or loved ones. Close relatives and contacts they can be easily called through fast speed dials. Each system will work with multiple accessory devices. Users can set their systems to work with up to 2 emergency pendants and up to 12 cordless phone handsets.
Very Functional Design
The Careline Home Safety Phone system can be set up to include a corded phone and pendant (SN1197), plus an optional cordless accessory handset (SN6107). This provides a basic reliable system to start with. Cordless handsets are great, but they sometimes stop working due to battery problems or a lack of time in charging the handset. A corded handset overcomes these problems and allows the elderly user to make calls almost anytime. Most phone systems these days are either just corded or cordless.
Another option is to start with a package that includes a base cordless handset and one emergency pendant (SN6187). The flexibility of options and inclusion of a small communications pendant makes the VTech CareLine unique and useful to the general market, not just seniors or users with low vision or disabilities.
Another great design feature is the inclusion of large buttons and clear displays. In a world where companies are working tirelessly to miniaturize every electronic device they can even further the VTech CareLine phone system goes in the opposite direction by making every aspect of this phone system bigger, brighter and bolder. The handsets both feature large buttons and large, clear displays, making them ideal for use by an elderly person or anyone with limited manual dexterity and/or impaired vision.
Users can also attach a digital photo to the four numbers that are dialed most frequently (or 3 numbers and 911 for emergencies). This makes the VTech CareLine ideal for people suffering from the typical range of neurological disorders which tend to affect elderly people i.e. Alzheimer's and dementia.
Emergency Alert Pendant
The egg-shaped pendant allows elderly users to make quickly make calls out to two numbers saved on speed dial. There are two call buttons on the pendant. Clicking button #1 will speed dial number 1, and button #2 will dial the second speed dial number. The pendant has a built-in speakerphone to facilitate clear communications.
Although it's not a dedicated medical alert system, the pendant emulates what more involved and expensive medical alert systems have. That is, the presence of a small portable pendant that elderly users can wear to call for help anytime. Compare it with other non-monitored medical alert systems here.
The main difference is that the VTech Home Safety phone pendant is heavier and not waterproof, when compared to what call buttons are like with traditional medical alert buttons. Elderly users could set 911 as one of the speed dial numbers.
Elderly users can also use it to receive calls and check voicemail messages. This phone system can even be set to broadcast reminders for when to should take medication, or attend a doctor's appointment.
The VTech Carfeline Home Safety Phone system is designed to work as a home telephone system for the elderly, with features for easily making emergency calls. It is less specialized as a medical alert device when you consider its design and features with the Freedom Alert 35911 system. Each system has its pros and cons.
Audio Reminders Such As Medication Reminders
The VTech CareLine Home Safety Phone system allows users to set-up audio reminders that can be one-time or to have them replay daily, weekly or monthly. One could set up daily medication reminders. A medication reminder feature is either missing or costs extra with most traditional home medical alert systems.
Audio Assist
The 'Audio Assist' function can temporarily boost the volume of a telephone call or when listening to messages. This is a really useful feature when the user needs a boost to hear what the other party is saying.
Telephone Answering Machine
The VTech CareLine Home Safety Phone system (SN6187, SN1197, SN6197) comes a built-in answering machine. With this phone, there is no need to pay extra fees to the telephone company for phone answering services.
Cost
The entire VTech CareLine Home Safety Phone system can be purchased for approximately $80 to $120. A basic corded or cordless handset plus one emergency pendant dialer costs about $80, but if you add additional cordless handsets or the new SN6307 picture handset, there are additional costs involved.
For elderly users or their children comparing this to a medical alert system, there's the definite benefit of not having to pay monthly fees, resulting in major savings of of $300 to $400 a year.
Compared to other no-monthly-fee medical alert systems which typically costs around $200 to $300, the CareLine phone system is also priced lower. The price does not necessarily mean that one system is better or worse than another, but that their benefits and features are different.
From a cost perspective, the advantage of buying the VTech CareLine Home Safety Phone system is that it is low-cost and serves as a reliable senior phone system. It could conceivably be the first piece of equipment to purchase for any family contemplating the upgrade of communications options for a senior who is often alone at home. The VTech Careline phone is great as an everyday communications tool, and for getting help during emergencies when alone at home.
There is always the option to upgrade and subscribe to a home medical alert system that offers a lightweight waterproof pendant.
Equipment Overview
The VTech CareLine Home Safety Phone system has separate components that can be purchased together and separately: a corded handset, a battery pack, a cordless handset and a pendant with its own base station. You also get a handset and pendant charger included in the package, plus a lanyard, a belt clip, a quick start guide and a comprehensive, but easy-to-read, owner's manual.
Corded Handset
The corded handset has a number of great features, including a large backlit display, photo dialing, you can boost the audio from the handset and it even announces the numbers of your callers by reading out their Caller ID details. The photo dial feature supports 4 separate numbers, so the elderly person you're buying this for will never forget the face of the person they need to call, even if they do forget their name or number.
Cordless Handset
The VTech cordless phone included with this package also includes a large, bright display, oversized buttons and the 'Audio Assist' function which temporarily boosts the volume during any given phone call. This handset also provides an additional layer of security for the phone system owner because it can be brought with them wherever they are in their home.
Portable Pendant
The lightweight and compact pendant in the VTech CareLine system is portable, has two-way speakerphone capabilities and also comes supplied with its own charger. Senior users can wear the pendant around your neck on the provided lanyard, or simply clipped to your belt instead. The pendant includes two speed dial buttons to dial two separate numbers. Alternatively, users can prompt calls with a voice command like "Call speed dial #."
Please bear in mind that this pendant is not water-proof, so don't immerse it in water, or expose it to damp weather conditions if possible. The pendant requires 3 hours to charge fully, but then provides up to 5 hours of "talk time" when fully charged.
The portable pendant needs to be re-charged frequently. If this is the main emergency alert device being used, extra care should be taken to establish a routine to keep the pendant charged at all times.
As a comparison, this is how traditional medical alert pendant systems work.
Calling 911 During Emergencies
The wearable VTech Careline portable pendant comes with 2 speed dial buttons. One of the speed dial buttons can be set to call 911 by setting the photo speed dial #1 or #2 button on the base telephone unit to 911. Quite a number of users discourage having the wearable pendant speed dial tied to 911. They found the pendant speed dial button to be easily pressed by mistake, and a few users accidentally summoned the police to show up when they were not expecting it.
An alternative is to set 911 to speed dial buttons 3 or 4 on the telephone base unit. This means there is no direct one click speed dial to 911 on the pendant. The call to 911 will be initiated through the portable pendant during emergencies by using a voice command like "Call speed dial #." For this approach too work, the senior user should be cognitively capable of issuing voice command in emergency situations.
Accessories
There's a wide range of paid accessories available for the VTech CareLine Home Safety Phone system, including additional pendants, cordless handsets, battery packs, portable Bluetooth speakers and the all-new CareLine photo speed-dial cordless handset. Please bear in mind that you will have to purchase all of these accessories separately.
The VTech CareLine Home Safety Phone system can support up to 12 separate devices over one single phone line, plus it's also compatible with hearing aid systems.
Phone Line Options
This home phone system is compatible with both home phone line and VOIP systems. If you're using a VOIP system you'll need to connect the handset to whatever modem or router you're using rather than just a standard telephone socket.
Installation
Setting up the VTech CareLine Home Safety Phone system is simply a matter of unpacking it, connecting the corded handset and the pendant charger to AC power outlets, registering the cordless devices to the base station (corded handset) and then configuring the phone for the numbers you want to use for speed dials.
Elderly users may also want to spend a little time understanding the various button controls, such as the call buttons on the portable pendant, and how to issue a voice command.
Although it sounds a little complicated and different from the usual phone system, the VTech Careline system is actually quite straight-forward to set-up and use. The quick start guide has very good illustrations and lays everything out in easy-to-read layman language.
Range
This VTech Careline SN6197 phone system has a maximum range of 600-feet between the portable pendant and the base telephone unit. This can be reduced to a little over 100-feet if there are several concrete walls between you and the base station. Thes system range works wells for most elderly users living in an average home, with walls of an average thickness.
It's always a good idea to test the pendant's connectivity around various parts of the home, especially the bathroom and other areas where the senior is most vulnerable to falls.
Backup Battery
Users can install 3 x AAA batteries in the base of the corded handset to provide emergency power to the VTech CareLine Home Safety SN6197 phone system in the case of a power outage.
Summary
The VTech CareLine Home Safety Phone system (SN6197, SN6187, SN1197, SN6107, SN6307) is a highly-rated senior home phone system. Feedback from users is overwhelmingly positive. It works well for seniors who want a telephone that is easy and intuitive to use. The design of the phone and it's many features such as photo speed dialing, audio volume boosting, voice calling and reminders (eg. remember to take medications) are very well thought-out and user-friendly.
The system also includes a portable and wearable pendant that will allow seniors to call for help with the press of a single button. This is a feature that could allow seniors to save hundreds of dollars in monthly fees for a medical alert device.
Need more guidance? If you are looking for a non-monitored medical alert system and not sure if the VTech CareLine Home Safety Phone will meet your needs, compare it with the LogicMark Freedom Alert 35911 Review. The Freedom Alert is designed as a non-monitored medical alert device, whereas the VTech CareLine Home Safety Phone is more of a phone communications device with a satellite speakerphone pendant.
For standard medical alert systems, check out the main Medical Alert Reviews area.
For outdoor GPS medical alert systems, check out Medical Alert Systems With GPS Reviews.

Advertising Disclosure: This site participate in various affiliate advertising programs and will earn referral commissions on purchases made through the links and advertising to ecommerce sites and marketplaces on this site. This allows us to maintain this site. We advise all readers to do careful due diligence before purchasing. Thank you.
Limitation: While every effort has been made to ensure the accuracy of the information contained in this review, the information is supplied without warranties of any kind. We advise all readers to do careful due diligence before purchasing.