Rating:





Medical Guardian
is one of the fastest growing medical alert companies today. In the recent years, buoyed by positive reviews and their commitment to provide customers with choice and good value, the company has attracted a lot of senior customers nationwide.
Medical Guardian offers both standard home medical alert base station units, as well as mobile on-the-go systems that work in and out of the home. Seniors can choose from a full line of medical alert equipment that is functional, good-looking, and designed to address important user needs.

Disclosure: We receive referrals commissions for purchases made (details).
Pros
Works Both In & Out Of Home – Medical Guardian offers users choices for systems that work both at home or out of the home. This provides additional peace of mind for users and their loved ones who want more than the standard system. It also allows users the flexibility of upgrading from their standard home medical alert to other options without needing to switch companies.
No Contracts – Users are not tied down by term contracts or hampered with set-up/cancellation fees.
Cons
External Call Monitoring Center – Call monitoring services are offered through a certified US based monitoring center, rather than managed in-house. Some people may feel less comfortable with this idea. For other customers, as long as the call monitoring services are US based with well-qualified representatives, it makes little difference to them. Medical Guardian customers benefit from a UL listed call center and CSAA Five Diamond certified monitoring center.
Need Help? Click to Call Medical Guardian 1-800-311-6142
Medical Guardian Alert System Detailed Review
Background
Medical Guardian was started in 2005, and built on the foundation that their products can help seniors lead the independent lives they (ie. the seniors) desire. They are the leader amongst the newer generation of medical alert companies that want to bring new technologies to consumers, such as auto fall alert detection and mobile medical alert systems that work out of the home.
At the same time, the company's feet is firmly planted in the ground, in that they also offer standard home medical alert systems that work with land phone lines. Despite the growing interest in mobile systems, having a standard in-home medical alert system is still widely acknowledged to offer really reliable protection for seniors at the least expensive cost.
Through Medical Guardian, customers find themselves presented with a wide array of products, and the ability to cross-over and access new technological choices over time. Medical Guardian also offers a senior medical alert and activities monitoring solution called the Family Guardian. The package includes satellite sensors that are placed around the home to track the daily activities of seniors.
Medical Guardian's corporate headquarters is located in Philadelphia, PA. Their products are available to serve all 50 states in the US. Medical Guardian's quality products and services, combined with transparent terms and an attitude to help customers is providing serious competition to industry kingpins like Philips Lifeline and Life Alert.
How It Works
Disclosure: We receive referrals commissions for purchases made (details).
Medical Guardian's system works similarly to other regular in-home medical alarm systems you may have seen or read about. The customer is given an SOS help button either in the form of a necklace or a bracelet. Whenever an emergency situation develops, such as slipping and falling, dizzy spells, strokes, home accidents, or anything unforeseen and dangerous happens, the elderly user can press the help button. This immediately activates a call from the base station unit to the emergency call monitoring center.
A trained monitoring agent will quickly answer the call, speak with the elderly system user and get him or her the help that is needed. This could include calling an ambulance, emergency responders or family members. Should the elderly user be unable to speak, the standard protocol is for the agent to send for help.
Cost
The Medical Guardian home alert system costs $29.95 per month. This is billed quarterly for a total of $89.85 each quarter.
Customers paying on an annual basis can receive an extra month of service free. Incorporating this discount, the price averages out to $27.45 a month or sums to $329.45 a year.
At the time of this writing, the company is offering a free second button and service for a spouse or another user in the same household. If this is what you need, the offer here compares well with other companies that may tag on extra charges for the second button and/or service.
Contract
There are no long term contracts, activation fees or termination fees associated with this service. This compares well with Life Alert that have more stringent terms or set-up fees.
In addition, the company offers a 30-day money back guarantee and pro-rated refunds after 45 days of receiving the equipment. This compares well with the competition. Many medical alert companies offer neither a 30-day money back guarantee nor pro-rated refunds on amounts that have been paid in advance.
A cancellation will only complete when the equipment and accessories are returned to the company undamaged. The requirement for the return of undamaged equipment and accessories is a fairly standard clause in the medical alert industry.
When we cancelled the service and sent back the equipment, the company did issue us a refund. Refunds will only be processed upon receipt of the original equipment returned undamaged. For more details, please contact the company directly at 1-800-311-6142.
Equipment Overview
Medical Guardian's line of products include a few different base station units and SOS help button models. To keep things clear, this section on equipment is a review of their standard in-home medical alert system that connects through a land line or internet/digital phone line. Further down, we do cover their other products such as the cellular-based and mobile units.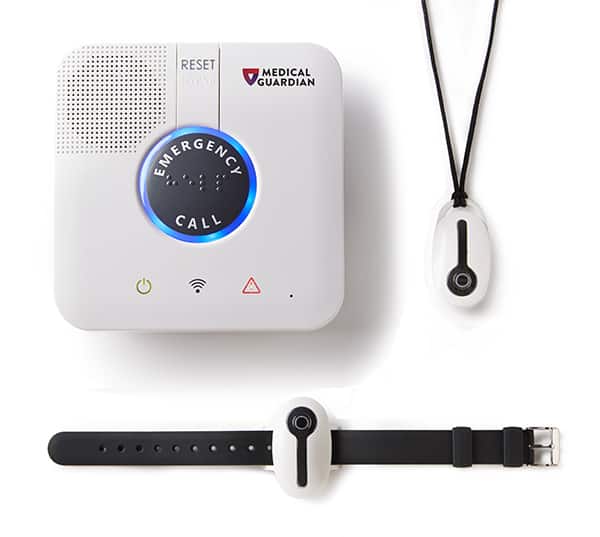 Medical Guardian's traditional home alert system Classic Guardian offers a reliable base station unit that is well-designed and easy-to-use. It's main features include a large "emergency" button near the center of the unit and a sensitive speakerphone for two-way conversations. The unit meets UL listing standards, which is a well-regarded industry standard for quality equipment.
Emergency Help Buttons
For help buttons, users can choose between either a necklace pendant (pictured above) or bracelet. This lightweight necklace pendant that works with the traditional in-home base station stands out for its stylish and contemporary looking design.
Both the bracelet and necklace pendant is waterproof, which means they can be worn while showering or bathing. This is important as a lot of elderly falls occur in slippery bathroom environments.
Battery life for the button is approximately 3 to 5 years. There is no need to worry about changing out batteries all the time.
Phone Line Options
Medical Guardian's traditional in-home medical alert system works best with traditional land telephone lines. The unit also works with certain brands of VoIP (voice over internet) or digital phone lines. The best way to find out if the product works with any particular brand of internet/digital phone service is to contact their support at toll free 1-800-311-6142.
With more and more users moving away from a home phone lines, Medical Guardian's Home Guardian system allows seniors to use it even if they do not have a home phone line or own a cell phone. Through an independent self-contained wireless phone connection, the base station will connect senior users to the central monitoring center whenever emergency assistance is needed. See In-Home Cellular Emergency Alert System described below.
Installation
System installation is done through an easy set-up process. The process is simple, consisting of basic steps to connect the base station to a phone line and plugging it to a power source. To make it really easy for elderly users, Medical Guardian's package comes with very clear instructions.
Range
The maximum open air distance that wireless signals from the help button will still reach the base station (to place an emergency alert call) is 1300 feet. 1300 feet is a truly long distance that is more than sufficient for most homes. Besides the home itself, coverage will likely extend to peripheral areas like the front and backyards, and driveways.
Realistically, the actual working range of the system will vary depending on the layout of the home, physical obstacles and environmental interferences. For this reason, we recommend that users of the system test it out from various parts of the home to see that the system works according to expectations. This is especially so for areas where users are most likely to be while at home, or are most susceptible to falling.
For almost everyone, there is no practical need to have a 1300 feet range, nor is it meaningful. Home medical alert systems are meant for home use. If emergency help is dispatched, it will be sent to the user's home address, not to where they have pressed the SOS button from.
Sometimes, users seek out systems with extremely long ranges so that it works "everywhere." In that case, it is more likely that what is needed is not a home-based system, but rather a mobile medical alert system that can function both at home and when the senior is out and about. That's where Medical Guardian's mobile medical alert system comes in, and this is described below.
Monitoring Center
Medical Guardian provides elderly users with monitoring help 24 hours a day, 7 days a week, all through the year. The monitoring services are provided through a highly qualified US-based monitoring call center. The call center operators are trained to handle 911 type emergency calls. That means that they are trained to interface well with system users and dispatch help in professional and effective manner.
In addition, the call monitoring center meets some of the most coveted industry certifications. It meets UL listing standards, a widely recognized industry standard. The monitoring center is also CSAA Five Diamond and Department of Defense certified.
Backup Battery
In case of power outages, the standard in-home base station unit will maintain power for up to another 32 hours. Having a long backup battery is important to ensure that the system will continue to function despite a power outage.
Besides the standard Medical Guardian product that connects through a regular land or VoIP/digital phone line, the company also offers an in-home cellular emergency alert system console that works by establishing emergency call connections through a wireless cellular line.
The wireless AT&T cellular connection is built into the base station unit of the in-home cellular emergency alert system. No land line or additional subscription for a cell phone line is needed.
The pricing of the cellular based system is $34.95 a month, or $5 above the standard system. It works just like the standard system, except for the phone network connection. Users can choose to wear a pendant or bracelet for their SOS help button, and even upgrade to an auto fall detection button. When an emergency happens, users can press the help button and they will be connected with a monitoring center agent who can assist them.
For this product, the backup battery is up to 30 hours. The maximum wireless range between the SOS help buttons and the cellular-based console unit is 600 feet. To learn more or purchase, please visit the official Medical Guardian site or call 1-800-311-6142.
Users can upgrade their standard
in-home medical alert
(Classic Guardian) or
in-home cellular emergency alert system
(Home Guardian) to include an automatic FallAlert™ fall detection button. It costs an extra $10 a month to use this technology.
With these buttons, alert calls are made not only when the button is manually pressed, but also when a fall has been detected. Automatic fall detection is an excellent concept, as sometimes users may fall and lose consciousness or the capability to press the help button. However, no system is perfect in detecting all falls automatically, and it could also bring about false alarms and more hassle for users. See this article for a fuller discussion of the pros and cons. Medical Guardian is confident that their FallAlert product offers a high level of detection accuracy, and limited instances of false alarms.
Every user's situation and comfort level with the technology varies. There is no clear cut one size fits all answer. The great thing is users can test it out as an option and decide. The system console works with regular non-FallAlert buttons as well, and their current offer includes the regular button at no extra cost. If you are interested, our best suggestion is to speak with a representative from Medical Guardian at 1-800-311-6142.
The Mobile Guardian emergency alert system offers protection for users both in and out of their homes, when they are out and about taking a walk or shopping. The base station set-up consists of a cradle that connects to a power source and a portable unit that can be lifted off and taken around. This is illustrated in the picture above.
At home, the system works similarly to Medical Guardian's in-home cellular based system. Elderly users are given the choice of either a waterproof lightweight pendant or bracelet that they can press to activate an emergency call. Emergency calls are routed through AT&T's wireless cellular network. No separate cell-phone line subscription is needed.
When users leave their home, they take the portable unit (pictured above) with them. The portable unit is about the size of a deck of cards and comes with an emergency call activation button. It also incorporates GPS tracking capabilities, so that information about the user's location is transmitted to emergency call monitoring agents.
This Mobile Guardian emergency alert system costs $39.95 a month. For $5 a month more than the home-only cellular based system, users can access both in and out of home protection. More details about the system can be obtained by calling Medical Guardian at 1-800-311-6142. You may also want to check out our full Medical Guardian Mobile Alert System With GPS Review.
Premium Guardian is Medical Guardian's high end product option. It is a mobile pendant device that can be worn both in and out of the home. What differentiates it from the Mobile Guardian system above is that the equipment comes in the form of a single necklace pendant with its own embedded speaker and microphone. It does not come as a separate speaker unit paired with a help button pendant.
Having a speaker and microphone right on the pendant itself makes it easier to listen to and speak with monitoring center operators in case of emergencies. However, it also makes for a more bulky pendant. Senior users would need to remember to keep the unit recharged and ready for use, even when the use of the unit is limited to their homes.
The Premium Guardian device is GPS-enabled and water-resistant. There is also an upgrade option to include automatic fall detection. To learn more, check out our full Medical Guardian Premium Guardian Review.
As of Oct 10, 2017, customers can choose the new upgraded premium mobile medical alert device called the Active Guardian (see below) for the same price.
Active Guardian is Medical Guardian's new mobile medical alert pendant that supersedes the mobile Premium Guardian system. This is a mobile medical alert device that works both in and out of the home. It is similar to Premium Guardian in features, but it has improved locations tracking as it contains both GPS and Wifi (WPS) technologies. WPS adds to the accuracy in determining the location of the device, especially in indoor dwellings and multi-floor condos and apartment buildings. GPS is sometimes considered more limited in determining indoor locations.
To learn more or purchase, please visit our full Active Guardian review or call 1-800-311-6142.
Complaints
Medical Guardian's BBB record showed 48 complaints in the last 3 years (as of Oct 2017). 23 of these complaints were resolved to the satisfaction of customers, while the other 25 were all answered but either customers were still dissatisfied or they did not indicate their level of satisfaction.
A number of the complaints had to do with the handling of refunds. Reading through them, we found the company to be very reasonable in resolving the complaints. For example, one customer had another month of service charged to his credit card after he mailed back the equipment. The company explained that a return could take as long as 30 days to process and his account was charged before the cancellation went into effect. In any case, Medical Guardian refunded the customer his fees, including the most recent charge that slipped through.
Overall, the BBB has given them a very high A+ rating, partly because the number of complaints relative to the size of the business is small. If you are curious to learn more about the praises and grouses customers may have, scroll down to the bottom of the page for the readers' comments section.
Current Special Offers
Interested readers can contact Medical Guardian at toll free 1-800-311-6142 or visit the Medical Guardian website to learn more.

Click to Call 1-800-311-6142
Disclosure: We receive referral compensation for purchases made (see details).

While every effort has been made to ensure the accuracy of the information contained in this review, the information is supplied without warranties of any kind. We advise all readers to do careful due diligence before purchasing. Take time to visit the company's website and speak with their representatives.