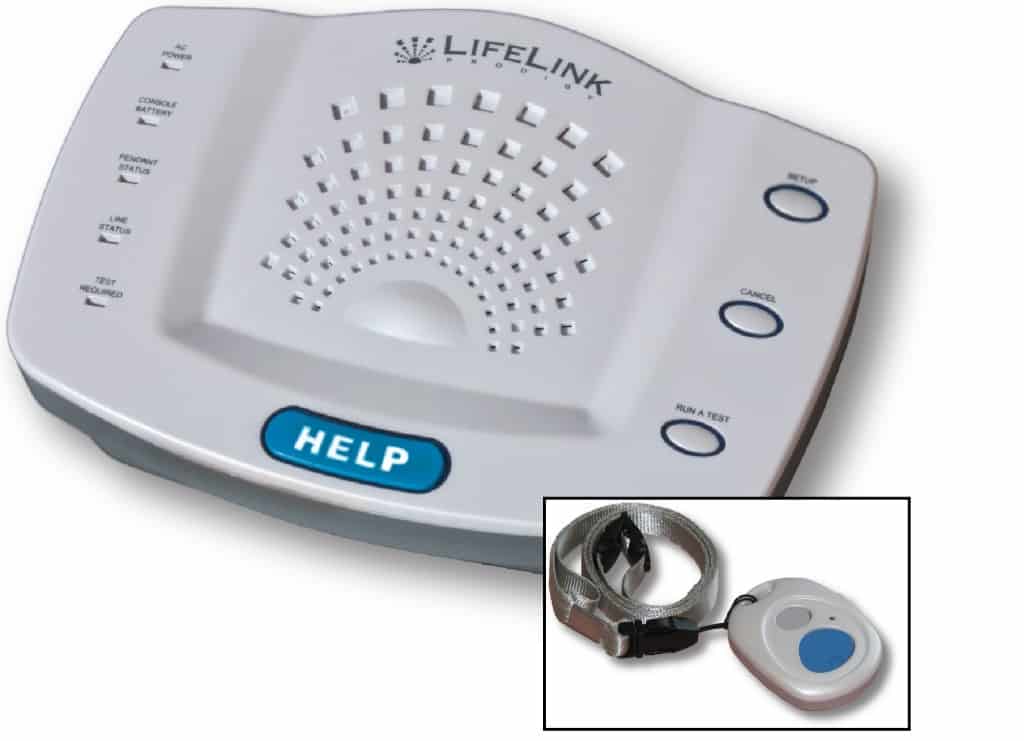 The LifeLink Prodigy no-monthly-fee system is a carefully engineered product for seniors and people with disabilities seeking an affordable medical alert system. Users or their loved ones purchase the personal emergency response system equipment outright for less than $300, and there are no continuing monthly fees associated with operating it. The package comes with a base console unit and lightweight waterproof pendant. The system can be programmed to call on up to 8 custom emergency contacts, including the senior user's children, loved ones, caregivers and 911.
Pros
No Monthly Fees – As a self-dialing non-monitored system, there are no monthly fees associated with the LifeLink Prodigy system.
Lightweight Waterproof Pendant – The pendant can be worn in showers and baths. It is also lightweight, making it easy for seniors to wear.
Comprehensive System Reliability Checks – The LifeLink Prodigy system incorporates a full list of indicator lights, audible warning signals and testing features to alert users and their children or loved ones if anything needs attention.
Cons
No Speakerphone In Pendant – To keep the pendant lightweight and waterproof, there is no speakerphone incorporated within the pendant. Some users prefer the Freedom Alert system because it has a built-in two-way speakerphone.
More Involved Installation – Unlike a monitored system where users can rely on an live operator to route calls and get help, users of the Lifelink Prodigy system needs to program in their own custom phone numbers.
LifeLink Prodigy Medical Alert Detailed Review
Company Background
The company behind the LifeLink Prodigy, Matrix Interactive LLC, has been involved in the computer industry since the 1990s. It was in 2003 however that the company moved away from solely being involved in computing to manufacturing medical alert bracelets instead – identifying a gap in the market for a one-time-fee emergency alert system for the elderly and those living with serious medical conditions. Since then the LifeLink brand name has gone from strength to strength in providing medical alarms to tens of thousands of satisfied customers.
The current version of the LifeLink Prodigy medical alert system has been developed based on years of valuable feedback from customers and potential customers. Their medical alarm product is designed to meet two key pillars – reliability and usability. They call their product the "Simply Smarter" system. It is designed to work reliably when emergencies happen, and simple and easy enough that seniors, the disabled and other users can operate it without much trouble.
How It Works
The LifeLink Prodigy personal emergency response system offers senior citizens complete peace of mind if they find themselves in a situation where they require assistance. In an emergency situation, the elderly user can press the blue SOS button on their pendant.
Pressing the pendant button will set off a short siren to signal that an alarm has been activated. The medical alarm console will then begin automatically dialing in sequence up to 8 separate custom emergency contacts. The LifeLink Prodigy will play a pre-recorded "help" message once the line is picked up. The emergency contact who answers the call will be prompted to press the number zero key on the keypad. Once that is done, the system will play a message that says "Two way communication has been established." At this point, the senior user can start two-way communications with their emergency contact and let them know the type of help that is needed. Two-way communications is facilitated through a speakerphone in the base console unit.
If no one presses the zero key, such as when an answering machine takes the call, the system console will hang up on the call and move on to the next contact. There should be a short siren sound in between the calls. This process is repeated until the someone presses the zero button. For senior users who prefer not to have the siren sound, the siren volume can be adjusted or the siren turned off completely.
One of the custom emergency contacts can be set to be 911. There is also an option to bypass the calling of custom emergency contacts to dial 911 directly. This is a helpful option as in serious emergencies, 911 may be the fastest and best point of contact. A 911 operator is always available and they can dispatch emergency services.
The LifeLink Prodigy system is permitted for use, and will work well both in the US and Canada.
Cost
When you start talking about costs this is where the LifeLink Prodigy medical alert really starts to shine, simply because there are no monthly fees to consider. The suggested retail price is under $300, making it a highly affordable and reliable medical alert solution.
There are no hidden charges either – you pay the price you see and that's it. The flipside of the coin is that you have a slightly higher upfront ticket price as a result because you can't spread your costs out over several months.
Equipment Overview
The LifeLink Prodigy package contains the base communication or console unit and one pendant.
Base Console Unit
The base console unit is central to the Lifelink Prodigy medical alert system. This is the brain of the system that will receive alert signals from the pendant and then dial out to the list of emergency contacts. A sensitive two-way speakerphone is also housed in this unit, to allow elderly users to establish two-way communications with their emergency contact. The Prodigy console also stores all of its configuration information in something called flash memory, so even if the power goes, the LifeLink will still remember all of its settings.
The LifeLink Prodigy base console is neatly designed with a list of indicator lights and audible message alerts to let users know if parts of the system needs attention. For example, their is an AC power indicator light that will be solid green if the console is plugged in properly. If power is out, the light becomes blinking green, meaning that the console is now running on its backup battery. There are indicator lights for the backup battery status, pendant connectivity and so on.
In addition, there are also audible message warnings related to the most critical parts of the system, such as the phone line connection and backup battery status. Besides these various indicator lights and warning messages, the base console includes a test button for running a test on the system.
These features make the system user-friendly and helps to ensure that the system is ready to work whenever an emergency happens. Since this is a non-monitored system, system maintenance falls squarely on the shoulders of the senior user and/or their loved ones helping them. The LifeLink Prodigy system is designed to provide the necessary indicators so that the users can address any issues that may come up. The goal is to ensure that when there's a real emergency, the system works.
Medical Alert Pendant
The LifeLink SOS pendant is commonly worn around your neck with a lanyard. The lanyard is designed to breakaway if it becomes caught in obstacles under pressure, so as not to hurt the user. This pendant is very light and is only 1/4-inch thick.
The pendant is waterproof and can be worn in showers and baths. Compared to the LogicMark Freedom Alert and Guardian Alert systems where the pendants are splash-proof but not waterproof, this is a plus. In addition, the LifeLink SOS pendant is also about 1/3 lighter than the Freedom Alert pendant.
To make the pendant lightweight and waterproof, it does not have a built-in speakerphone like the Freedom Alert pendant. This is a conscious design decision made by Lifelink. Based on customer feedback and their experience, it is more important to have a lightweight waterproof pendant that will can be comfortably worn constantly to issue emergency alert calls. It makes the system more useful. This is also the reason why traditional home medical alert systems work very similarly.
The LifeLink SOS pendant uses a single CR2032 (3-volt lithium) battery. It lasts for about 6 to 12 months, and no tools is needed to replace this battery. A light on the base console unit will also indicate when the battery needs to be replaced.
Accessories
The LifeLink base console can be synced to work with as many as 12 Lifelink pendants. These are useful for the spouse, or as spare pendants for different parts of the home in areas when falls may happen (eg. bathrooms). Users who prefer a wrist pendant rather than a neck pendant can also purchase this style of pendant.
A useful accessory to complement medical alert systems is a key lockbox. These allow first responders to gain fast entry to help the system user as quickly as possible. Lifelink does not offer this, but they can be easily purchased at the local hardware store or online (see examples).
Warranty
The LifeLink Prodigy comes with a standard 1-year warranty, but you can purchase a longer-term warranty if you wish. The pendant itself is covered by a 90-day warranty, but this is only because the items are used on a daily basis.
Phone Line Options
Of all medical alert systems, the LifeLink Prodigy system is compatible with the widest range of phone lines. They work with traditional landlines, major VOIP services like Comcast, FIOS, ATT Uverse, and digital voice services like MagicJack, Ooma and NetTalk. The will even work with Verizon Home Phone Connect and AT&T Wireless Home Phone, which are wireless phone services adapted for home use (no additional adapter needed).
For cell phone users, the company offers a cell phone adapter that will work with bluetooth cell phones. However, system users must remember to keep their cell phones without 10 feet of the adapter.
Installation
A basic installation can be done in 15 minutes. The first steps are to hook the base console unit up to the nearest phone jack, plug the unit into an AC power outlet and make sure backup 9-volt battery is installed. This is followed by registering a pendant to work with the base console unit, and programming in at least one emergency contact number.
A touch tone phone is needed for the set-up process. A number of programming steps can be done remotely as well. Be sure to read the Quick Start guide and User Guide for guidance. Besides information on installation, there are also a lot of good tips on how to get the most of the system. For a product associated with potentially life-threatening emergency situations, paying attention to the manuals is well-worth the attention.
Range
The unencumbered range between the medical alert pendant and the LifeLink Prodigy console is 300-feet in total, which is more than enough for the interior and exterior (patio, yard, etc) of the average home. According to the company, one can rely on the pendant to communicate with the console in anything up to 5,000-square feet of living space, with limited exterior coverage.
The actual working range will depend on environmental factors, interference signals, the layout of the house etc. So once the system is installed, be sure to test it out from various parts of the home, especially places where the senior user frequent or is most vulnerable to falling.
Backup Battery
If the power goes out, this medical alert system is backed up by a 9-volt battery inserted into the console. This 9-volt battery can be replaced, and should be, as the battery power weakens. If you live in an area where power outages frequently occur, it would be a good idea to have spare 9-volt batteries so that the backup period can extend if needed. This system also features a Flash memory module which stores custom settings.
Summary
The LifeLink Prodigy product is great alternative to traditional monitored medical alert systems that charge on-going monthly fees. Senior users and their children/loved ones/caregivers do need to take a more proactive approach setting the system up and maintaining it, but in return they do not need to worry about ongoing fees or contract obligations (if any). It's currently not as popular as the Freedom Alert system, but the Lifelink company believes that they have a "Simply Smarter" product.
Not sure if the LifeLink Prodigy medical alert is right for your needs? Check out the No Monthly Fee Medical Alert Systems Guide and top-rated no-monthly fee systems like the LogicMark Freedom Alert 35911 and LogicMark Guardian Alert 911 Dialer.
For monitored medical alert systems, see best-rated system reviews here or check out Medical Alert Systems With GPS Reviews.

MedicalAlertSystemsHQ.com receives referral compensation when site readers purchase through the links on this site. This supports our website operations. Thank you for your support and understanding.
While every effort has been made to ensure the accuracy of the information contained in this review, the information is supplied without warranties of any kind. We advise all readers to do careful due diligence before purchasing.