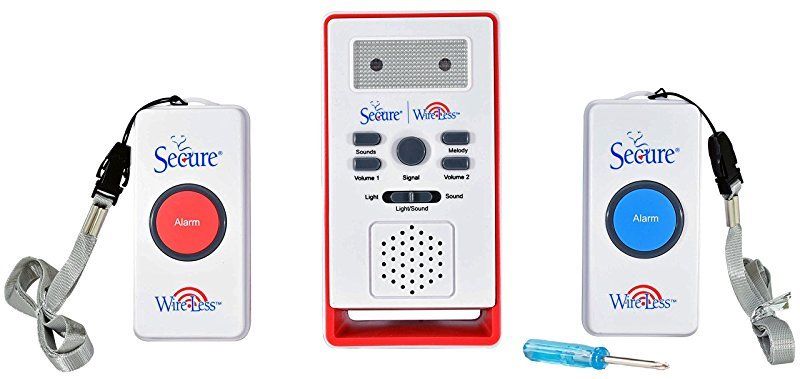 Wireless Caregiver Call Button Systems are useful gadgets when taking care of elderly or disabled relatives. Even if that's your full time job or if you employ caregivers, it's not possible to be with them every minute. At times, either yourself or the caregiver may have to step away to other areas of the home, like the bathroom or bedroom for a night's sleep. Will the senior need help going to the bathroom? What if they fall? If they are not feeling well, how do they call out to you?
What is a Wireless Caregiver Call Button System
Wireless caregiver call button systems allow patients or the elderly person being cared for to alert their children or caregivers at home if they need help. These systems usually come in the form of alarm buttons or pendants that are paired with separate pager or receiver units. They are also referred to remote nurse alert systems or nurse call buttons.
When the alarm button is pressed, it sends a signal to the receiver or pager unit that sounds an to alert the caregiver. An in-home caregiver call button system is especially useful to the elderly and disabled if they need help after falling or need assistance in going to the bathroom.
Caregiver Call Button vs Medical Alert System
Monitored Medical Alert Systems
Wireless caregiver call buttons have similarities and differences when compared to monitored medical alert systems that are reviewed on this site. A wireless call button system is an in-home paging system. It's use is limited to within a home or nursing care facility setting, and the person who will be responding to the alert is also located at the home or facility. The pager or receiver can be portable and carried by the caregiver, or else larger and placed appropriately so that the alarm sound can be heard.
Monitored medical alert systems also have alarm buttons, but the alarm call is routed through the phone line to an out-of-home remote 24/7 monitoring center. This allows the elderly who are living on their own to access help. In many homes where the adult child is caring for their parents or facilities with staff caregivers, monitored systems are also installed.
This is because these medical alarm systems provide an extra source of human help remotely. If an emergency happens, there is professional help the caregivers and helpers can talk to who can summon either emergency medical services or get the word out to other emergency contacts.
Medical alert systems can also be used out of the home, and many have GPS technology built into them. Learn more about the Main Types of Senior Alert Systems here.
Non-Monitored Medical Alert Systems
Another product to compare a caregiver call button system with is a non-monitored medical alert system. An unmonitored medical alert system works just like regular monitored system in that once a button is pressed, a call is sent out of the home through a telephone line. However, there is no monitoring service with this system.
The emergency call is routed either to the senior's caregivers or children, or to 911, depending on the system and programming. For more details, please refer to the Monitored vs. Non-Monitored Medical Alert Systems comparison guide, or Freedom Alert 35911 system review.
Choosing a Wireless Caregiver Call Button System
Choose a call button system that's convenient to use for both the patient and the caregiver. It's better to have a longer range so both of them can have more freedom of movement. Getting a water-resistant call button is also something to consider.
Size and weight also matters. Having a lightweight call button is perfect for the patient. You may want to pick one that features a large red button so there is no confusion as to which button is the one to press for help.
Depending on what your needs are, pick an appropriate size for the receiver or pager unit. You can pick a receiver unit a receiver unit that is compact and can be conveniently placed in the pocket or else there are larger ones that can be mounted to a wall.
Choose a system where the alarm bell is loud enough to be heard clearly. Some systems have multiple sound settings.
For practical use purposes, you may want to consider a system that comes with two call buttons or receivers just in case the other one doesn't work.
Caregiver Call Button System Options
Here are some typical call button system products that are purchased when caring for the elderly or disabled:
Secure Wireless Remote Nurse Alert System – Patient Call Button and Caregiver Pager – Both the resident and the caregiver can have more freedom with this long range (up to 500 feet) caregiver call button. This product comes with the call button, caregiver receiver, and a screwdriver for the call button batteries.
The button unit is user-friendly and can be worn as a pendant, carried on the pocket, or can be placed on the bedside. This product is made by a company that has been serving long term care facilities for 25 years. Take a look at our review here.
 
Secure Wireless Slimline Pager One Call Button Nurse Alert System – Patient Call Button and Caregiver Personal Pager -Your caregiver will never miss you with a bright LED visual indicator. This secure call button for elderly is simple and easy to use. Features up to 500+ Ft operating range.
It has three alert options which include sound plus light, sound only, and light only — the latter perfect for those with hearing problems. The call buttons are water resistant and the caregiver receiver can be carried in the pocket, placed near the caregiver, or can be mounted to a wall.
Smart Caregiver Two Call Buttons & Wireless Caregiver Pager – The range for the wireless call button system is up to 150 feet, but this product comes with two pendant paging system, 2 nurse call buttons, and one caregiver pager. There is a handy backup if the other call button doesn't work.
A wireless call button system is useful when caring for the elderly and disabled (check product listing). They can use it to alert someone to assist them when they fall or for whatever assistance they would need. It has some similarities and differences when compared to medical alert systems. For additional monitoring help, you can also look into medical alert systems. More information is also available in this Main Types of Senior Alert Systems article.
 
Disclosure: Product links and advertising on this page goes to various sellers and ecommerce websites. We will be paid referral advertising fees should readers purchase. We thank you for this support, as it supports continued operations for this website.