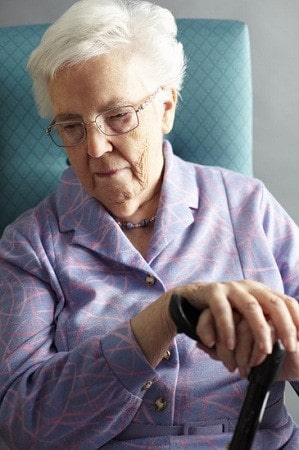 While a child may understand that getting a medical alert system for their elderly parents is critical as they age, not all parents are amicable to the idea immediately. There are various reasons for such resistance. Even if it is well-intentioned and paid for, there is no guarantee that the parent wants to use it. Recently, my friend mentioned that he had bought a system for his dad, only to have his dad put it away in the closet. It took some time and coaxing for his dad to change his mind and put the system to use.
It took this lady 5 months to convince her dad to use a medical alert system, even though she worked for a well-known medical alert company.
So before you invest in buying a system, it may be good to sound the idea out with your parents, and see if they are open to it.
A Majority Of Medical Alert Systems Are Bought By The Children For Their Senior Parents
While the dynamics of a parent and child relationship is often complex, almost all children desire for their parents to lead happy and healthy lives as they age. Logically, we understand that home medical alert systems are one of the best investments that can be made to ensure senior safety for the elderly who spend a lot of time alone at home.
Falling down and hurting themselves is a real threat for seniors, not just a vague impression that people have. With age comes physical frailty. A few years ago, a study by the CDC revealed that every 18 seconds, an older adult is being treated for fall related injuries in the emergency room. Every 35 minutes, an older adult dies due to a fall related injury. Besides falling, there are other conditions and injuries that could really impact our parents lives.
Time and again, and not to be dramatic, we hear of how pressing that help button was the difference between life and death. Delay in getting medical help in a timely manner can exacerbate the consequences of injuries. It could hasten the move to a nursing home when a senior could have enjoyed a few more years of freedom living independently as they prefer.
There are lots of great reasons for getting a medical alert system, but convincing your parents through logic alone is probably not going to cut it. Let's discuss some of the mindset and approaches that people have had success with.
How To Overcome The Resistance
Understand Their Point Of View
If your parents are resistant to the idea when you first broach the subject of medical alarms, it is important to try to understand where they are coming from. The right approach to easing them into truly understanding and wanting to use the system will present itself if you are willing to listen and acknowledge their point of view first.
Every individual is different, but it is safe to say that you just can't push them into your point of view, no matter how it is for their own good. Even if you strong arm them into wearing a medical alert pendant, can you be sure that they are willing to push the button when the situation warrants it? The point is, you only convince them when they can come to their own positive conclusion about it.
"Do You Think I've Gotten Too Helpless?"
Some parents resist because they think having a medical alert system at home means that they have really gotten old and unable to help themselves anymore. They may feel that wearing a medical charm around their neck is reminder and symbol of their aging. If you believe this is their pain point, try to assure them that they are still healthy with many more years of physical abundance.
At the same time, all men and women are susceptible to the effects of aging and physical injuries. If they do fall and no one is around to help them, what are the possible consequences? Get them to review the situation and come to their own conclusions.
Too Complicated…. Not
Some seniors may resist the idea because they think the system is too complicated to set-up and use. You could warm them up with the idea that it is really a simple 5 minute process to set-up, and phone guidance from company is always available. If possible, you can also offer to be present in their home to get the system started. The pendants are lightweight and waterproof, and designed to be comfortable. Check out this video:
Don't Like Talking To Strangers
They may dislike the idea of having to speak with strangers at the other end of the line. Whether young or old, some of us may feel uncomfortable meeting new people the first time. If they really dislike talking to strangers, let them know that it is no different from interacting with someone at the store. Trained monitoring representatives are courteous, friendly and here to get the job done – getting users the help the need when they need it.
We may all resist change and dealing with new people. However, over time, many seniors appreciate some human interaction especially if they spend a lot of time in isolation. Because these medical alert monitoring professionals are there in the background monitoring, the senior user can get to live an independent lifestyle from their own home. That's certainly less disruption than having to move closer to their children or a retirement home.
Too Expensive
Some seniors do may not like the idea of spending extra money every month on a senior alert system. Even if their children is willing to foot the bill, the parents may feel it is not a justified expenditure. Many great systems cost less than $1 a day. Ask your parents if they have weighed this against the cost of ongoing medical expenses, caregiver expenses or staying at a nursing home, due to the impact of not getting timely assistance in a medical situation. In a way, you can consider the payment for the system a type of insurance.
Do It For Me, Dad/Mom?
Whichever is the above points of resistance that you have to deal with, it is important to let them know how important their well-being is to you. If something unfortunate befalls them and they can't get the help they need in good time, it will really hurt you as their child as well. Using a medical alert system means peace of mind to you. They may not be willing to do it for themselves, but they may be motivated to do it for you.
Consider these various approaches to dealing with the resistance you face. If they are resistant, it may take some time for them to wrap their heads around the idea of using a home medical alert system. Don't be discouraged if they are unwilling to cooperate at first. Opinions can change.
For a list of shopping considerations when purchasing medical alert systems, check out the Home Medical Alert System – A Shopper's Checklist guide.