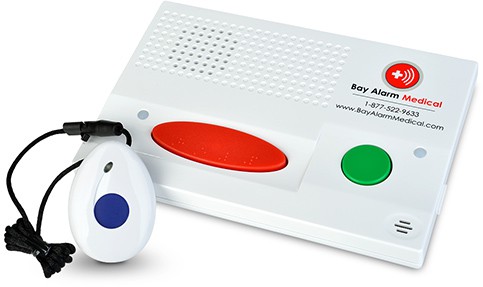 Pictured above: Bay Alarm Medical's home alert console unit with automatic fall detection button
Getting a personal emergency response (PERS) or medical alert system is something that we may hesitate upon. Perhaps its because we feel that we or our parents are still healthy and do not need the protection. At what point would the cost of having a system in place outweigh by the risks of not having one?
In previous installments of this series, we discussed some of the signs that it's time to consider getting a personal emergency alert system. Factors like the elderly living on their own with weakening health or having suffered from a fall once before should not be ignored. Here are a few signs to take note on:
Family Members Cannot Be With Senior All The Time, Even If They Live Together
We've considered the scenario of seniors who live alone getting the protection of a personal emergency alert system, but what about seniors who live with their spouses, family members or room-mates? Living with family members or roommates is a plus when medical emergencies happen, as they can often lend a helping hand. However, getting professional monitoring help can provide another additional set of helping hands if the caregiver cannot possibly be around the senior through most of the day.
Family members who live with the senior and take care of them may not be around the senior at the time an emergency happens. Even during the times where a caregiver is present, the attention of a monitoring operator can assist a caregiver who is facing a precarious situation all alone. Patients with later stage Alzheimer's could become combative and having additional help is a plus.
Some Real Life Scenarios
There was once a case of husband who suffered a fall at home upstairs while his wife was downstairs and did not hear him. He clicked on the button but was unable to speak with the monitoring operator. The monitoring operator called back to check and alerted his wife that the monitoring center had received a call from their home. It's one more layer of protection in case something happens.
One couple purchased a Medical Guardian system in case one of them should fall or meet with an accident. About two months after purchasing the system, the husband was bitten by a dog near their home. He was bleeding badly. The wife pressed her medical alert pendant and let the operator what has happened. The operator was able to send over an ambulance to help them. In addition, she also helped with filing a police report on the attack and informed their daughter, who was out of state at that time, on the situation.
There have been numerous cases where grandparents were alone with their grandchildren when there was an emergency, while their adult children were away. The senior grandparents who met with medical emergencies were able to instruct their grandchildren to click on the button and get help that way. While young children are really intelligent and precocious these days, they may still not quite know the urgency of an emergency situation and the need to contact medical help when it happens. It doesn't hurt to have the additional attention of a monitoring operator.
Delay The Need To Move Into A Long Term Care Facility
If having a personal emergency response device along with other helpful caregiving arrangements can safely delay the move into a nursing home, then it definitely makes financial sense. "Aging in Place" is a huge trend these days. Most of us prefer to grow old in our own homes, not to mention the expensive cost of moving to a long term care facility.
Peace Of Mind – Even With People Living Close By
A very important sign that it's time to get a medical alert system is the peace of mind it provides to the user and to their children and relatives. If you think carefully about everything, you will always find pros and cons for it. If some of the logical reasons named above and in previous installments apply to you or your parents, and at the same time you intuitively also feel that this is a product and service that provides assurance, it's a good time to consider getting it.
If you think that it's time to seriously consider a personal emergency response system (PERS) for you or your parents, check out our Medical Alert Systems Reviews section to browse through some of the best systems in the market today. To see how it works, check out the video review of a classic home medical alert system by LifeStation.
If you are specifically interested in mobile systems that work both in and out of the home, check out the Mobile Reviews area.
Related:
No.1 Reason For A Medical Alert System
2 Signs It's Time To Get A Medical Alert Button