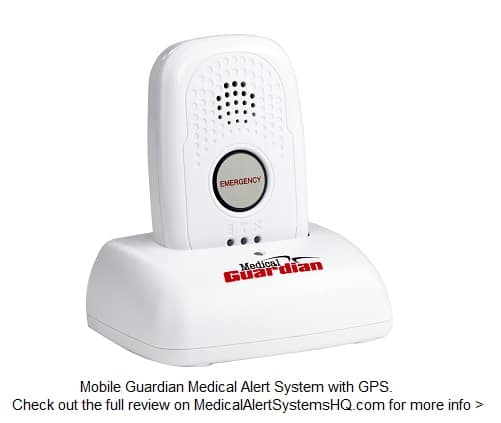 Medical alert devices allow seniors to summon for help quickly, even if they are physically alone at home. As we age, we prefer to age in the home we have grown familiar with. It also represents major cost savings compared with moving to a new place or nursing home.
 
Here are some experiences of how Medical Guardian's medical alert button proved useful during unforeseen emergencies. Although two of these episodes occurred during the busiest year-end holidays, these seniors were able to get the help they needed by pressing on their buttons.
Sudden Increase In Heart Rate
Marilyn from Palos Park, IL is in her eighties. After speaking with a Medical Guardian Life Safety Consultant, she decided to get a Mobile Guardian device. This is a portable medical alert system that can be used both in and out of the home. She wanted something that matched her lifestyle of staying active.
She had subscribed to the system in January last year, and before long, a real emergency happened. In April, Marilyn was relaxing alone at home when she felt chest pains and her heart rate increasing quickly. She knew something was amiss. Fortunately, she had her Mobile Guardian device with her.
Through pressing the help button, she contacted Medical Guardian's 24/7 monitoring center; and her call was answered by Becky. EMTs were immediately dispatched to help Marilyn. Becky contacted Marilyn's relatives to inform them of her situation.
Although Marilyn's daughter was not able to pick up the phone right away, Becky left her a voice message with a tracking number. That enabled her to call back to the monitoring center for updates.
Medical emergencies and falls are two of the main reasons clients use medical alert devices. Medical Guardian's service can be used either for emergency purposes or when a customer needs the attention of a family member or a friend. If you're not sure whether it's an emergency or not, it's fine to still push the button and get help immediately.
Something's Not Right
In this example, Mary from Alabama was unsure exactly why she needed help when she called, but she felt that she needed medical attention.
Going back to March of 2016, Mary was at first reluctant to purchase a system. However, she was also concerned about potential accidents. She finally decided on the Home Guardian product, which was perfect for initiating emergency calls from a user's home.
She tested her device every month as recommended by the company. She had started her subscription in March and in December, an emergency occurred.
Julia, a Medical Guardian monitoring center operator, received a call from Mary on Christmas Eve. Mary couldn't give Julia more information about what was really wrong with her. She just said she needed help, so Julia dispatched an ambulance right away. Her emergency contact was fortunately able to pick up the call when Julia called and she immediately went to Mary's.
It turned out the Mary needed emergency surgery. Fortunately, it was performed just in time, and she eventually made a full recovery! Mary was really thankful that she had her Medical Guardian system installed. If everything didn't line up, she would probably not have received the emergency surgery she critically needed.
There are times when you don't really know what's wrong but you feel something isn't right. It is always best to seek medical attention right away. Whether it is a serious or a minor health issue, a medical help is needed.
New Year's Eve Emergency
August, an 81-year old from NJ remained pretty active despite his advancing age. His family was concerned since he was always out and about. They were worried that he might experience a fall and he lives alone. After speaking with Medical Guardian's Life Safety Consultant, the family decided to ensure his safety by signing up for a Mobile Guardian device.
They couldn't be more thankful as the device saved August's life – barely a month after they signed up. On New Year's Eve 2015, Rashida from the monitoring center got an emergency call from August. He said he had slipped and his head seemed to be bleeding. The operator dispatched EMTs immediately and called his emergency contact person. They arrived promptly to treat him.
About Medical Guardian
Medical Guardian is a top-rated medical alert company. Besides their classic home medical alert system, the company also offers a "no phone line needed" system and mobile systems that work both in and out the home. To learn more, check out this full Medical Guardian review. To speak with one of their Life Safety Consultants, please call toll-free 1-866-260-2696.
Disclosure: We receive referrals commissions for purchases made (details).
For additional real life Medical Guardian customer stories, check out these posts:
How The Mobile Guardian System Has Helped Seniors and Medical Guardian's Real Life Customer Stories.