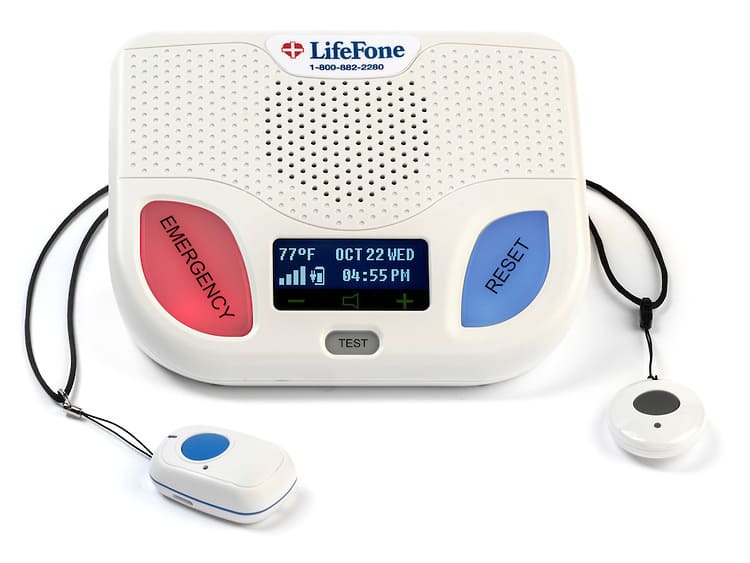 If you or your parents are looking for a medical alert system, LifeFone has a number of useful options that addresses the needs of senior customers. Customers can choose from their standard system consisting of a home medical alert console unit and pendant button to systems with mobile GPS extensions and fall detection alert buttons.
Medical alert systems enable seniors to get help quickly when they fall or meet with emergency conditions. Many seniors realize it's importance after they or a friend experienced an unexpected fall and found difficulty alerting someone.
Most often, they will seek out a medical alarm system like Life Alert. Besides Life Alert, if you were to shop around, you will realize that there are other great companies to pick from. Compared to Life Alert, LifeFone is smaller and not as widely advertised. To make up for that, the company strives hard to please its customers through its personalized service, product choices and customer friendly terms.
Disclosure: We receive referrals commissions for purchases made (details).
Similar to Life Alert, LifeFone's product and service consists of providing senior customers with emergency help buttons and 24/7 live monitoring help. In an emergency, the senior customer can click on their help button to be connected with a monitoring care agent.
LifeFone offers each customer a highly personalized experience. It willingly accepts comprehensive customized profiles from their senior customers listing their health conditions, medications, preferred hospitals and other details. This is a nice touch, and represents an avenue for first responders to get critical information about the patient that they may need.
LifeFone offers a standard home medical alert system that connects through a home telephone line. You can read more about it in our LifeFone review. There are a few other options you can find with LifeFone:
No Landline Necessary
More and more homes are opting away from traditional or home phone lines. LifeFone has a base console unit that does not require a home phone line to work. The device connects through a cellular phone network instead.
For seniors with VoIP or cable phone lines, LifeFone's standard in-home console unit is another option.
At-Home/ On-the-Go Option Combo Available
For seniors who are out and about some days of the week,
LifeFone
has a Duo Home and On-the-go mobile alert with GPS. The Duo system consists of both an at-home console unit and a mobile GPS speaker device that can be carried outside the home.
What stands out about this system is that it combines the reliability of a standard home medical alert system with the flexibility of a mobile alert device. The at-home console is always plugged into a power source, so users do not need to worry about frequently recharging it. In comparison, systems based on a stand-alone mobile device cannot be continuously connected to a power source. They must be recharged frequently, even for everyday home use.
In addition, for some seniors residing in larger homes with basement and/or patio areas, the extra mobile unit is a great way to extend voice coverage. To learn more, please contact LifeFone directly (toll-free 1-877-352-1292).
Automatic Fall Alert Detection
Automatic fall detection is a feature that more and more customers want included into their personal emergency alert systems. With this feature, the emergency help button has a sensor built into it that will detect when a fall has taken place. This will prompt the system to initiate an alarm call to the monitoring center automatically. This feature is available with LifeFone's various system, and additional monthly charges apply.
Automatic fall detection is a great feature to have, but seniors should bear in mind not to be overly dependent on it. A more detailed discussion is available here.
Customer Friendly Terms
Compared to a lot of other medical alert companies, LifeFone offers very customer friendly services. For starters, there are no long term contracts. They also have a 30-day money back guarantee, plus pro-rated refunds for amounts prepaid but not used up.
Most seniors and their children do not realize it at the time of purchase, but the existence of multi-year contracts and the lack of pro-rated refunds has proven to be a sore point for many when they come to find out. LifeFone's terms go above and beyond what the larger medical alert companies are willing to do. Their pricing is also very competitive.
If you or your parents think that a LifeFone medical alarm system could be a fit for your needs, the best way get more specific information or to get your questions answered is to contact them directly (toll-free 1-877-352-1292, website link). We also have a full review of LifeFone available here.
Disclosure: We receive referrals commissions for purchases made (details).
Related: