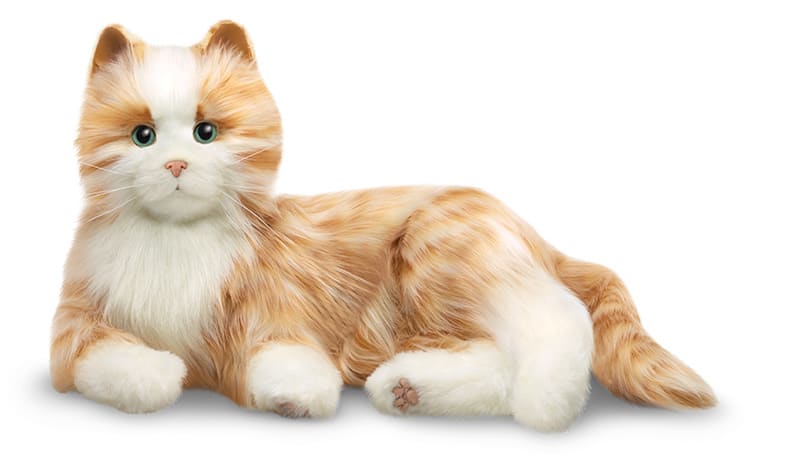 Hasbro's Joy For All is bringing joy to the elderly through their Companion Cat and Dog animal robots. Through their animatronics product line, Hasbro is improving the quality of life for seniors. Life-like, soothing, and interactive are just a few of the words to describe Hasbro's Companion Dogs and Cats.
Although the idea of "fake" pets may seem odd at first, these companions have proven to engage seniors in very real and positive ways. Not all seniors have the energy or inclination to take care of a live pet in their homes. Unlike caring for a real dog or cat, there is no need feed, bath or take the pet out for exercise. There are no pet messes to clean up. Companion robotic pets effectively remove any possibility of neglect whether it is to feed the pet or let it out to pee.
The feel of soft fur and the devotion that a pet gives simply makes the Companion Cat and Dog an ideal toy for the elderly. Each robot runs on Size C batteries that are commonly available. With their limited movement and lightweight design it is ideal for the hours of lap-time cuddling and stroking.
With the limited sound and animated movement, the touch-response is apparently enough to draw caring attention from its owner. Add the familiar bark, meow or purr, each simulated 'pet' seemingly draws out the emotional connection one can have with an actual pet.
As an example, Hasbro's Companion Cat actually purrs in apparent satisfaction from rubbing! With VibraPurr technology in the Companion Cat it becomes so life-like its purring is almost always described as 'soothing' like an actual pet cat. Petting its head makes it blink, meow, and purr. Continue to rub its head or pet its back and it can turn on its back and let you pet its belly.
Keep up the petting and you may just find your cat closing its eyes in simulated drowsiness until it naps. Move away from it and be surprised that it meows and blinks. Touch its cheek and see it move toward your hand. If you want to quiet the cat, switch to 'mute' and you still get the turns, blinks, and purrs when you touch it.
Hasbro's Companion Pup is a newer companion introduced in Oct 2016. This golden retriever pup gives you a soothing heartbeat feel when you gently pet its back. It will nuzzle in response when you touch its left or right cheek without the usual drool and wet tongue. You can even speak to the pup and hear puppy-like sounds from its BarkBack technology.
For seniors living on their own and unable to take care of live pets, companionship with animals is available through these robotic pets.
What would be useful for future iterations of these robots is to consider adding visual sensors and monitoring mechanisms. For example, if the pet is unable to sense movements from the senior within a day, that an alert signal will be sent to a monitoring center or aggregated with other monitoring signals to see if follow-up monitoring is needed.
This can be an add-on service for a medical alert monitoring center, or else an automated calling mechanism that will alert caregivers or the senior's children or relatives. Separately, there have been other robotic products developed that help seniors, such as a "medical alert" robot and a robotic bear that will assist seniors physically.
Pet robots provide a hint to the use of robots in senior care. The future role of robots in elderly care will go beyond therapeutic robots like pet robots. They can also assist in physically helping seniors and patients, and help with rehabilitation and medical healing. These are discussed in our post Elderly Care Using Robots Is A Fast Developing Reality.
Picture credit: Joy for All by Hasbro