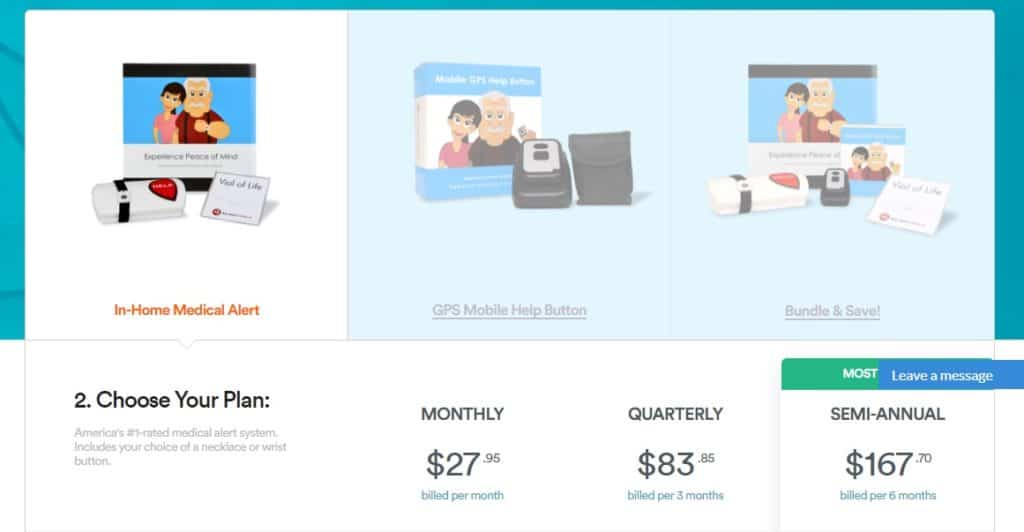 Bay Alarm Medical has unveiled a new medical alert pricing plan that is both competitive in cost and hassle-free to work with. It compares well with others in the industry. For anyone interested in a medical alert system for their parents or themselves, the company is worth looking further into for their quality services combined with good prices. Bay Alarm Medical is currently having a sale, learn more in this review.
Bay Alarm Medical Alert Price Chart
Monthly
Quarterly
Semi-Annual
Medical Alert Systems
In-Home Medical Alert (On Sale)
$27.95 $19.99
$83.85 $59.85
$167.70 $119.70
Mobile GPS Medical Alert
$29.95
$89.95
$179.70
In-Home + Mobile GPS Systems Bundle
$49.95 $39.95
$149.85 $119.85
$299.70 $239.70
 Some systems are currently on sale. See the full Bay Alarm Medical Review >
Add-On Services
 
 
 
Cellular "No Home Phone Line" Medical Alert
$14.95
$44.85
$89.70
Fall Detection
$9.95
$29.85
$59.70
Wall Button
$1.95
$5.85
$11.70
 
For the latest pricing plan and service options, please visit their official website.
Disclosure: We receive referrals commissions for purchases made (details).
 
With these new prices, Bay Alarm Medical will charge the same monthly cost, whether customers choose to pay monthly, quarterly or semi-annually. In addition, all new customers receive a 30-day trial period and pro-rated refunds if they cancel with months prepaid but unused.
Here are Bay Alarm Medical's pricing highlights:
Basic Price of $27.95/ Month
Customers pay a rate of $27.95/ month (on sale at $19.95/mo) for the use of Bay Alarm Medical's equipment and emergency alert monitoring services. They can choose either their standard in-home medical alert system or a mobile GPS medical alert device. Customers can choose to pay for the service on monthly, quarterly or semi-annual basis.
Their previous standard in-home medical alert system was offered at 3 different price points $25.95/mo, $27.95/mo and $29.95/mo. Bay Alarm Medical has simplified things by standardizing all billing plans to use the same rate of $27.95/ month (on sale at $19.95/mo), regardless of whether customers are paying on a monthly, quarterly or semi-annual basis. If customers choose both an in-home medical alert and a mobile alert device combo package, it's available for a discounted combo plan price of $49.95 (on sale at $39.95/mo).
While customers were able to access a slightly better rate in the past if they opted for semi-annual billing, it came at a cost. With the previous price plans, there were no pro-rated refunds being offered for prepayments (more below). There are no long term contracts with Bay Alarm Medical. Customers can cancel their service anytime. In comparison, Life Alert, a well-known competitor, is selling $49.95 per month packages with 3-year commitments.
Disclosure: We receive referrals commissions for purchases made (details).
Related: Check out the full Bay Alarm Medical Review >>
Which pricing plan should you go for? It depends on what your needs are, and how often you like to be billed. If just need the system for a few months, it would make sense to go for the monthly or quarterly option. If you intend to keep the system for a longer period, the semi-annual plan is yet another option. For more individualized help on choosing your plan and options, you may want to contact a Bay Alarm Medical specialist directly at toll-free 1-855-397-9964.
The company also gives away extra freebies if you choose the quarterly or semi-annual plan. Currently, the semi-annual plan includes a free safety lockbox, which is a good accessory to have for homes installed with medical alarms. You can verify their current pricing and gifts on their Official website.
Customize With Additional Features (Optional)
Prospective customers can opt to customize their chosen system further by choosing from various options provided by Bay Alarm Medical. For example, they can choose to upgrade to a base unit with a cellular network connection for $14.95/ month if they have no home phone line. Other options include fall detection buttons ($9.95/ month), wall buttons, extra buttons, lanyards and more.
Read the full Bay Alarm Medical review
Pro-rated Refunds On Unused Months
We applaud Bay Alarm Medical's move to provide for pro-rated refunds for amounts prepaid if the months are unused. The lack of pro-rated refunds has been one of the more common complaints from customers. This issue is not just limited to Bay Alarm Medical's experience, but for all medical alert companies that have a no refunds policy.
By allowing for refunds, the company has made things much simpler for customers. For example, if a customer is on the semi-annual billing cycle, she is charged for a subscription renewal for the next 6 months. If she no longer needs the system, she can return her equipment and get the plan cancelled.
That would allow her to get back a good portion of prepaid funds. Keep in mind that an account will not be cancelled (ie. will continue to be billed) until the company receives the equipment back in acceptable condition.
Summary
With this new Bay Alarm Medical medical alert pricing, customers have peace of mind regarding which billing cycle they choose, they are charged the same rate, and they have the option to customize their system with additional features and accessories. They are also entitled to pro-rated refunds for unused months that have been prepaid. Overall, this new pricing plan is competitive and easy to work with for customers.
Prices are subject to change over time. Please verify the current costs at Bay Alarm Medical's official website before purchase.

Click to Call Bay Alarm Medical 1-855-397-9964
Disclosure: We receive referrals commissions for purchases made (details).
 
Related: Check out the full Bay Alarm Medical Review >>