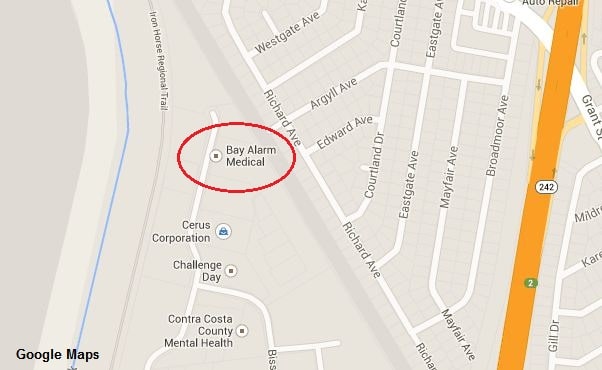 Bay Alarm Medical, a top-rated medical alert system, has grown strongly in the past few years. On the back of this growth and continued strong customer demand, the company has moved into a new 5,000+ square feet office plus warehouse space located in Concord, California (San Francisco East Bay). The office features a front area that is open to serving the public. Read the full Bay Alarm Medical review >>
Disclosure: We receive referrals commissions for purchases made (details).
It's new office and warehouse is
good news for existing and new customers alike
, who will have even greater assurance that they are choosing their medical alert service from a leading and growing company committed to high service standards. According to Alan Wu, marketing manager for Bay Alarm Medical, "Expanding to a larger office means we'll be able to provide an even higher level of service."
Update July 2015: Since the move, the company has added additional products to their line-up. This includes an automated fall detection pendant, a base station unit that works without a home phone line and a mobile medical alert device with GPS. See Bay Alarm Medical's mobile alert video here.
The spacious office has been thoughtfully designed to enhance efficiency and communications. The move is not only encouraging to existing staff who have worked hard to fuel it's growth, but will enable the company to hire and expand its team and serve it's growing base of customers. Mr Wu has also mentioned that the company plans to introduce new medical alert models on their company blog. You can see his post and pictures of the new location here.
Interested customers or prospective customers will also have a chance to interact face-to-face with Bay Alarm Medical's staff. The new location includes a front-end public retail space to serve customers.
Bay Alarm Medical's success has been driven by a number of factors. Their ability to offer a high quality medical alert system at a very reasonable cost is definitely a key. In turn, satisfied customers refer others. With this move, Bay Alarm Medical has been quick to credit and express their appreciation for customers for choosing them.
Elsewhere, respect for the company is evident. They are highly rated on well-known review sites like TopTenReviews.com, and have collected tons of positive customer reviews on ConsumerAffairs.com. If you like to find out more, check out our Bay Alarm Medical review here. You can also compare them with other best rated medical alert companies here.