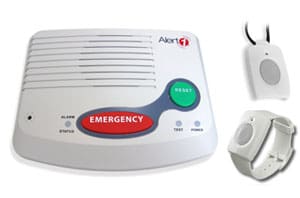 If you like to learn more about how medical alert systems could assist seniors in living independently at home, Alert1's easy-to-read Kindle ebook entitled "Medical Alert Systems: True Aging in Place Stories" could provide pointers and insights.
The book comprises 13 short stories based on the experiences of Alert 1's customers. Alert 1 is one of the larger medical alert companies serving customers nationwide. The company has been in the senior medical alert business for well over two decades. You can bet that in the course of operations, they have come across all types of emergency episodes.
A selection of these have been professionally written and compiled into a book of medical alarm stories. The book provides a glimpse into not just what medical alert systems are, but how they can really help seniors and others live independently and safely. Some of the episodes involve situations most people have not thought about!
Each of these stories bring to life aging in place safety tips, and how a medical alert system could be an asset. Here are some examples:
After the pipes burst in an Alert 1 customer's apartment building, water started pouring into her apartment. The Alert 1 user was unable to open the front door of her apartment to leave. Fortunately, she was able to summon help through a click of the alert button.
One lady had problems convincing her mother to wear a pendant, even though her mom has already suffered a fall. When her mom finally relented, it was just in time. An emergency happened two days into setting up the system.
How a burglar was scared away by an Alert 1 medical alert call. There were others in the home but not in the same room as the device user. Fortunately, she had the button to send an alert and scared off the burglar in the process. The lesson here is that even though there were other around, having the button provided additional assurance as others may not be available all the time.
How one elderly lady fell in her bathtub and could not stand up again. She was able to use a wall mounted button to call for help.
Each story ends with a summary of lessons and tips, making it easy for the reader to take away points for consideration. We recommend this book for anyone interested in the topic of aging in place, or who may be interested in a medical alert system for themselves or their parents. The book is available on Amazon.com.
To learn more about Alert 1, take a look at the Alert 1 Review page. Besides the traditional medical alert system, the company offers a cellular-based system that does not require a home phone line and a mobile medical alert system that works both in and out of the home.
Update: Alert 1 has added a second option for a mobile medical alert. More information is available in this article.