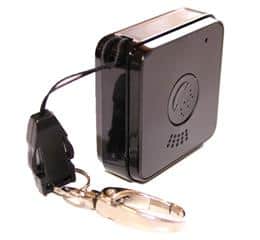 More and more seniors are choosing mobile medical alert systems over their more traditional at-home counterparts. Alert 1 is a sizeable medical alert company with a long history of operations. They have 2 main options for mobile systems that work anywhere in the US through cellular network connections.
Whether it is for a parent who spends lot of time out their home, or whether it is for an elderly loved one who could easily become disoriented in an out-of-home environment, mobile alerts are something to consider. These devices can connect seniors quickly to help in case of any emergencies.
Related: Check out more Mobile GPS Medical Alert Systems Reviews >>
Kelsi Regular Mobile Medical Alert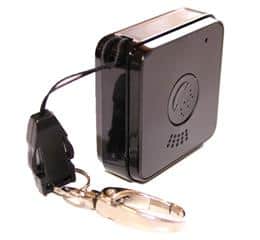 Named the Kelsi Mobile Medical Alert System by Alert 1, it can work anywhere across the length and breadth of the country whenever there is good cell phone connection (currently T-Mobile). The Alert 1 Kelsi is a small and lightweight (weighs 1.2 oz). This nifty device has an easy to use help button (see picture above), plus speaker and microphone integrated to the device which facilitates the calls. Whenever seniors need emergency help, they can push the button and it would immediately dial into Alert 1's monitoring center. A representative for speak with the system user to find out about the situation and contact one of the users contacts or local emergency services to assist the senior user.
The device can be used to pinpoint the location of the user, although a connection must be made to 911 services to access their U-TDOA locations tracking systems. U-TDOA locations tracking is highly accurate. One advantage of this is that the device uses less power than comparable GPS mobile alert devices. A full charge will last for up to 60 days!
Disclosure: We receive referral compensation when readers purchase (see details).
PAX Mobile Alert With Fall Detection with GPS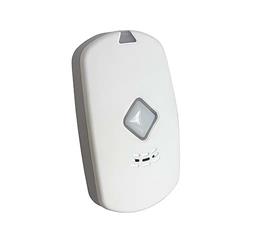 Alert 1's PAX mobile fall detection system is a mobile on-the-go pendant that incorporates fall detection sensors. While the Kelsi allows seniors to voluntarily push the button when they need help, the PAX will monitor for falls and automatically send an alert to the monitoring center once they confirm that a fall has taken place and the user cannot get up. Regardless of the sensors recording a fall and sending an immediate notification, seniors can also push the button when they need some help. Automatic fall detection technology is not 100% reliable, so it is important to press the button whenever possible. The PAX Mobile Fall Detection pendant with GPS is designed to work anywhere in the US based through a cellular phone connection.
The PAX Mobile Fall Detection System comes with a charging cradle, lanyard, beltclip and user guide. Although bulkier than the Kelsi described above, it is still lightweight (1.7 oz) and small enough to be worn with a lanyard or beltclip. It has GPS integrated along with built-in speaker and microphone. The battery life is up to 36 hours but it is recommended that users charge their device every day. The device can also be worn in showers.
To learn more, check out the detailed Alert 1 Review here >>
Compare Alert1's devices to other mobile GPS product reviews in Mobile Medical Alert Systems With GPS Reviews section.
While every effort has been made to ensure the accuracy of the information contained in this review, the information is supplied without warranties of any kind. We advise all readers to do careful due diligence before purchasing.